Will 50 Cent Become a Big Time Boxing Promoter
By Aaron Reynolds

Curtis James Jackson III, known to just everybody else as 50 Cent, became famous in the early 2000s in the hip-hop world under the guidance of Eminem and Dr. Dre. He released hits singles like "In Da Club" and "P.I.M.P."; however it quickly became noted that 50 Cent was in the entertainment business for a lot more than just rap songs. 50 Cent demonstrated a natural knack for entrepreneurship despite no formal college education, using money he earned from rapping to pursue business ventures which now include everything from clothing and sneakers, to body antiperspirant and vitamin water. He is anywhere and everywhere, and now 50 Cent is even getting his hands into the lucrative sport of boxing.
50 Cent is far from the first boxing promoter to attempt and defy giants like Top Rank and Golden Boy, yet he is significant because he does have the money to compete with boxing's biggest promotional corporations. And because of that fact, some label him a potential savior of the sport.

Why?

In the last decade big name fighters have essentially been represented by big name promoting companies – Top Rank and Golden Boy – which have not only put a monopoly on the sport of boxing, but also made it less entertaining by rarely scheduling top-notch fighters against each other. The rivalry is senseless and as a result has produced boxing matches that are simply not putting the two best fighters in a given weight class in the ring with each other. It has absolutely killed the sport.

50 Cent, meanwhile, is the savior; or so one might like to think. He's got the image, the flash, the award-winning smile, the charisma, the street appeal and, most importantly, the money. "Fifty" first came onto the scene in late-2012 representing undefeated Cuban fighter Yuriorkis Gamboa who was the undercard in the notorious Manny Pacquiao-Juan Manuel Marquez fight in December. And while that night ultimately went to Pacquiao and Marquez, 50 Cent stole the show beforehand drawing a large number of the media to Gamboa's press conference just to get the scoop on a rap mogul turned boxing promoter.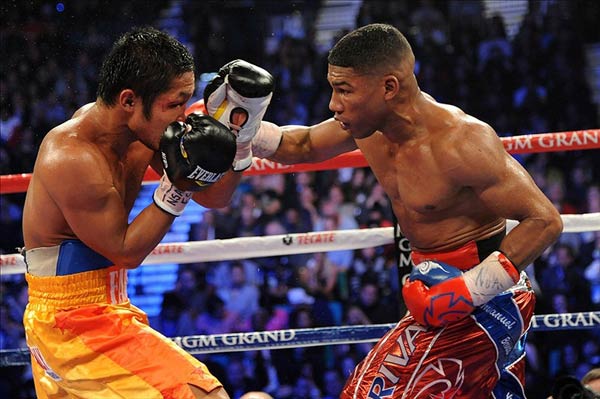 The good news is that Gamboa won that night and 50 Cent now has a legitimate fighter under his company. The good news for boxing is that if Fifty is willing, so might boxing fans. Casual viewers and boxing pundits alike are sick of the mindless rivalries in boxing which aren't even taking place in the ring, but rather in a business office.

50 Cent has the money to go after Golden Boy and Top Rank and, if he plays his cards right, could produce a legitimate promoting company that would stand toe-to-toe with the boxing giants. And in that case one could only hope that 50 Cent would be willing to chase after the biggest fights and ultimately give the sport a much needed facelift which it has demanded from fans for years.

And so we leave its fate up to not a fighter or trainer or promoter. But rather a former rap superstar.


What do you think?
We'd love to hear your comments and/or opinions. If you submit them here, other visitors can read them, rate them and comment on them. An e-mail address is not required.
From Will 50 Cent Become a Big Time Boxing Promoter to Boxing Blog