Why the World Baseball Classic Should be Abolished
World Baseball Classic fever!  Have you caught it yet?  I can see people stretching for miles and miles down the street, ready for those epic Netherlands v. Chinese Taipei showdowns, as truly, the most important international sporting event of the year...
...No?  Yeah, me neither.  The WBC, now in its third iteration, is going over a bit like a lead balloon.  It's hard for me to understand --- this should be right up my alley.  Football may be my first love, but there's nothing quite like a baseball game on a warm afternoon.  When my fiancée finally makes it over from Germany, that's one of the first things we're going to do – take in a day game at Wrigley Field, because it just has this sense of a near-mythological Americana to it.  Baseball has become less relevant as the years have gone by, but it's got a kind of atmosphere that no other major American sport seems to have.  Aforementioned fiancée thinks that baseball is actually quite boring – I say it's relaxed, unless it's a five-hour, 17 pitching change Red Sox-Yankee game – but she said the same thing about the NFL two years ago and yet was screaming at the TV during the final minutes of this year's Super Bowl and critiquing the German announcers' understanding of the game, so I'll win her over to baseball yet.

Furthermore, I love international sports.  I don't write about them much for this site, because that's not really what we do here, but if you put a USA flag on one team and any other country's flag on the other, I'll stand up and cheer.  I watch five or six hours of the Olympics every day during the games – I become a curling freak for two weeks every four years, and even table tennis and the modern pentathlon – the modern pentathlon, of all things – becomes enthralling when it's country versus country.  I watch all the qualifiers for the US men's soccer team, and have Strong Opinions™ on JurgenKlinnsman and SeppBlatter.  An international tournament for baseball?  This seems like the ideal thing to get me glued to my couch.

And yet, I haven't watched a minute of it yet, and have no real plans to watch much of it from here on out.  I find my attention drawn more to vicious hockey hits and subsequent non-apologies or women trying out for NFL teams and injuring themselves then to the US's quest to knock off two-time champion Japan in a tournament basically designed by Major League Baseball to thumb their nose at the IOC kicking baseball out of the Olympics.  It's a non-event – it's the 45th biggest sports story at the time I'm writing this, behind coverage of the Iditarod and high school basketball.

The easy reason, and the one MLB will likely cite if the TV ratings continue to plummet, is the lack of starpower, but I don't buy that.  The US team has eight 2012 All-Stars on it, after all – you'd really watch if Matt Cain was pitching, but RA Dickey is a dealbreaker?  No, not every player on the US is a big name, and if you were putting together the best players on one team, you wouldn't expect, say, Tim Collins to be on the squad.  But first of all, the team is still loaded with big names, and, second of all, the competition it's replacing?  Olympic baseball?  Go ahead and browse the 2008 Olympic Roster and point out the star power there.  Go ahead, I'll wait.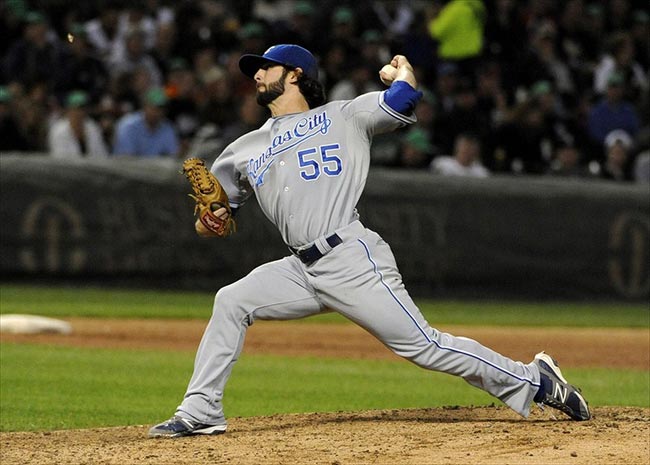 Kansas City Royals relief pitcher Tim Collins (55) pitches against the Chicago White Sox in the sixth inning at U.S. Cellular Field. Photo Credit: David Banks-USA TODAY Sports.

No, I'm blaming the MLB Network here, more than anything else.  In 2009, the games were on ESPN, and got mondo ratings, but this year, the MLB Network has complete control over all the coverage.  Well, far fewer people actually get the MLB Network then ESPN, or even some of the other cable sports channels – the NBC Sports Network or Fox Sports Net or anything like that.  Hard for people to watch when they don't get your channel.

Plus, the games have to actually be on for people to watch them.  I'm not saying having some of the pools in Asia is a bad idea – baseball's huge in east Asia, and the game I went to at the Tokyo Dome was one of the most amazing things I've ever seen.  That's all fine – of course, that means the games start before dawn in America, so expecting people to watch it live is probably a bit unrealistic.  So, have replays throughout the day, right?  Wrong.  Because of all the Spring Training coverage, there are NO replays of the Asian games during the day on MLB Network.  Zero.

Ah, but there's the internet!  That's the key to watching time-delayed sports in the 21st century, right?  I mean, NBC might have botched their primetime Olympic coverage, but their online coverage was superb, with every single event available for streaming, live from their site, with replays of most of it available, too.  Surely, seeing how Comcast not only owns NBC but has a share in the MLB Network too, they'd make all the games available for streaming on the internet, right?

The answer is yes!  Well, yes if you pay for it.  Well, yes if you pay for DirecTV, Bright House, or Time Warner cable – there's no option to get this a la carte.  Yes, even if you do get the MLB Network, if you happen to get your TV from Comcast – or Dish, or Cox, or Verizon, or whathaveyou, you're out of luck.  Even if you already pay for MLB.tv's great online streaming service?  No dice – only people on those specific cable companies are in luck.  The rest of you?  Wake up at the crack of dawn to watch the games!

Add on to all that the timing – we're in the middle of spring training.  This is when most of these players are just working out the rust of a long offseason, not preparing for an international tournament they compare to the World Cup!  No one's in midseason form; heck, no one's in OPENING DAY form.  In a world class competition, you want world class players playing at world class levels.  That's not what we're getting.

Sorry, MLB.  Your World Baseball Classic has got some serious flaws, and they don't have much to do with the fact that Buster Posey isn't there.
What do you think?
We'd love to hear your comments and/or opinions. If you submit them here, other visitors can read them, rate them and comment on them. An e-mail address is not required.