Why the Green Bay Packers are Super Bowl Contenders
How worried should Packer fans be? You can't be very happy right now – you just saw your team get absolutely demolished, in all phases of the game, by a formerly struggling, and now salsa-dancing, Giants team. Losing to the Giants seemed entirely possible, but 38-10 is beyond stunning – that's a shocking margin of defeat. It's been a while since you've lost this bad – the last time was towards the end of the 2007 season when Brett Favre had one of his Favreian days against the Bears. Suffice it to say that a lot of things have changed since then. So, what happened?
Well, first of all, let's say that Packer fans won't be arguing that Eli Manning isn't an elite quarterback after tonight. He only was 16-30, but looked in complete control for the entire game. His three touchdowns gave him 200 for his career -- the only active quarterbacks who have done that faster are his big brother Peyton, multiple ring-hoarder Tom Brady, and record shatterer Drew Brees. Manning seemed able to pick his spots in the secondary, and Ahmad Bradshaw ran all over everyone else.
But not is all as gloomy as it seems – as you well know, Packer fans, your injury report could double for an all-pro selection list – Charles Rodgers and Clay Matthews were clearly missed. And that's the first note of good news – you're going to get healthier, and sooner, rather than later. Matthew's hamstring injury looks to be on pace to have him see the field by the rematch with the Lions in two weeks – and possibly next week against the Vikings. Woodson could be getting back from his collarbone injury at the same time – just in time for the stretch run. Offensively, you're looking at help in that area, too – Greg Jennings, after frustrating Packers fans and fantasy football addicts alike, seems finally ready to return from his groin and abdomen injuries. So, good news up ahead, right?
Well, maybe not. The Packers have been hit hard everywhere, but nowhere worse than the offensive line. The Giants were able to enter the backfield at will, and Aaron Rodgers has hit the deck 8 times in the past two weeks. That has to change, and there's no reinforcements coming. Evan Deitrich-Smith is just not getting the job done at left guard, and there's no one there to replace him – and he's not alone. ESPN's Trent Diler opined after the game:
"This Packers' offensive line isn't very good, so [Rodgers] doesn't have the luxury of getting to two and three, deep in his progressions, a lot of times because of the defensive line is getting home. This game will always, no matter if it changes to a spread league, a passing league, whatever you want to call it, it will always come down to blocking and tackling. And the Green Bay Packers just don't block very well."
Harsh words, but it's the truth – pass protection is the Packers biggest Achilles heel right now, and it's only gotten worse since Bryan Bulaga and Derek Sherrod went down. Coming into tonight's game, the Packers ranked 29th in Football Outsider's adjust stack rate stat – which counts sacks per pass attempt, and adjusts it for how good the opponent's pass rush is. They also happen to rank 29th in adjusted line yards, which does a similar thing for rushing attempts. That's not where you want to be if you consider yourself a serious Super Bowl contender. Green Bay's line can't block for the pass, they can't block for the run, and you'll be seeing a lot more of Graham Harrell playing quarterback if they don't figure something out, and quickly.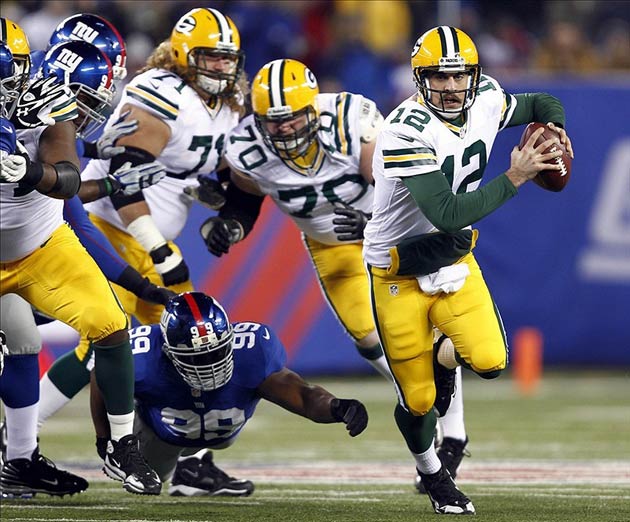 ---
The schedule will give the Packers some help here. The only truly ferocious pass rush they have to face in their last five games is their rivals down in Chicago – Detroit and Tennessee have gotten nothing out of their defensive lines all season long, and Minnesota can be charitably described as average. The Packers have three weeks to get ready for that ferocious Chicago pass rush, and I'm not sure how they're going to do it. You're not going to see this team become a dink-and-dunk, screen based offense – that would be a total waste of Aaron Rodgers skills. Yet, at the same time, they've shown an unwillingness to keep anyone in to help the line block on passing downs -- they're going five wide and sending out tight ends all over the place. I think it just comes down to learning under pressure – maybe some more time as a unit will help them gel. They'd better hope so, because there's not another option on the roster.
So, where does the loss leave the Packers? Well, in better shape than the team they just got hammered by, actually. The Packers, due to having four of their last five games be divisional matchups, still control their own fate for the NFC North – if they win out, they get the division, no matter what. And, if it's just a playoff berth you're worried about, have no fear there, either – even if the Bears beat them, and make no mistake, the Bears are the hardest team left on their schedule, they'd still get a wildcard slot with no worries. They'd probably have to go 1-4 from here on out to really miss the playoffs, so there's no need to panic – they've got time to correct some of these line play issues. The problem is, thanks to their loss against the Seahawks in that memorable replacement referee-bungled game, a wildcard spot is not going to help very much – they lose the tiebreaker to the Hawks. The Packers should send some kind of fruit basket to the Dolphins for knocking the Hawks off their perch this week, because should they end up with the same record, the Packers are going to find themselves on the road against the 49ers or the Bears – neither of which has to seem very appetizing. Even the #5 seed could end up in a rematch with these Giants, which is clearly something the Packers would like to avoid.
No, to really keep their dreams of Super Bowl glory alive, the Packers really need to win the division, which basically means they have to beat the Bears in Week 15. They'll be healthy on defense by then, so it should be somewhat of a fair fight, and the Packers did sort of crush the Bears when they met on a Thursday night all the way back in week 2. The Bears, moreover, might be facing their own injury concerns – they lost six starters to injury in their win over the Vikings this week. Those starters, however, are mostly on offense – Briggs, Urlacher, Peppers, and the ferocious pass rush seem unaffected. If I'm James Campen, the offensive line coach for the Packers, I'm starting to panic now and not letting up until I've devised something, anything to help my banged up line cope. If they play then like they played tonight, the Packers might see the playoffs, but they won't be long for them.
---
What do you think?
We'd love to hear your comments and/or opinions. If you submit them here, other visitors can read them, rate them and comment on them. An e-mail address is not required.
---
From Why the Green Bay Packers are Super Bowl Contenders to NFL Football Blog | Sports Blog | NCAA Football Blog | NFL Football Archives | College Football Archives | MLB Baseball Blog | College Baseball Blog | MLB Baseball Archives | NBA Basketball Blog | NCAA Basketball Blog | NBA Basketball Archives | NCAA Basketball Archives | Fantasy Football | Fantasy Basketball | Fantasy Baseball | Soccer Archives | Olympics Archives | Stupid Athletes Archives | Other Archives | Football Forum | Basketball Forum | Baseball Forum | NFL Football Store | NBA Basketball Store | MLB Baseball Store | NCAA Football Store | NCAA Basketball Store | NCAA Baseball Store | Fatheads | NFL Football Tickets | NBA Basketball Tickets | MLB Baseball Tickets | NCAA Football Tickets | NCAA Basketball Tickets | NCAA Baseball Tickets |
---
Home Page
About Us | Contact Us | Site Search | Advertise | Terms of Use |
---