Why NFL Players Go Broke
Do you remember when you raked in $10 million, spent it, and went broke?
No? Yep, neither do I.
But, for three out of four NFL Players, that might jog their memory.
Within two years of retiring, three out of four NFL players are under financial stress or bankrupt. The average NFL salary is $1.9 million and the average NFL career lasts seven years, so, if you do the math, 75% of NFL players blow $15 million in less than a decade.
And, even under a Democratic administration, you can't blame all of that on taxes. So, where does the money go?
For Deuce McAllister, the former star running back of the New Orleans Saints, nearly $70 million went to bad investments, including an ill-advised car dealership. Shortly after his career, McAllister was $7 million in debt.
Of course, some stars don't lose it all on car dealerships. Going for notoriety, Michael Vick lost nearly $130 million in earnings to his sensational dog-fighting scandal and jail time.
Vick must really have loved fighting dogs to sacrifice 3 years of his NFL prime and nearly $100 million in endorsements to watch pit bulls bite one another in an underground ring.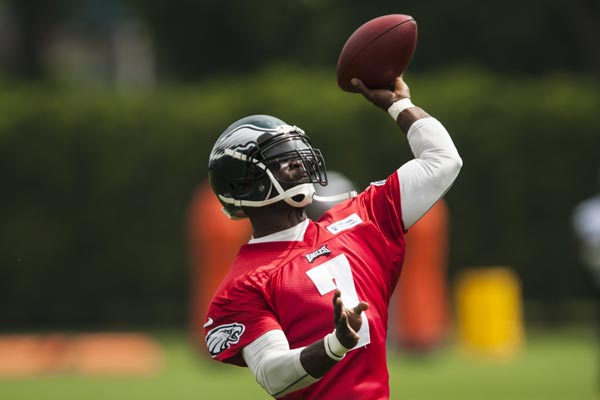 ---
Fascinatingly, Vicks' incredible misstep and jail time were not even career killers. Shortly after his release - and deeply in debt - Vick found God and spent a few weeks with former coach and therapist-on-demand Tony Dungy, before declaring himself a changed man. The Eagles bought it and committed for almost $100 million after his near-MVP season in 2010.
Today, you can ask Andy Reid how that contract turned out. If you hurry, you might even catch him packing his bags for San Diego, when the Chargers have already fired former coach Norv Turner and are waiting with open arms for when the Eagles pull the plug.
The NFL is filled with these stories. For more, check out this detailed info-graphic:
Shocking, no? For these guys, it was clearly all just fool's gold.
---
What do you think?
We'd love to hear your comments and/or opinions. If you submit them here, other visitors can read them, rate them and comment on them. An e-mail address is not required.
---
From Why NFL Players Go Broke to NFL Football Blog | Sports Blog | NCAA Football Blog | NFL Football Archives | College Football Archives | MLB Baseball Blog | College Baseball Blog | MLB Baseball Archives | NBA Basketball Blog | NCAA Basketball Blog | NBA Basketball Archives | NCAA Basketball Archives | Fantasy Football | Fantasy Basketball | Fantasy Baseball | Soccer Archives | Olympics Archives | Stupid Athletes Archives | Other Archives | Football Forum | Basketball Forum | Baseball Forum | Sports Trivia Questions | NFL Football Store | NBA Basketball Store | MLB Baseball Store | NCAA Football Store | NCAA Basketball Store | NCAA Baseball Store | Fatheads | NFL Football Tickets | NBA Basketball Tickets | MLB Baseball Tickets | NCAA Football Tickets | NCAA Basketball Tickets | NCAA Baseball Tickets |
---
Home Page
About Us | Contact Us | Site Search | Advertise | Terms of Use |
---