Why NBA Sportswriters Must Stop Penning Ridiculous Rumors
"Getting Paul and Howard together."
No, this is not a headline from last February; it is the ESPN NBA insider story that greeted me on October 15th, 2012. Last I checked, Howard was traded to the Los Angeles Lakers this summer, Chris Paul was traded to the Los Angeles Clippers last November, and both are ensconced as the leaders of the cross-town rivals.
In short, the 'Dwightmare' should be over.
Yet, here we are, in October, and ESPN is still feeding the public the 'Dwightmare' story. The piece breaks down how Paul and Howard could both potential leave Los Angeles (not happening) and the chance to win championships in Hollywood (impossible) for the right to play together in Atlanta (why?). I could simply ask, 'why would two superstars leave the world's best basketball city and the Hollywood Hills to play in a backwater for a franchise that can barely draw 10,000 fans to a game,' but why waste the breath?
Instead, I'll ask this: do NBA basketball fans demand ridiculous headlines and baseless rumors out of the top sports sites, or does those sites' proclivity for constantly feeding the rumor mill actually exhaust sports fans looking for real analysis and thought provoking content?
Rumors certainly have a hallowed place in the sports world. During 2010, everyone ate up all the rumors about LeBron James' potential destination. Right up until the day, fans, myself included, vociferously devoured every bit of gossip and every tiny update about where James, Dwayne Wade, and Chris Bosh would ultimately play. For all those hours spent surfing the rumor mills, no fans really had the slightest idea until James came up to the cameras and declared, "I am taking my talents to South Beach."
2010's fascination with rumors may have sparked sports columnists' obsession with publishing speculative updates. The potential of a super-team of James, Wade, and Bosh, which ultimately came to fruition in Miami, was enough to pique the interest of even the most casual NBA fans. Perhaps that was what was so compelling to the major sports networks who cast themselves into the rumor mill with obvious relish; what better way was there to actually capture the interest of readers who didn't even watch the games?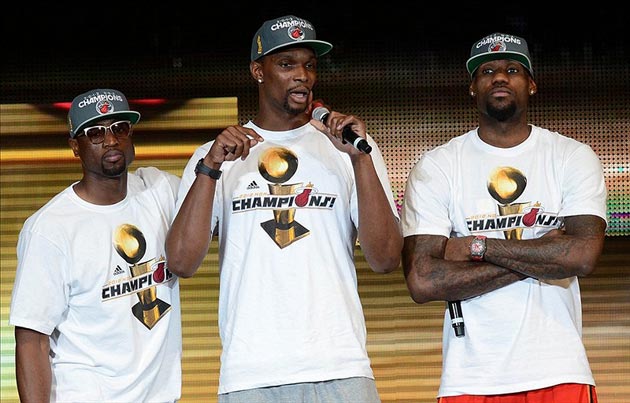 ---
Yet, it turned out that all the time spent reading such rumors leads no-where; fans in 2010 went into "The Decision" having no idea where James would next put on a jersey. If they knew, they wouldn't have sat through nearly an hour of Jim Gray's interviewing technique before James' infamous moment of truth. Hours and hours of listening to rumor podcasts, reading speculative updates, and scrolling through interpretive articles didn't give fans the slightest bit of knowledge in return for their efforts.
And, the rumors' accuracy didn't get any better after James went to Miami; speculative articles focused for months on Brooklyn as the future destination for Carmelo Anthony and the Los Angeles Lakers for Chris Paul, only to get it dead wrong. Deals are made at the 11th hour and rumors, however juicy, clearly had no place in the minds of the decision-makers.
Indeed, fans' exhausting experience with the Carmelo Anthony saga, the Chris Paul trade debacle, and the Dwightmare was seemingly enough to turn everyone off from rumors forever. Yet, old habits seem to die hard, slow deaths in sports reporting.
Even with those nightmarish spectacles resolved, why are sports journalists and pundits still grasping at ridiculous straws instead of focusing on covering the very real and interesting issues surrounding the game?
It's a question that needs answering, and fast. Now that all the NBA superstars have ended up, by and large, with their franchises of choice, it is time to shift gears from rumor to reality and focus on the actual sport of basketball.
---
What do you think?

We'd love to hear your comments and/or opinions. If you submit them here, other visitors can read them, rate them and comment on them. An e-mail address is not required.
---
From Why NBA Sportswriters Must Stop Penning Ridiculous Rumors to NBA Basketball Blog | Sports Blog | NFL Football Blog | NCAA Football Blog | NFL Football Archives | College Football Archives | MLB Baseball Blog | College Baseball Blog | MLB Baseball Archives | NCAA Basketball Blog | NBA Basketball Archives | NCAA Basketball Archives | Fantasy Football | Fantasy Basketball | Fantasy Baseball | Soccer Archives | Olympics Archives | Stupid Athletes Archives | Other Archives | Football Forum | Basketball Forum | Baseball Forum | NFL Football Store | NBA Basketball Store | MLB Baseball Store | NCAA Football Store | NCAA Basketball Store | NCAA Baseball Store | Fatheads | NFL Football Tickets | NBA Basketball Tickets | MLB Baseball Tickets | NCAA Football Tickets | NCAA Basketball Tickets | NCAA Baseball Tickets |
---
Home Page
About Us | Contact Us | Site Search | Advertise | Terms of Use |
---