Why Mature International Free Agents Are Major League Baseball's Best Bet
In case you had not heard, Major League baseball's new collective bargaining agreement is much more stringent than previous additions.  With restrictions on international underage free agent spending, strict draft spending caps, and ever-ballooning costs for old, declining free agents, baseball is practically turning itself into the NBA.
What a total shame.

Half the fun in baseball has always been the creativity behind roster construction.  Unlike in basketball, where you have to suck for a half decade to get enough top-five draft picks to be decent, baseball always gave smart teams the ammunition to reload on talent while contending, year in and year out.  Mark my words that those days are ending – and fast.

But there is still one near-sure bet in baseball and it's very strange that Major League clubs have not fully grasped it yet: mature-but-young international free agents.  Dollar-for-dollar, these players provide the best return on investment to the teams that invest in them…and it's not even close.

In the winter of 2010-2011, the biggest unknown commodity in baseball was Aroldis Chapman.  Savvy GM Walt Jocketty of the Cincinnati Reds took the risk and signed him for 6 years and 30 million while the rest of baseball fretted away the chance.  Now, Chapman is baseball's best young closer, the Reds are the No. 1 team in the National League, and Jocketty is sitting pretty.  For perspective, 36 year old Aubrey Huff signed for 70% of Chapman's deal – and provided 0% of the value.  Go figure.
 
Last year, Cuban stars YoenisCespedes, Jorge Soler, and YasielPuig were all on the market.  Despite superstar potential, their "question marks" gave the Oakland Athletics (yes, Oakland) the chance to sign Cespedes, the best of the bunch, for less than $40 million and the Cubs to sign Soler for less than $30 million over nine years.  Cespedes is already an all-star and MVP candidate and Soler is Chicago's best young prospect and the future anchor of their lineup.  Even Puig, who the Dodgers overpaid (they overpay everyone, so who is counting) has been the best performing player in baseball's spring training this year.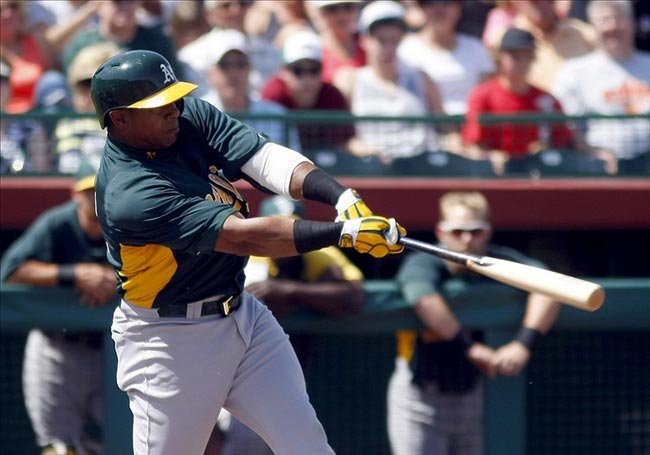 March 23, 2013; Scottsdale, AZ, USA; Oakland Athletics left fielder Yoenis Cespedes (52) hits a two run homerun against the San Francisco Giants in the first inning during a spring training game at Scottsdale Stadium. Photo Credit: Rick Scuteri-USA TODAY Sports.

Meanwhile, the Texas Rangers "overpaid" (so we were told at the time) for Yu Darvish in the posting process but got their ace pitcher for the next decade and even the Baltimore Orioles, who signed Korean star pitcher Wei-Yin Chen, got in on the international market bonanza. I'm sure Philadelphia, who sat that out to resign 33-year-old Jimmy Rollins, is really excited by their decision in retrospect.

Looking for lemons?  Well, it's true, nothing is perfect.  Tsuyoshi Wada has been an $8 million bust for the Orioles but, considering Baltimore won 90 games for the first time in the millennium and $8 million is like a rounding error in 2013 baseball, I don't see a lot of tears being shed.  Plus, the Orioles scored with Chen so it's a net-plus on the international market.
 
So, if you were running a Major League team, what would you invest in?  I know where my dollars would go.
What do you think?
We'd love to hear your comments and/or opinions. If you submit them here, other visitors can read them, rate them and comment on them. An e-mail address is not required.