Why Major League Baseball Should Eliminate Draft Pick Compensation
Kyle Lohse remains unsigned in March.

So, why do you care?

Lohse's inability to receive a contract is directly tied to Major League Baseball's draft pick compensation system, which rewards teams who offer a one-year deal extension (arbitration) to "Type-A" players with a compensatory draft pick if they lose that player to free agency.
For a player like Lohse, who is 34 years old and much more of a "B+" mid-rotation pitcher, that draft pick compensation is a contract-killer.  In an era of minor league austerity, where teams are restricted by bonus caps on international signings, those compensation picks in the first round are like gold.

It's a broken system: one that barely worked under the old rules and certainly does not work under the new ones.

Michael Bourn, the best defensive center fielder in the game, and Nick Swisher, one of the game's steadiest run producers over the last seven years, both also lost $25-30 million in contract value because of it.

That leads to the elephant in the room: why, exactly, should teams be entitled to draft pick compensation anyway?

The Major Leagues are not the NBA.  Franchises do not make or break decisions on a player after 3 years, five at most.  Instead, teams draft or sign players, often before age 18, and watch them grow through the minor league system.  The very best talents, like Mike Trout or Prince Fielder, hit free agency after three rookie years and three years of one-year arbitration contracts, at age 27.  Most players take much longer, often reaching free agency after age 30, which gives teams more than a full decade of cheap control. 

So, I repeat: why are teams entitled to draft pick compensation after more than a decade of control at rock bottom prices?  And, why should the B+ players who need to maximize their one shot at a decent free agency return be punished to keep down player contract costs?

They shouldn't.

The better answer is to get rid of draft pick compensation and instead set absolute limits on the size of contracts – similar to the "max" contract in the NBA.  Those limits will be more effective at keeping costs down, prevent unfair punishment of certain players (the counterargument would be that you would be punishing $200M+ players like Albert Pujols, but those contracts are ridiculous anyway and teams must be saved from themselves), and, most important, prevent more and more costs from spiraling down to the individual fan.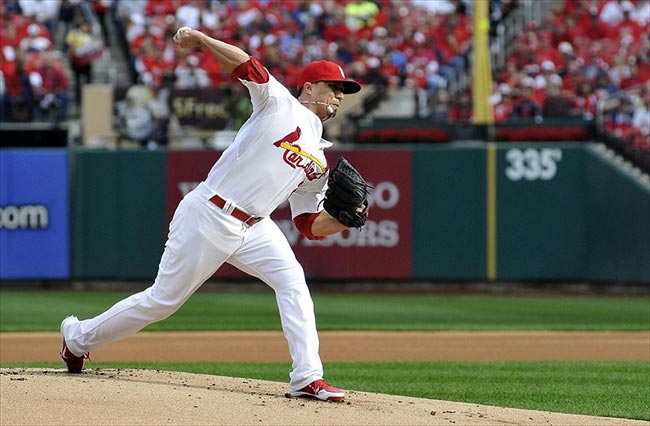 Oct 17, 2012; St. Louis, MO, USA; St. Louis Cardinals starting pitcher Kyle Lohse (26) delivers against the San Francisco Giants game three of the 2012 NLCS at Busch Stadium. Photo Credit: Jeff Curry-USA TODAY Sports.

That last point is absolutely critical.  Watching the Dodgers wrack up a $230M payroll, do you ever ask: where did all the money come from?  It's not as if people just started going to Dodgers games or just started watching them on TV.  No, the new money came from two things: ridiculous hikes on ticket prices and extreme hikes on the price of cable sports packages.  Those cost hikes hit the people who can least afford them: the loyal consumers of baseball who are the only people in the perverse love triangle not banking tens of millions of dollars.

So, let's stop punishing fans with unaffordable ticket prices and vomit-inducing cable bills and let's stop punishing 34 year olds like Kyle Lohse looking for one last decent payday.
 
If, in the process, contracts are limited to a lifetime value of, say, $120M, I hope no one will come crying to me.  Baseball will be a much better place and I, for one, will be back in the stands.
What do you think?
We'd love to hear your comments and/or opinions. If you submit them here, other visitors can read them, rate them and comment on them. An e-mail address is not required.