Why I Love NCAA March Madness - And Brackets
Brackets. I love brackets. Not even necessarily related to basketball tournaments – just brackets in general.  Give me 64 things – yes, 64, not 68, NCAA – and let me compare them one by one until I reach an overall champion.  It's my favorite way to decide anything, ever, and nothing else in sports quite reaches the level of the NCAA Tournament – it's just about the perfect combination of uncertainty (see: #15 Lehigh over #2 Duke and #15 Norfolk State over #2 Missouri last year) and legitimacy (generally, the overall champion is one of the pre-determined favorites, helping the tournament seem valid and not entirely random – we love it when a #8 seed wins once, but if they started winning every year, that would make the regular season seem invalid).
Unfortunately, there's one thing I love more than brackets, it seems, and that's chalk.  This may be why I've never managed to win a bracket pool in my dang life – I usually finish well in the upper half, and have been tantalizingly close each of the last three years, but never has my bracket reigned supreme.  Going after it again this year, I've only got 13 upsets out of 63 matchups – but at least I've gone off the board for my champion.

The larger a group you're in, the less you can just pick the top seed, or even any #1 seed to be champion – odds are, a lot of people are doing that, meaning that even if you're right, you'll need a lot of under-bracket stuff to go right if you want to win.  Now, most years, that's not an issue – there're three or four clear favorites, and your job is to pick the one you think is most likely to win.  This year, however, has been so chaotic that I'm not sure you can name any team a clear favorite -- #1 teams lose on a regular basis.    I can't feel so confident in, say, Louisville, that I'm willing to go along with the 30% of people taking them.  If I thought they had a 30% chance of winning the whole thing?  I'd be all in on that, despite the added difficulty of winning a bracket everyone else agrees on – but I'm not sure ANY team has more than a 10% chance of taking down the title this year.
 
So, while I think Louisville is the most likely team to win it all, they are not the team that's going to make my bracket most likely to win it all.  No, I had to throw out all the #1 and #2 seeds – including Duke, who I've named #1 twice in this column only to watch them lose their very next game.  Me picking Duke is almost a sure guarantee that they'd repeat their 15-seed loss – and, besides, I've convinced like 10% of my pool to pick Duke, so it's no longer even a good odds proposition.  Nope, I had to go lower.

First Round Upsets: #9 Missouri over #8 Colorado State, #10 Iowa State over #7 Notre Dame, #10 Colorado over #7 Illinois, #11 St. Mary's over #6 Memphis, #11 Minnesota over #6 UCLA, #11 Bucknell over #6 Butler.

Yes, round one – I don't care about the first four, or whatever, the round of 64 is, and should be, the first round.  Nines over eights shouldn't even count as an upset, but there you have it.  Tens aren't that big of upsets, either, but Iowa State is more athletic, all-round, than Notre Dame, and Colorado, while inconsistent, plays teams tough – while Illinois has lost four times in their last six games.

It's the #11 seeds where I see the most upsets happening.  St. Mary's has the potential to be this year's VCU – the team that comes out of the first four and makes some noise.  Now, Memphis has only lost once since December, making them a bit of an outside choice to get upset here, but St. Mary's is 11th in the nation in offensive efficiency, 13th in two-point shots, and 16th in effective field goal percentage.  Their defense is average, too – not the disaster that, say, Iowa State has.  Memphis has a top-20 defense, but I think St. Mary's is going to be able to set the pace and pull this one out.  UCLA, meanwhile, had an injury at the worst possible time, as Jordan Adams went down – they're no longer really composed like a 6-seed, and I expect them to fall.  Bucknell-Butler is mid-major on mid-major violence, but I just have a hunch that Mike Muscala is going to make the most of his time on the big stage and pull them through.

No 12s over 5s in my bracket – I know the history, but trying to pick one just because it's happened before is an easy way to lose a couple points.

Second Round Upsets: #5 Oklahoma State over #4 Saint Louis, #5 Wisconsin over #4 Kansas State, #11 St. Mary's over #3 Michigan State

Hello chalk, it's nice to see you again.  The entire right side of my bracket sees the top-4 seeds advancing; that's not very much fun and I know an upset is bound to happen somewhere, but, for the life of me, I can't seem to find it.  The two #5 seeds advancing don't feel like much of a stretch to me – Wisconsin is actually being picked more often than Kansas State is on Yahoo!.  Oklahoma State plays fantastic defense, and I think Saint Louis is a little on the small side – obviously very talented, and much deeper.  If this game goes fast, and I'm talking lightning speed, Oklahoma State will win.  If Saint Louis can slog it down to their slow, grinding pace, they'll take it.  As for St. Mary's, well, I've mentioned I'm from the bay area, yes?  My two alma matters, San Jose State and UC Davis, will make some noise in the tournament as soon as we go to 512 teams in 2073, but until then, I've got to find proxies for my schools of choice.  One double-digit seed always seems to make the Sweet Sixteen, why not an offensive show like St. Mary's?

Sweet Sixteen Upsets: #3 Florida over #2 Georgetown

It's like an old school classroom in here with all this chalk.  Florida got a 3-seed, and I really think that's low.  They ended up 26-7, but those losses came by 1, 6, 11, 3, 6, 4, and 3 points.  None of them were to bad teams, either – I mean, they're not all to the Louisvilles of the world, but there're no head-scratchers in there.  By comparison, Georgetown lost a game 73-45 – almost as much as the entire losing margins of Florida combined.  They also managed to lose at South Florida, which isn't fantastic, either.  People look at Florida and see a team that can't finish.  I look at them and see a small sample size – they never were blown off the court.  A loss by one and a win by one are often separated by one play, one bounce.  So, when I see a team that's 0-6 in games decided by 10 points or less, I don't see a team that can't finish – I see a team that's a bit of good luck away from being 32-1.  Obviously, just because you lose a close game doesn't mean you're good, in and of itself, but every game Florida has won has been comfortable, over 10 points – they've blown out Wisconsin, and Middle Tennessee, and Marquette, and Missouri, and Mississippi.  I think this is a talented team that can't possibly keep its poor record in close games going – can they?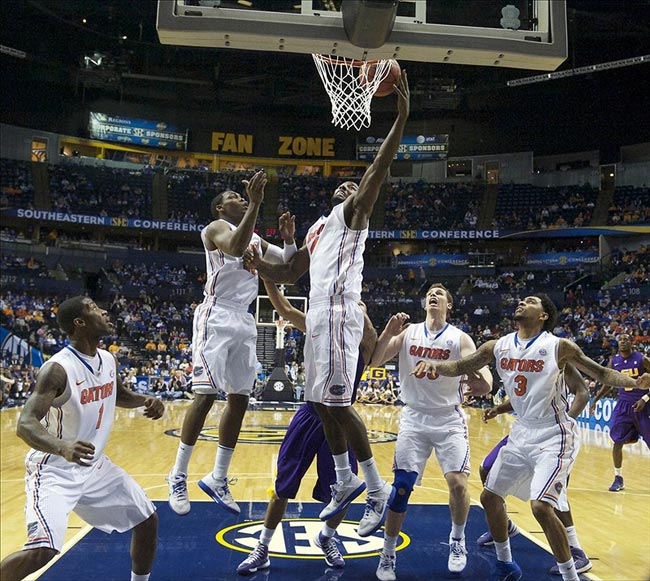 Mar 15, 2013; Nashville, TN, USA; Florida Gators center Patric Young (4) blocks a shot during the quarterfinals of the SEC tournament against the LSU Tigers at Bridgestone Arena. Photo Credit: Joshua Lindsey-USA TODAY Sports.
Elite Eight Upsets: #2 Ohio State over #1 Gonzaga, #3 Florida over #1 Kansas

Time to start shedding some #1 seeds.Ohio State over Gonzaga?  Again, not a major upset, and it's one that's being called all over the internets.  They point to Gonzaga's weak schedule and, as much as I'm riding St. Mary's into the Sweet Sixteen, I have to agree – the West Coast Conference does not prepare a team for the rigors of the late rounds in the NCAA tournament.  Ohio State, meanwhile, battled it out in the best conference in college basketball this season – they're more tested.  They've got the better coach, the better talent, and they're in the easiest of the four regions.  I think they're the closest thing to a Final Four lock we have this tournament. I'm sitting on that Florida bandwagon over Kansas and, if you've been paying attention, you now know who my championship pick is, but don't spoil it for the slower readers.  I know Florida's struggled away from home, but I think they'll do OK on a neutral court.

Final Four Upsets: #3 Florida over #1 Indiana

I'm tired of talking about Florida, can we move on?

Championship Upset: #3 Florida over #1 Louisville

I guess not.  Going back to the start of the article, I said it – I feel this will be a wide open tournament, with no clear number one favorite, but if I had to pick a team to win it all, it would be Louisville.  That being said, nearly 30% of people are picking Louisville – 30%!  I just don't think their odds are that high.  So, for the sake of my bracket, I had to take a stab at a team I think is less likely to win it all, but has a solid chance – and is undervalued.  Florida is that team.  If I had picked Louisville, a Louisville win probably wouldn't help me too much in winning the bracket.  But if I pick Florida, and Florida wins?  That's almost a guarantee for my first bracket win ever.  Therefore, let's cheer for the Orange and Blue.  I mean, anything can happen in March, can't it?

For my full bracket, and to mock me when Northwestern State inevitably upsets Florida in the first round, click here – only available once tipoff starts on Thursday.
What do you think?
We'd love to hear your comments and/or opinions. If you submit them here, other visitors can read them, rate them and comment on them. An e-mail address is not required.