Why Are There So Many Injuries in Today's Sports
By Jason Fryer

Since I can remember watching professional sports, (which has been about 18 of my soon to be 24 years of my life), I can't remember such a high quantity of season ending injuries to such supreme athletes in the early parts/prime of their career. If you don't believe me, just look at some of the key athletes that have suffered season ending injuries (not including concussions and wear and tear injuries) throughout all of the 4 key Professional American sports. Included on the super star season ending injuries the past 5 years are:
NFL: Tom Brady (Torn ACL), Peyton Manning (4 Neck Surgeries), Adrian Peterson (Torn ACL), Ladarius Webb (Torn ACL), DarrelleRevis (Torn ACL) and Robert Griffin III (Torn ACL);
NHL: EvgeniMalkin (Torn ACL), and Erik Karlsson (Achilles Tendon).
NBA: Derrick Rose (Torn ACL), Ricky Rubio (Torn ACL), Rajon Rondo (Torn ACL), ImanShumpert (Torn ACL), and Dwight Howard (Back Surgery), and MLB Joey Votto (knee), Carl Crawford (Tommy John Surgery), Jacoby Ellsbury (fractured Rib/Shoulder), and Stephen Strasburg (Tommy John Surgery). Just a side notes for all Yankee fans, the reason I didn't include Jeter and Rivera on this list is because their not in their prime of their careers anymore (sorry Yankee fans, please come to the realization the the core 4's time is soon going to come to an end).

So sports fans, look at this list, 16 of the best players in their respective sport have either suffered a long term or season ending injury throughout the past 5 years (and I'm sure I missed a number of others that you can tweet me @TBSportsBlog so I can add them to the list).
 
So their was one key question I wanted to answer:

Why have we seen so many more significant (non-concussion) injuries to such high level athletes the past decade?

According to some people, they feel these injuries start at a young age as "Parents and athletes feel the pressure now to compete at all costs." (Lexus Hub Staff, AMATEUR SPORTS SYMPOSIUM: THE DEATH OF AMATEURISM: IMPLICATIONS FOR SPORT AND HEALTH) Some parents and coaches are so committed this day in age to push them as far as they can: "Thirty to fifty percent of all youth sports injuries are secondary to overuse." (Lexus Hub Staff, AMATEUR SPORTS SYMPOSIUM: THE DEATH OF AMATEURISM: IMPLICATIONS FOR SPORT AND HEALTH). These injuries if unattended to can lead to significant long term problems in the future.
 
The second reason I feel this is occurring is because how athletic these players are this day in age. As great and athletic as the players of the past were, the present day athletes are in such "freakish shape" (complete complement) thanks to the equipment available for people to chose from. In the past, athletes would put in a solid amount of workout time during the season, but not as much on their off days and during the offseason. On the other hand, athletes today are now working out all season long, making their respective sport a season-long sport instead of a seasonal responsibility. Because of increased amount of working out and concentration on their game, present day athletes are in that much better shape, which could be another contribution to the stress on their bodies.

The body shape of athletes this day in age are so much more different present day then they were in the past. Just look around at the bodies of present day athletes in Dwight Howard, LeBron James, Russell Westbrook, Derrick Rose, RGIII, Albert Pujols, Matt Kemp, and Mike Trout to name a few.

I also have an additional theory for why season ending injuries in each sport (again not including concussions) has progressed so much over the past few seasons: The game has changed.

Yes each of the four sports has seen a number of significant changes in the game play through the past few years. Don't believe me, just analyze each sport individually:

NBA: The advancement of the European style of play with most big men becoming pick and role players (instead of back to the basket players), has transformed the current NBA game. Throughout the 1990's and early 2000's, the NBA was filled with the traditional big man (Patrick Ewing, Hakeem Olajuwon, David Robinson, and Shaquille O'Neal to name a few) and now the top centers (Dwight Howard, Blake Griffin, Marc Gasol, and Joakim Noah) are more pick and roll players that go to the boards, get an alley-oop, or take an outside jumper. Because of this, these 6'0" to 6'5" freakishly athletic point guards now have the responsibility of scoring, driving, and setting others up as they go into the lane and kick it out to the perimeter. Just look at the injuries to Rose (drive and kick while attacking the basket), Rubio (dribbling and bumping into someone on the perimeter), and Rondo (going up for a rebound under the basket).Guards are suffering these type of injuries because of the changing role and responsibility that these guards have today.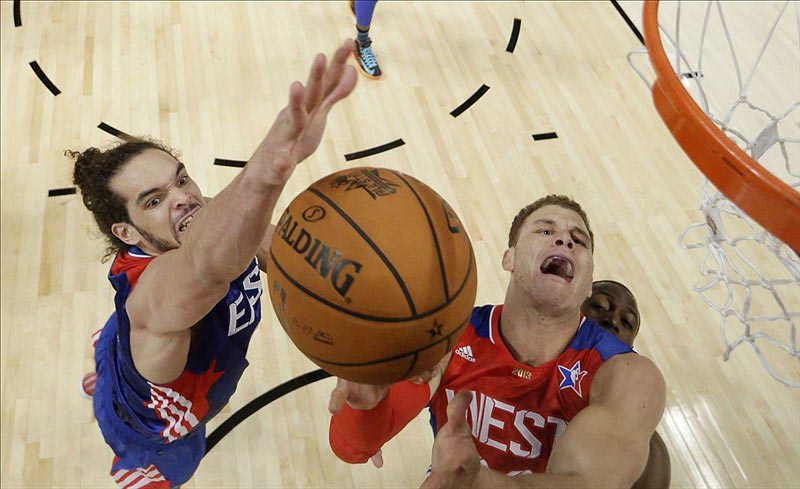 Feb 17, 2013; Houston, TX, USA; Eastern Conference center Joakim Noah (left) of the Chicago Bulls attempts to block the shot of Western Conference forward Blake Griffin (right) of the Los Angeles Clippers in the second half of the 2013 NBA all star game at the Toyota Center. Photo Courtesy By Eric Gay/AP-Pool Photo USA TODAY Sports.

---
NHL: Due to the rule changes occurring during the 2004 lockout (the addition of the trapezoid), goalies have had their responsibility on the ice cut, making skating defenseman that much more important on the ice. With this in mind, players (outside of goalies) have been forced to transform their game making big forwards and defenseman not as vital on the ice as they were in the past. In addition to this, the upgrade in boarding penalties has also forced players to become more cautious on the ice as they attempt to avoid pointless penalties that could result in major penalties, fines, and suspensions.

NFL: At the start of the 2000's, their was a push to help protect the Quarterback, so the NFL and officials started protecting the quarterbacks with additional late hit calls and penalizing helmet to helmet activity on Quarterbacks. So to help avoid this, defenders started going low on quarterbacks (hitting their knees, ankles and legs); if you don't believe me, just look at some of the injuries to key quarterbacks during the 2000's with Carson Palmer and Tom Brady. With there now being a rule change to hitting a quarterback low, you now see less pocket quarterbacks being injuries at a lower rate. As for the "Read Option" quarterbacks (RGIII, Collin Kaepernick, Russell Wilson, and Cam Newton to name a few), this might (and unfortunately already has) produced a number of significant injuries to this style of Quarterback. Read option QB's take a number of brutal hits throughout the NFL season which I unfortunately feel will lead to more significant injuries throughout the NFL.
MLB: Lastly, the majority of the baseball injuries have been from pitchers and center fielders for a number of reasons. Let's start with center fielders as I believe Centerfield has recently become a redefined positions with this position now becoming "elite athletes" place on the field (Kemp, Trout, Ellisbury, Choo, Stubs, Upton, just to name a few) and not as much a speed placement on the field. With the center fielders not having as much speed but being improved in other attributes (arm strength, leaping ability, power from the plate), these players are diving more for the ball leading to an elevated risk of injury while playing the field. As for pitchers, the workload of pitchers from the past and today has changed so greatly that it's forced pitchers to change how much they throw.
What do you think?

We'd love to hear your comments and/or opinions. If you submit them here, other visitors can read them, rate them and comment on them. An e-mail address is not required.