Who Were the Winners and Losers of the 2011 MLB Offseason?
After the San Francisco Giant's improbable World Series title, a number of teams went into the offseason looking to retool. The Yankees proclaimed far and wide that they would look to improve their pitching. The Red Sox were looking for improvement everywhere. The Rays were nervous because they had a bloated payroll, low attendance, and numerous impact free agents. Now, several months later, it's time to look back at the offseason and determine the winners and losers of the 2011 offseason.
The Winners
The Boston Red Sox
This choice is really a no-brainer. Boston General Manager Theo Epstein, often considered the best in the game, went into the offseason looking to improve every facet of the team. Since Boston still won 89 games last year and would have won over 95 without injuries, that wasn't exactly easy to do. But, to his credit, Epstein was as good as his word and the 2011 Boston Red Sox are baseball's team to beat. In fact, they have a chance to be historically good. During the winter meetings, Epstein traded several top prospects (though he did not, interestingly, exhaust the Red Sox's supply of future prospects) to the San Diego Padres for All Star 1st baseman Adrian Gonzalez. Gonzalez, an All Star slugger who hit thirty plus homers annually while in pitcher friendly Petco Park, will be an absolute beast in Boston's Fenway Park and anchor their lineup for years. As a comparison, consider the impact of a pitcher's park to Fenway switch for third baseman Adrian Beltre: after five years batting close to .270 and averaging 20 homers and 70 RBIs a season, Beltre hit over .300 with 30 homers and nearly 100 RBIs for Boston in 2010. I can barely imagine what Gonzalez can do with a similar transfer.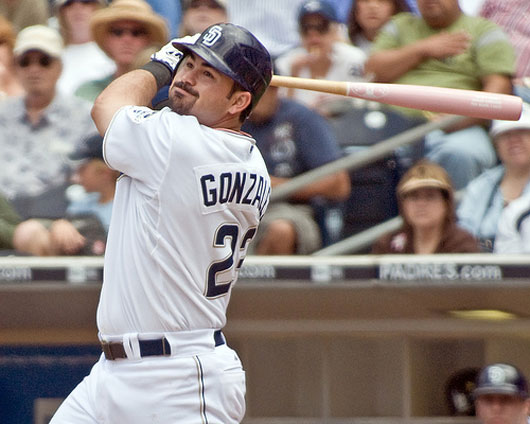 Thanks to SD Dirk from Flickr.com for this great picture of Adrian Gonzalez.
---
While the Sox could have stopped there and still been an offseason winner, Epstein was not done. Far from it. After trading for Gonzalez, he signed former White Sox closer Bobby Jenks to improve the bullpen then addressed the team's need for an elite speed-power combo hitter by signing the best position player available in free agency: Carl Crawford. Crawford is still in his prime and hits over .300 with 15-20 homers and 40-60 stolen bases annually so he will make an impact hitting second in Boston's lineup after coming over from Boston's divisional rrival Tampa Bay. With 2008 MVP Dustin Pedroia, Crawford, Gonzalez, and Kevin Youkilis (an annual .300-30-100 man) as the team's first four, Boston will be almost unbeatable next season.
Philadelphia Phillies
I really like what GM Ruben Amaro did with the Phillies this offseason. The Phillies were expected to lose outfielder Jayson Werth and they did; the Nationals bagged him with a ridiculous 7 year; 126 million dollar contract that will pay him into his late 30s. The Phillies have his replacement in Dominic Brown so there was no way they were matching that deal. However, Amaro deserves credit for not standing pat and simply fielding a competitive but slightly diminished team in 2011; instead he decided to fix his mistake from last year and sign Cliff Lee. The Phillies already had elite position players and pitching depth but Lee puts them over the top; with a starting rotation of Halladay-Lee-Hamels-Oswalt could be the best in baseball (don't forget the Giant's young guns) and, when combined with a lineup featuring first baseman Ryan Howard, second baseman Chase Utley, and shortstop Jimmy Rollins, it makes the Phillies this season's NL favorites.
That said, I think the Phillies might have missed a couple small things this offseason. Trading Joe Blanton and making a push to sign Brandon Webb would have been a worthwhile move that could have made their rotation truly historic. The team could also have done more to address a weak bullpen in what was undoubtedly the best market for relievers in years. Even so, it was an excellent offseason and Philly should now contend for the next two to three years.
The Losers:
New York Yankees
I give Yankees GM Brian Cashman credit for managing to resign icons shortstop Derek Jeter and closer Mariano Rivera to fair deals that won't cripple their bottom line. I also think that Rafael Soriano was an astute signing because his arrival will give the Yankees the best late inning bullpen in the American League.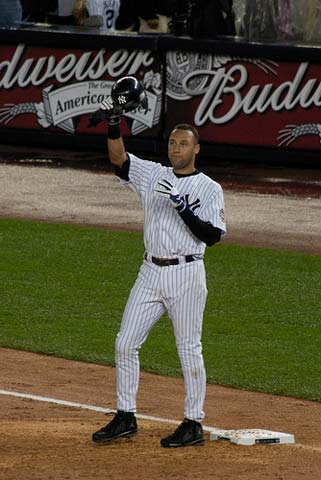 Derek Jeter saluting the crowd after becoming the all-time Yankees hits leader.
Thanks to chris.ptacek from flickr.com for this grrat picture.
---
However, there is no excuse whatsoever, for a team with a payroll over two hundred million dollars annually to have a starting rotation that includes busted signing A.J. Burnett, unproven rookie Ivan Nova, and possibly Sergio Mitre. Yes, Sergio Mitre: the same man who hasn't been good since….well since he entered the league. There was no reason for that to happen this offseason: the Yankees had forty million plus to spend but they let it happen because the miscalculated in their pursuit of Cliff Lee and didn't talk to anyone else. The question of course is why didn't they talk to anyone else? There were a number of very worthwhile options out there who could have really solidified their rotation. Rockies pitcher Jorge de la Rosa, a strikeout machine still in his prime, was available for less than three years at ten million per. Brandon Webb is a risk but the Yankees could have signed him for a fairly cheap rate (the Rangers got him for a three million dollar base salary for goodness sake). The Oakland Athletics have a surplus of young impact pitching, an open DH spot, and a desperate need for a young, talented hitter like prospect Jesus Montero. The list of different options goes on and on so there seems to be no reason for this kind of offseason failure. We will see what they do between now and opening day but, for now, it looks like the Bronx Bombers took a big step back this offseason.
Tampa Bay Rays
Rays GM Andrew Friedman may be one of the very best in the game but even he could not prevent this disaster of an offseason for his team. The Ray's three year window of contention just closed this winter. The departures of first baseman Carlos Pena, outfielder Carl Crawford, and almost every member of 2010's best bullpen should prevent the team from contending in 2011. That said, they will still be respectable and their retooling window should be smaller than many expect.
That's because, while he was unable to prevent this offseason's outflow of talent, Friedman's astute management of the process should ensure that his team will be contending again very soon. He picked up ten (yes I said ten) additional picks in the first two rounds of this year's draft through the arbitration process. With the league's best scouting and player development staff, the Rays should be able to make those picks count and could draft a whole new crop of stars that will be ready in two to three seasons. He also traded talented hothead Matt Garza to the Cubs for a bevy of prospects that should help sooner rather than later: second baseman/shortstop Hak Ju Lee will either pair with or replace struggling top prospect Tim Beckham in the infield by 2012, pitcher Chris Archer is a surprising top prospect who will be groomed to replace James Shields in the rotation, outfielder Brandon Guyer could star by 2012, and catcher Wellington Castillo is a solid backup. Since former top prospect Jeremy Hellickson was already ready to replace Garza, the Rays lose nothing in a trade that will help them reduce their retooling period significantly. All in all, a bloated payroll and weak attendance cost the Rays this winter but they won't fall off the map and will be back faster than you think.
These lists are always debatable. That's why I make them: I love arguing my point to people who disagree! If you have any different candidates for offseason winners and losers, then make sure to mention it in the Forum!
---
---
What do you think?
We'd love to hear your comments and/or opinions. If you submit them here, other visitors can read them, rate them and comment on them. An e-mail address is not required.
---
From Who Were the Winners and Losers of the 2011 MLB Offseason to MLB Baseball Blog | Sports Blog | NFL Football Blog | NCAA Football Blog | NFL Football Archives | College Football Archives | College Baseball Blog | MLB Baseball Archives | NBA Basketball Blog | NCAA Basketball Blog | NBA Basketball Archives | NCAA Basketball Archives | Fantasy Football | Fantasy Basketball | Fantasy Baseball | Soccer Archives | Olympics Archives | Stupid Athletes Archives | Other Archives | Football Forum | Basketball Forum | Baseball Forum | NFL Football Store | NBA Basketball Store | MLB Baseball Store | NCAA Football Store | NCAA Basketball Store | NCAA Baseball Store | Fatheads | NFL Football Tickets | NBA Basketball Tickets | MLB Baseball Tickets | NCAA Football Tickets | NCAA Basketball Tickets | NCAA Baseball Tickets |
---
Home Page
About Us | Contact Us | Site Search | Advertise | Terms of Use |
---