Who next? Options running out for Khan
Kell Brook calling out Amir Khan is nothing new. But there is something different about the way the world is treating a possible all-British clash for the IBF welterweight belt than it was 12 months ago. Khan always insisted that nobody in America had heard of Kell Brook.


Well, not only did the Sheffield fighter travel to California to face the fearsome and previously undefeated Shawn Porter, but Brook walked away from the clash with the IBF welterweight belt over his shoulder. That came after a comfortable points victory to ensure his profile was significantly enhanced in the U.S. An enforced injury lay-off following a stabbing in Spain pushed back Brook's first defence of that belt until March of this year. But the 28-year-old returned to the ring in devastating fashion by wiping out his
mandatory challenger
Jo Jo Dan in four brutal rounds that were televised on American television.
While Brook has been busy proving himself at world level, Khan has been gaining some rave reviews for his first two fights up at 147lbs. Impressive victories over Luis Collazo and Devon Alexander in 2014 saw Khan gaining rave reviews in his new division, although the two-time world champion was once again unsuccessful in his courtship of Floyd Mayweather and Manny Pacquiao despite continuing to push hard. With Mayweather finally
agreeing to face Pacquiao this summer
in a fight that could well spawn an immediate sequel, Khan finds himself now in a tough spot. That could be why he has indicated he will take the Brook fight
in the next 12 months
. He has little choice but to back down and face Brook or take any other fight and accept stinging criticism and allegations of ducking his
British rival. and allegations of ducking his British rival.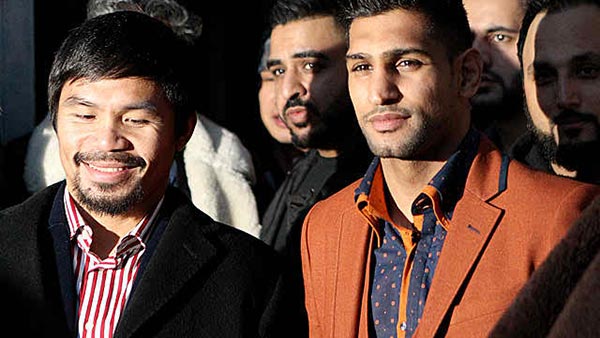 While Khan may still be the bigger name, Brook has done everything his rival claimed he needed to do in order to earn a shot at him. The calls for a summer mega-fight between the two are now all but deafening amongst the boxing community. Khan had previously continued to distance himself from the bout, despite the clear sense the fight makes, and it has not been doing the former Olympic silver medallist's reputation any benefits. He appeared to be ducking a fight which he would have gone into as the overwhelming favourite with the
betting odds
a couple of years ago but would now be classed as an underdog in some circles.
Rumours of a possible fight with former Pacquiao victim Chris Algieri have not helped Khan's case, especially with it widely known that Wembley Stadium has been provisionally booked for the summer for a fight that would undoubtedly sell-out the same 80,000 tickets that Carl Froch and George Groves sold for their rematch last May. With a
rumoured $8 million offer
on the table to face Brook in June, it is hard to see just why Khan would want to look elsewhere for his next fight.
While some will claim he is scared of Brook and the power he possesses, you only have to look at Khan's C.V. to see that ducking big punchers is not something he has ever done in the past. The other theory is that Khan feels the already-massive fight could be even bigger this time next year should Brook continue to boost his profile in the States and hang onto his world title. There is certainly a lot of truth in that but it's been the former rather than the latter theory that a lot of boxing fans are going with.