Who are the Best Baseball Players of All Time?
Baseball is America's sport; so much so that it is often termed "America's pastime." Unlike the NBA and NFL, which really only gained traction in the last forty years, Major League Baseball has been entertaining fans for almost a century. The ghosts of numerous greats roam the baseball Hall of Fame and there are endless debates over which players were actually the very best of all time.
What follows is my own subjective list of the best baseball players ever at each position. I chose my players based on a comparative analysis of consistency, offensive vs. defensive play, clutch performance, and career statistics. I would love to hear everyone's comments. So, without further ado...

Catcher: Yogi Berra
There have been a number of truly exceptional catchers in major league history and ones' choice largely depends on what they value at the position. Mike Piazza was the best hitting catcher of all time but his defense was subpar. Johnny Bench was the best defensive catcher and a strong hitter who won the MVP. Ivan "Pudge" Rodriguez put up the best combined stats of any catcher behind and at the plate but he juiced for so long that his record statistics have to be considered somewhat compromised.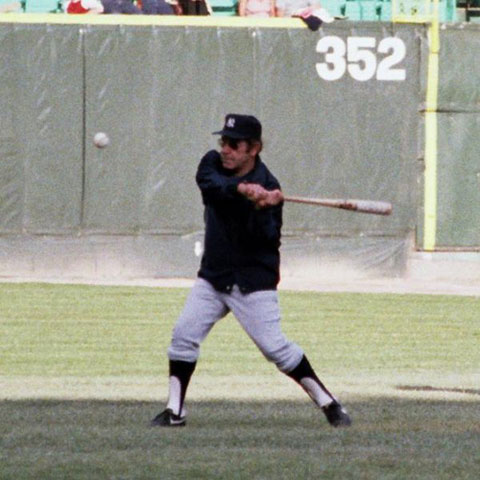 Yogi Berra hitting fungos prior to a game in 1981. Thanks to Baseball Bugs at wikipedia.org for this photo.


All of that said, Yogi Berra is the best catcher of all time because he was an incredible player both at and behind the plate. The Yankees legend excelled in the regular season: batting .285 for his career with 358 home runs and 1430 RBIs, winning three AL MVP awards in 1951, 1954, and 1955 and going to the All Star Game every year from 1948-1962. More importantly, 'Yogi Bear' was even better in the postseason; he won a record ten World Series rings as a player in 1947, 1949, 1950-4, 1956, 1958, and 1961-2. As such, he was both the greatest combined offensive-defensive catcher of all time and easily the best crunch time performer ever at his position.

Honorable Mention:

Johnny Bench
Ivan Rodriguez
Mike Piazza

First Base: Albert Pujols
This is, admittedly, a bit of a projection on my part. It may be sacrilegious to some since Lou Gehrig has been considered the best player at the position for over a half century. However, I think that, at this point, it is impossible to deny Pujol's unprecedented excellence and consistency or keep him off the top of the all time list.

Most players take a few years to wind through the minors, honing their talent over time before slowly making an impact in the league. Not Albert Pujols. Picked low in the draft, Pujols blew away his minors coaches and, after virtually no time at that level, the Cardinals all time first baseman arrived early in 2001. Pujols batted .327 with 37 home runs and 130 RBIs; the best rookie season ever and one that earned him an invite to the All Star game and the NL Rookie of the Year Award.


Thanks to shgmom56 at Flickr for Albert Pujols's photo.

However, what earned Pujols his spot on this list is not his incredible first season; it is his amazing consistency and clutch play in every single season since 2001. Over the last nine seasons, Pujols has averaged the following MVP-caliber season: a .330 average, 39 home runs, and 125 RBIs. In that time, Pujols has won the NL MVP on three separate occasions (2005, 2008, and 2009) and placed no worse than fifth in the MV P voting every single year. Moreover, Pujols plays Gold Glove caliber first base defense, which means that his advanced statistics including WAR (wins above replacement) are better than any other player ever at his position. Combined with his 2006 World Series title, these achievements make Pujols the most consistently excellent player ever at the first base position. While Gehrig would still be the best ever if Pujols retired today, Pujols' consistency means that, projecting the rest of his career, he should eclipse Gehrig before he hangs it up. Truth be told, before Pujols is done, he may become the greatest hitter of all time.

Honorable Mention:
Lou Gehrig
Jimmy Foxx
Hank Greenberg

Second Base: Eddie Collins
Collins played twenty-five major league seasons and was considered the best second baseman of his time by his fellow players. For his career, Collins batted an incredible .333, had 3315 hits (tenth on the all time list), 1300 RBIs, and 744 stolen bases. He also won four World Series titles with the Philadelphia Athletics and Chicago White Sox and was considered one of the best clutch playoff performers of the era as part of the so-called "$100,000"Athletics infield.



The one shadow cast on Collin's record is that he played for the 1919 Black Sox team that infamously threw the 1919 World Series. However, despite batting .226 in the worst postseason performance of his career, Collins was never implicated in the conspiracy and went on to manage the team from 1924-1926. Overall, no second baseman since has matched his infield hitting capability (though outfielder Ichiro Suzuki has come close) or consistency and, as such, he has to be considered the best player at the position.




Honorable Mention:

Joe Morgan
Rogers Hornsby
Nap Lajoie


Shortstop: Derek Jeter

Many, many baseball fans consider Derek Jeter to be a very overrated player. However, I think he is actually underrated. Jeter now has five World Series rings (1996,1998,1999,2000,2009), led the Yankees to two other runner up finishes (2001 and 2004) and has been the heart and soul of the best team in baseball for over a decade. Despite various changes at other positions, acquisitions of new stars like Alex Rodriguez, big contract flops (Carl Pavano), and a major managerial change in 2008 (Joe Torre to Joe Girardi), Jeter's amazing interpersonal skills have kept the Yankees locker room focused on being the best club in baseball.


Eddie Collins 1911. Thanks to Bain News Service at wikipedia.org for this photo.

No other shortstop has ever led and guided his team in the same way and for that alone Jeter should be considered the best shortstop of all time.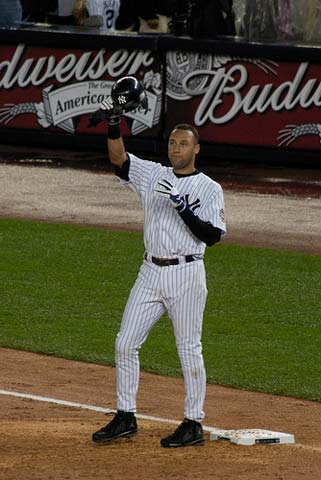 Derek Jeter saluting the crowd after becoming the all-time Yankees hits leader. Thanks to chris.ptacek at flickr.com for this photo.


However, Jeter's contributions have not just come in the locker room, he is also one of the best performers ever at his position statistically and raises his game in the post-season to such a degree that he earned the nickname "Mr. October." For his career, Jeter has batted .314 and has 2,926 hits and 1685 RBIs and counting. If there is a knock on Jeter it is his shortstop defense but, contrary to popular belief, Jeter was above average defensively for most of his career despite a lack of range because of his aggressive playmaking ability. As such, he is the best shortstop ever-both on the field and because of his unrivalled intangibles.

Honorable Mention:
Honus Wagner
Cal Ripken Jr.
Barry Larkin

Third Base: Mike Schmidt
A lot of top notch players have manned the hot corner. Eddie Matthews had amazing power and Brooks Robinson played some of the best infield defense ever seen, but no player ever combined offensive and defensive excellence at third base like Philadelphia Phillies star Mike Schmidt. Schmidt had a career .267 batting average and some of the best pure power ever at the position: racking up 548 total home runs and 1,595 RBIs, twelve All Star appearances (1974, 1976, 1977, 1979-1987, and 1989), six Silver Slugger awards as the top hitter at his position (1980-1984, 1986), and the 1980 World Series MVP. He also excelled defensively and was awarded ten Gold Gloves and his all-around excellence earned him three NL MVP awards in 1980, 1981, and 1986.

Honorable Mention:
George Brett
Eddie Matthews
Brooks Robinson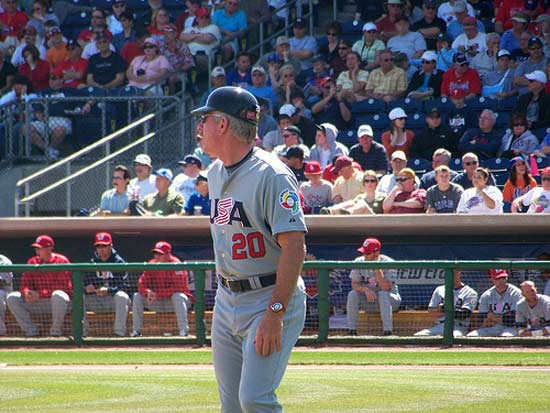 Mike Schmidt. Thanks to BernMarsh at flickr.com for this photo.

Outfield: Willie Mays
Of all the positions, outfielder was easily the hardest to call. That is because history's best five outfielders can all make their case as the best baseball player of all time: who would you choose between Ted Williams, Hank Aaron, Willie Mays, Tye Cobb, and Babe Ruth?

Ultimately I went with Willie Mays because, like Ruth, Mays was a true icon who transformed the sport. Moreover, though each of the players on this list was better than Mays in a particular category, none match his overall level of play. Ted Williams and Babe Ruth had more power but Mays was a more consistent hitter and played far superior defense. Ty Cobb and Hank Aaron were both consistent hitters who played good defense, but Mays was a more feared hitter with greater power and finishing ability that either of them.

Willie Mays is, quite simply, the best position player in baseball history and, though it is unfair to compare hitters and pitchers, the best player ever. The Giants icon made the All Star team every year from 1954-1973, won the NL MVP twice in 1954 and 1965 (and would have won it many more times had voters not been racially biased against him in his prime) and combined his incredibly consistent hitting with the best outfield defense ever seen and twelve Gold Glove awards. He was the best player in both halves of the inning for most of his career and, as such, Mays deserves recognition as the best outfielder-and best hitter-in baseball history.

Honorable Mention:
Babe Ruth
Hank Aaron
Ted Williams
Ty Cobb

Starting Pitcher: Greg Maddux
Greg Maddux is a somewhat unorthodox choice as the best pitcher of all time. Roger Clemens threw for more power, Bob Gibson might have been more clutch, and Walter Johnson might have more wins but, at his best and in his prime, but Maddux was virtually unhittable in an era when hitters completely dominated pitchers.

Maddux is one of those players whose contributions go beyond the most basic stat sheets. He attended 'only' eight All Star Games and won only one World Series (1995). However, Maddux's desire to play the game the right way, incredible intangibles, pitch control, and unrivalled prime catapult him to a level that his career numbers do not necessarily reveal.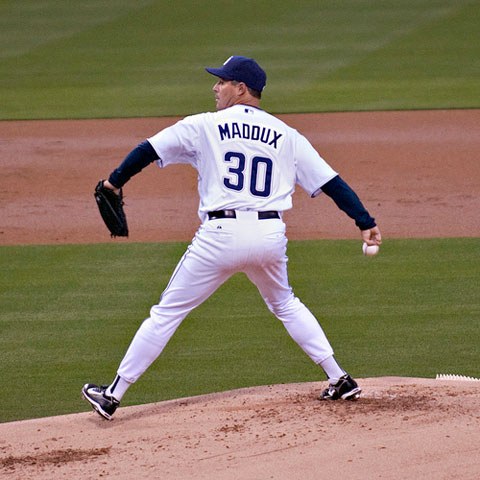 Greg Maddux. Thanks to SD Dirk at flickr.com for this photo.


Maddux played his prime in the early-mid 1990s; the period when steroid use was at its apex, completely rampant and unpunished. As many as half of all players may have been juiced up during this period and balls flew out of ballparks routinely-so routinely, in fact, that the average pitcher's era from 1990-2000 was over 4.75. That number would be considered well below average today, awful in the pre-1980s pitching era, and absolutely abysmal during the early 20th century "dead-ball" era when pitcher's ERAs were often in the 1s or 2s and aces routinely earned three hundred plus wins in their careers. However, that was the norm in Maddux's time, which makes his prime statistics all the more astounding. At his height, from 1991-1999, Maddux won the NL CY Young four straight times from 1992-1995, took the Braves to five World Series appearances (1992,1995,1996,1999), and posted the following ERA numbers in his four CY Young seasons: 1.79, 1.56, 1.63, and 1.95. Those numbers are almost three full points lower than the average and reflect Maddux's absolute dominance of opposing hitters in their own era of baseball.

Honorable Mention:
Sandy Koufax
Bob Gibson
Roger Clemens

Closer: Mariano Rivera
This one was a no-brainer. No disrespect to all time saves leader Trevor Hoffman but Rivera is the gold standard by which all other closers are measured. The Yankees legend has finished more big games in ice cold fashion than any other hitter and will go down as arguably the most clutch pitcher in history.

Rivera's stats are extraordinary but even then they don't tell the whole story. The New York icon has made eleven All Star teams, won the Rolaids award for top relief pitcher five times, and the 1999 World Series MVP. However, Rivera's greatest achievement is that he has closed out five World Series wins. Rivera's ice cold 9th inning heroics were a cornerstone of all five Yankees titles and, second perhaps only to Derek Jeter, Rivera has been the heart and soul of the Yankees franchise for the last fifteen years.

Honorable Mention:
Trevor Hoffman
Rollie Fingers
Dennis Eckersley
Goose Gossage

What do you think?
We'd love to hear your comments and/or opinions. If you submit them here, other visitors can read them, rate them and comment on them. An e-mail address is not required.
What Other Visitors Have Said
Click below to see contributions from other visitors to this page...