What We Learned From the 2012 Champions Classic
By Dennis Berry

College basketball is in full swing now. While the season started on Friday of last week, the unofficial start of the season has to be the ESPN 24-hour tip off marathon.

The highlight of the 24-hour marathon was the Champions Classic. Tuesday night's two games featured four of the best programs in college basketball today. The Michigan State Spartans defeated the Kansas Jayhawks 67-64 and the Duke Blue Devils beat the Kentucky Wildcats 75-68.
While it is hard to make judgments of teams in November, there are some things that we did learn about each team in Atlanta.

Michigan State is Tough
For Michigan State, it was another chance for them to show just how tough of a team they are. The Spartans were coming off a 66-62 loss to Connecticut in Germany last Friday. They then flew home and made the trip down to Atlanta. You could see how the Spartans had a built-in excuse to lose, but they pulled off a win.

That was thanks in large part to Keith Appling. The junior guard scored 12 points over the final 11 minutes of the game, including the last five points of the game when Kansas cut the Michigan State lead to one in the final minute. There should be no doubt that Appling is the leader of this year's Spartan squad.

There is more to like about Michigan State's starting lineup. Branden Dawson looks to have recovered from the ACL injury in his left knee. Gary Harris is living up to the hype as a impact freshman at the shooting guard spot. The Spartans have two impressive big men in Derrick Nix and Adreian Payne.

One concern for Michigan State right now is their bench. They have only scored a total of 13 points in two games from the bench. Tom Izzo is going to have to find a couple of players to impact the game from there.

Michigan State is known for slow starts. The offense is still a work in progress, but should be ironed out by the time Big Ten play starts. The Spartans will be a dangerous team – as always – come March.

Kansas Needs a Low Post Scorer
For Kansas it was all about their starting guards in Atlanta. Freshman Ben McLemore (14 points) and senior guard Elijah Johnson (16 points) combined for 30 of the Jayhawks' 64 points.

It looks like Kansas will be going with a three guard starting lineup this year. Johnson is a senior who has seen just about everything you can in college basketball. Travis Releford is another senior guard who has a ton of experience. McLemore had to redshirt last year because of academics, but looks like he is ready to show why he was one of the best guards in the class of 2011.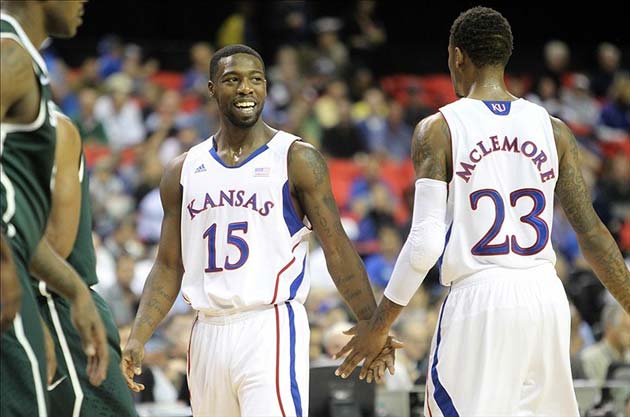 The troublesome part for Kansas was the lack of inside scoring. Jeff Withey scored just eight points on 4-of-6 shots. Perry Ellis scored just four points, making 2-6 shots. The only other real inside threat against Michigan State was Jamari Traylor. He came off the bench and scored six points. The Jayhawks need to find a constant inside scorer, like Thomas Robinson last year.

Kansas can still be a dangerous team during Big 12 play with a low post threat, but if Kansas is going to make another run in March someone is going to have to step up in the low post.

Duke is a Veteran Team
For Duke, we learned that they have plenty of senior leadership. While most of the talk leading up to the Duke-Kentucky games was about their 1992 Regional Final game, the game itself came down to Duke's experience versus Kentucky's youth. In a match up in November, Duke's experience won.

The key in the game was when Mason Plumlee went to the bench with 16:05 in the second half and Duke was up 6. While their best big man was on the bench, Duke used a smaller line up to build a 14 point lead, the largest of the game. That was in the span of 5 minutes of actual game time. This was a credit to a veteran team that they did not get rattled with the loss of a key player.

Duke's most important player was Seth Curry. The senior guard had 23 points, including 10 of Duke's final 16 points when Kentucky started its comeback. The best was an off balance runner with 1:11 to play after Kentucky had made it a three point game.

Duke is a serious contender in the ACC. They are an experienced team that should not be overlooked.

Can't Judge Kentucky in November
For Kentucky, Tuesday night in Atlanta was a major learning experience. Perhaps Kentucky is not as good as their preseason ranking, but John Calipari is not concerned about that. He is only concerned about March.

What was good for Kentucky? Three of their freshmen stars showed up to play. Archie Goodwin, Alex Poythress, and Nerlens Noel scored 52 of Kentucky's 68 points. Perhaps the biggest was Poythress's 20 points. Much is expected from the freshman, but at times he looks like he does not play to his talent level. Against Duke, that was not the case as he had a monster game with some great dunks.

The major concern for Kentucky revolves around one area: point guard play. Kentucky did not have Ryan Harrow, who is suffering from Mono, and had to play Archie Goodwin at point. At times Goodwin looked good running the point, like when Kentucky went on their run at the end, but he also struggled and that affected the offense. Once Harrow returns, that should improve, but still Kentucky needs Goodwin to improve when Harrow needs a break.

Outside that, another concern was the lack of shots for Kyle Wiltjer. The sophomore is the team's best shooter, but only scored five points on five shots. They need to find a way to get more shots for Wiltjer.

Honestly you cannot judge Kentucky off this performance. You know that by the time March rolls around, they will be a contender for the NCAA title once again.


What do you think?
We'd love to hear your comments and/or opinions. If you submit them here, other visitors can read them, rate them and comment on them. An e-mail address is not required.