What Do Athletes Owe Their Fans? Almost Everything
Step back for a second and ask yourself a question: what do athletes owe their fans? It is one of the most critical, and divisive, questions in all of sports. When asked, some fans will quote Cuba Gooding Jr.'s famous line from Jerry Maguire: "I am not an entertainer. I am an athlete!" They will argue that athletes owe little to their fans; their success comes from god given talent, gradually honed skills, and hard work. But the honest truth is that is a load of complete trash: athletes certainly have god given talent and work hard but they owe fans almost all the success they enjoy.
Ask yourself: what is the difference between your pickup basketball game outside with your friends and an NBA Finals game? Besides the broken down basketball hoop, coolers of beer instead of sponsored Gatorade, and your own terrible hops, what really is the difference? The answer: fan interest and popularity. No one wants to watch you and your friends play basketball because you have no skills. You can't jump over a garden hose, let alone an NBA defender. Your shots clank off the rim nine times out of ten when you are wide open; they don't go in when you are leaning back and fading away from three pairs of giant hands in your face. In short: fans don't want to watch you, they want to watch skilled athletes and their support is all that distinguishes the two of you.
People quoting Jerry Maguire are certainly right about one thing: god given talent, well-honed skills, and hard work do matter to athletic success. I could work for nine hours a day at the gym and I would never make an NBA practice roster or a minor league baseball squad. The biggest thing separating Tim Thomas from Dirk Nowitzki is hard work; Thomas had all the talent in the world he just got fat, coasted, and never worked hard a day in his life. Nowitzki, on the other hand, is a gym rat who has never stopped working on new ways to torment his opponents. But, here is where those Jerry Maguire fans are wrong: if there were no fans, and no fan interest, then the only difference between those athletes' games and your own would be the skill level. They would not be making any more money than you, be any more famous than you, or live the high life; all of those trappings of success come from fan success and fan loyalty.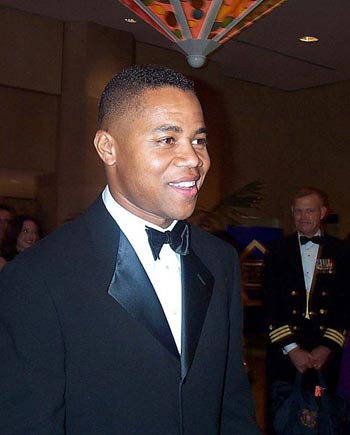 Cuba Gooding Jr., star of "Men of Honor," a film about the Navy's first black diver, Master Chief Petty Officer Carl Brashear, arrives at a military concert in Beverly Hills, Calif. DoD and the USO hosted the Nov. 30 event to honor comedian Bob Hope, Jack Valenti of the Motion Picture Association of America and the film industry for supporting America's armed forces.v
---
Let's take that point a step further. The reason that athletes owe fans almost everything is that, not only does general fan interest ensure that they can make millionsof dollars if they excel in their sport of choice, fan interest in specific players is what gives those stars a special level of popularity they would never enjoy otherwise. LeBron James was one of the highest grossing athletes in the world at the age of 20 because Cleveland fans treated their hometown star as the basketball Messiah. He could do no wrong and could always count on their rock solid base of support. So, LeBron James owed his astonishing success primarily to two things: ever growing fan interest in basketball and a crazy loyal sect of Cleveland fans who built him into the biggest basketball star on the planet and a one man global sports empire.
Now that James has left Cleveland, he has built up a new set of fans in Miami. His global sports brand endures; even if much of his news-making now comes from notoriety rather than love. But when he left, many fans said he had a right to leave and, since he had played well for Cleveland over the first half of his career, he owed Cleveland fans nothing more than a goodbye. Sorry, but that argument simply does not add up. Without Cleveland fans, James would have simply been another sports star who had great stats but had never won a championship. With their help, he was the hometown hero and the most beloved sports star in the country. His departure crushed the sports hopes of an entire city that already felt downtrodden and, as James flew happily to Miami, he left a trail of sad destruction and disappointment in his wake. After all that his fans did for him, the support they showed, and the icon they built him into, how can one argue that James did not owe them something? Indeed, how can you argue that any sports star does not owe anything to their fans? You can't because they owe their fans everything: without those fans their athletic skills would be nothing more than fun tricks on an empty court.
---
What do you think?
We'd love to hear your comments and/or opinions. If you submit them here, other visitors can read them, rate them and comment on them. An e-mail address is not required.
What Other Visitors Have Said
Click below to see contributions from other visitors to this page...

Wrong -- fans are owed nothing Not rated yet
"You are owed nothing in sports, no matter how much you care. You are owed nothing, no matter how long you've rooted or how much you've paid to do it."- …
Of course they do Not rated yet
Players are very oblivious to the fact that the fans pay their salaries. The better you are, the more people want to see you and the more money you can …
---
From What Do Athletes Owe Their Fans? Almost Everything to Football Forum | Sports Blog | NCAA Football Blog | NFL Football Archives | College Football Archives | MLB Baseball Blog | College Baseball Blog | MLB Baseball Archives | NBA Basketball Blog | NCAA Basketball Blog | NBA Basketball Archives | NCAA Basketball Archives | Fantasy Football | Fantasy Basketball | Fantasy Baseball | Soccer Archives | Olympics Archives | Stupid Athletes Archives | Other Archives | NFL Football Blog | Basketball Forum | Baseball Forum | NFL Football Store | NBA Basketball Store | MLB Baseball Store | NCAA Football Store | NCAA Basketball Store | NCAA Baseball Store | Fatheads | NFL Football Tickets | NBA Basketball Tickets | MLB Baseball Tickets | NCAA Football Tickets | NCAA Basketball Tickets | NCAA Baseball Tickets |
---
Home Page
About Us | Contact Us | Site Search | Advertise | Terms of Use |
---