What Did Manny Ramirez Teach Us?
Earlier this week, all-time slugger Manny Ramirez announced that he was facing a drug issue with Major League Baseball and would abruptly retire. Read between the lines and you get the following: Manny Ramirez tested positive for drug use a third time (the first two were in 2003 and 2009) and confirmed to all witnesses that he has been cheating for the better part of his career. But I don't want to dwell on that, I want to examine the following question: what did Manny show us?
If Ramirez had not tested positive for steroids, he would have gone down as one of the top five right-handed hitters to ever play baseball. His all-time totals-a .312 batting average, 555 home runs, 1,831 RBIs, and a ridiculous OPS and OPS+-leave him in very special company. But, he tested positive in 2003, 2009, and 2011. Baseball was plagued by rampant steroid use before testing was implemented so at this point we have to assume that Manny Ramirez used performance-enhancing drugs his entire career.
Authorities on steroid use like to say that it "makes a bench player a regular, a regular an all star, and an all star a Hall of Famer." In other words, steroids are not a pure substitute for natural athletic ability; I could not pump tons of HGH into my veins and suddenly hit home runs. Instead, they serve to naturally enhance what a player would naturally produce. But how much do they enhance it? That is the tricky question.
Thanks to bryce_edwards from Flickr.com for this great picture of Manny Ramirez.
---
Let's apply this concept to Manny Ramirez's career. If Ramirez cheated for his entire career, that means that, while he would likely have still been an all star level player because of his beautiful natural swing, he would not have been the Manny we came to know. If we assume, somewhat arbitrarily but still, that only one third of his home runs, RBIs, and batting average were due to steroid-induced, we are left with the following "natural" Manny Ramirez: a .285 average, 388 home runs, 1, 281 RBIs, and strong (but likely not historic) OPS and OPS+ numbers. A good player…but hardly an All-Time Hall of Famer.
That is what Manny just taught us about judging players from the steroid era: we cannot completely discount their contributions to the game but, if we have the evidence to assume that they cheated for the majority of their careers, then we know that they would not have become historically great had they stayed clean. Would Gary Sheffield, a good but hardly special slugger, have hit five hundred plus home runs? It seems unlikely. On the other side, what would a player like Barry Bond's numbers have looked like? Bonds bulked up starting in 1998 so, if we assume a near decade of consistent steroid use (particularly in his highest home run producing years) we are left with something close to the following statistical line: a .285 average, slightly over five hundred home runs, and around two thousand RBIs. Therefore, Bonds would still have been an all-time player had he stayed clean but would he be considered one of the top five hitters to ever play the game? Probably not.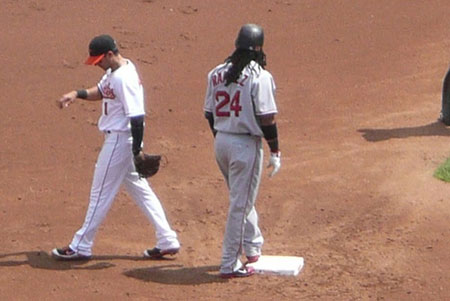 Thanks to lsiegert from Flickr.com for this hreat picture of Manny Ramirez at Red Sox vs Orioles game.
---
In a half decade or so, the baseball world will have to make the final Hall of Fame decisions on most of baseball's great steroid users: Rafael Palmiero, Mark McGuire, Barry Bonds, Alex Rodriguez, Gary Sheffield….and of course Manny Ramirez. Will they all be left out? Maybe, but that seems unfair given that a few of them-Bonds and Rodriguez in particular-would have been clean hall of famers if their greed had not gotten the better of them. But, by the same token, we cannot discount the importance of steroids to performance and let middling cheat overachievers like Gary Sheffield get in the Hall. And what about Ramirez and his ilk; the truly great players who would have been close to clean Hall of Famers but might not have accomplished quite enough. Well, that may just be where ethics come in: if they were too close to call, then err on the side of ethics and leave them out. That way, baseball can pass fair judgment and finally move on to a new, cleaner era of the sport.
---
What do you think?
We'd love to hear your comments and/or opinions. If you submit them here, other visitors can read them, rate them and comment on them. An e-mail address is not required.
---
From What Did Manny Ramirez Teach Us to MLB Baseball Blog | Sports Blog | NFL Football Blog | NCAA Football Blog | NFL Football Archives | College Football Archives | College Baseball Blog | MLB Baseball Archives | NBA Basketball Blog | NCAA Basketball Blog | NBA Basketball Archives | NCAA Basketball Archives | Fantasy Football | Fantasy Basketball | Fantasy Baseball | Soccer Archives | Olympics Archives | Stupid Athletes Archives | Other Archives | Football Forum | Basketball Forum | Baseball Forum | NFL Football Store | NBA Basketball Store | MLB Baseball Store | NCAA Football Store | NCAA Basketball Store | NCAA Baseball Store | Fatheads | NFL Football Tickets | NBA Basketball Tickets | MLB Baseball Tickets | NCAA Football Tickets | NCAA Basketball Tickets | NCAA Baseball Tickets |
---
Home Page
About Us | Contact Us | Site Search | Advertise | Terms of Use |
---