Week 8 NFL: Matt Leinart is So Bad His Kid Cries
We learned this weekend that good offense beats good defense. Forget whatever the cliche says. More specifically a great offense led by Peyton Manning. A great match up between the best offense in the league against the stingiest team turned out to be a shoot out. That's when having Peyton Manning with about a minute left with three timeouts go down the field to set up a field goal for the best clutch field goal kicker in history makes you sick if you're the other team.
Denver had given up 44 point all season. The Colts scored 34 today. Manning wasn't sacked, intercepted, or barely touched. His jersey might still be white. He was checking his fantasy team on his Sprint phone after the snap. They didn't punt at all in the second half. Teams still haven't figured out Manning in the regular season. His kryptonite is the post season. All future coaches should speak as if the game being played was the post season.
I'm looking forward already to next week's match putting the Colts against New England. Expect no friendly love there.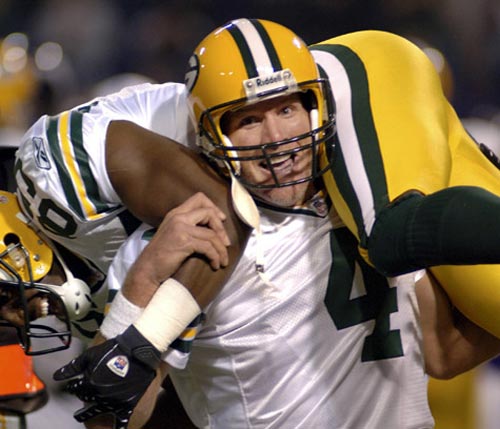 Brett Favre.
---
Maybe this is what Brett Favre was expecting when he returned this season. Too bad he can't play Miami or Arizona for a full season. He ran for a touchdown and did his first ever Lambeau leap. He said it'll also be his last because he showed old white men can't jump and people spill drinks on him.
Denny Green will be fired. He might be fired during their bye week. I would not have beeb surprised if he was left in Green Bay and told to take the Greyhound home. He's become a laughing joke ever since his tirade after the Chicago game. Thank goodness Matt Leinart's son is way too young to watch him play yet because seeing him struggle would make him cry and and eat his own poop. Wait...maybe that's why he does cry?
Talk about a team in a slide. Philadelphia was 4-1 a few weeks ago. Easily should had been 5-0 if they didn't let the Giants come back to force OT and then lose. Today they were back at home after two last second defeats. Facing my Jaguars, who were probably in worse shape. I had no confidence in the Jaguars leaving with a win. I thought the Eagles desperatly needed a win and the injury plagued Jaguars were the perfect victims. Instead the Eagles play horribly and out of sync while the Jaguars did enough to win with back up David Garrad playing over Byron Leftwich. I expect a full blown quarterback controversy. The Jaguars have been secretly disappointed with Byron's performance so far this season. Count me as one of those people.
Does Bill Cowher have the cojones/stones/guts to pull Ben Roethlisberger in favor of Charlie Batch? Big Ben has been a mess this year on and off the field. Four interceptions against Oakland is not okay. Pittsburgh is just a bad team overall. Play calling is horrible. Sorta shows that their Super Bowl win wasn't the fact that they were the best team last season but that the referees were on their side. Yes I'm still saying it.
---
---
What do you think?
We'd love to hear your comments and/or opinions. If you submit them here, other visitors can read them, rate them and comment on them. An e-mail address is not required.
What Other Visitors Have Said
Click below to see contributions from other visitors to this page...

The Steelers lost to the Raiders Not rated yet
2006/10/30 at 5:04 pm I'm still kinda thinking Green might last the year… Bidwell is probably too cheap, plus what is a midseason firing going to accomplish …
---
From Week 8 NFL: Matt Leinart is So Bad His Kid Cries to NFL Archives | Sports Blog | NFL Archives | College Football Archives | MLB Archives | NCAA Basketball Archives | Soccer Archives | Olympics Archives | Stupid Athletes Archives | Other Archives |
---
Home Page
About Us | Contact Us | Site Search | Advertise | Terms of Use |
---