We Need Brian Urlacher To Late Hit This Man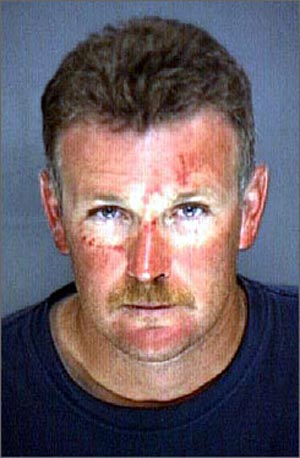 Football Coach
---
This is the infamous football dad who rushed onto the field to tackle a player that tackled another player during a youth football game after his own son received a late hit. A real winner huh? He's got the raccoon eyes from excessive sunglass wear. And a molester looking mustache. Now his face is plastered all over the nation. A nice trip to the grocery store now turns into death looks from soccer moms. The reason his face is all messed up is because there was a brawl, which wasn't shown on video, after the hit after other fans stormed the field. The man got away but later turned himself in.
And he's going to be charged with...child abuse. When I think of child abuse I think of constant physical abuse or starvation of kids. Putting a tackle on a kid is literally child abuse but does it have to be that? What about assualt? That sounds like a more applicable charge. Plant some cocaine on him and charge him with that. Just charge him with anything because he deserves to be guilty and serve some jail time.
Do you even get this guy a Father's day gift next season? "Yeah...thanks dad for embarassing me and our whole family on national television. I hate you I hate you I hate you!!"
---
---
What do you think?
We'd love to hear your comments and/or opinions. If you submit them here, other visitors can read them, rate them and comment on them. An e-mail address is not required.
---
From We Need Brian Urlacher To Late Hit This Man to College Football Archives | Sports Blog | NFL Archives | MLB Archives | NBA Archives | NCAA Basketball Archives | Soccer Archives | Olympics Archives | Stupid Athletes Archives | Other Archives |
---
Home Page
About Us | Contact Us | Site Search | Advertise | Terms of Use |
---