UK Fans Should Not Worry about Early Season Losses
By Dennis Berry

It appears that the honeymoon for Kentucky fans following the school's eighth national championship from last April is over.

After a 64-55 loss to Baylor yesterday, Kentucky is 4-3 so far this season. The loss was the second of the week to an unranked opponent. Kentucky lost 64-50 at Notre Dame Thursday night.
The home loss to Baylor also ended Kentucky's 55 home game winning streak. It was the first time UK fans had left Rupp Arena with a loss since March 2009.

Kentucky fans knew that this team would not be as good as last year's team. They knew that there would be growing pains that the team would go through. They knew this team would lose some games.

They also knew that they have the one x-factor that the rest of college basketball does not have: John Calipari.

Since he took over the Kentucky program in 2009 they have watched Calipari be successful with teams that were dependent on young players. In 2010 John Wall & DeMarcus Cousins lead Kentucky to the Elite Eight. In 2011 Brandon Knight led UK to the Final Four. Than last year Michael Kidd-Gilchrist and Anthony Davis brought home a national title.

So far this season, Kentucky has not played at the level that UK fans are used to. They have watched as this year's Wildcat team has struggled on the court. There was the opening season 72-69 win against Maryland; much closer than UK fans thought. Then came a loss to Duke in the Champions Classic in Atlanta. Then a came a win against Morehead State in which UK was only up one at halftime.

What followed was perhaps the worst week in the Calipari era at UK. Kentucky scored 105 total points in two games. In the loss to Notre Dame it appeared Kentucky was not competing at a high level. Then, against Notre Dame the young UK backcourt was no match for the experienced Baylor guards.

Now Kentucky fans have forgotten all about the joy they felt in April. Instead they are focused on what is wrong with this team. If you don't believe me, you can see for yourself on the message boards.

On Kentucky's Rivals site Cats Illustrated there is one thread titled: "Not only do we not have a good team but our players are not very good."

That is comical. Of course that is just typical Kentucky fan overreaction.

Kentucky fans need to remember that this team has only played seven games. There is plenty of talent on this team and they will get better. There are a few areas that need to be addressed, though.

First is that this team needs a point guard. This Kentucky team is missing the great point guard play that a John Calipari team needs. Ryan Harrow missed much of the start of the year because of a "mystery illness." In his absence Archie Goodwin took over the point guard duties.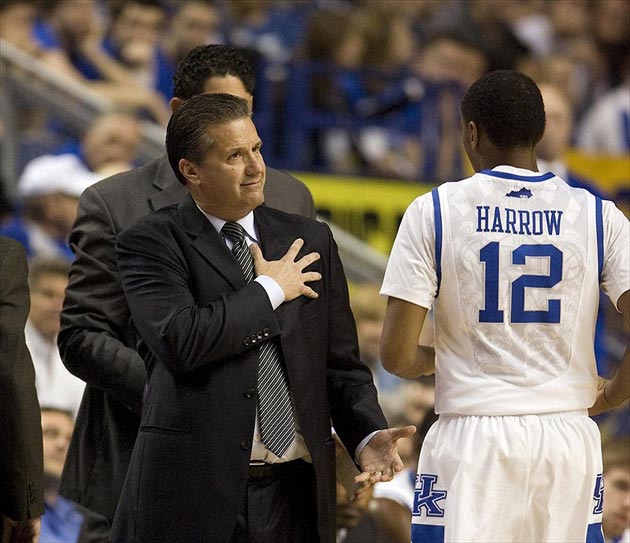 It is clear now that the Goodwin point guard experiment needs to end. Goodwin is a scorer, not a creator. This UK team needs him to worry about scoring with the basketball. Now that Harrow is back, he played well in the second half against Baylor, it is time to make him the point guard again and let Goodwin go back to being a shooting guard.

Second is rebounding. Right now Kentucky is a terrible rebounding team. When you have players like Nerlens Noel and Willie Cauley-Stein, that should not happen. The problem is that both big men get out of rebounding position because both go to block shots at the same time. They have to learn to stay on their feet when the other guy goes to block a shot to rebound.

Another problem that this team is missing is a lack of leadership. Calipari's first team at UK in 2009 had veteran leaders in Patrick Patterson and Ramon Harris. Then the 2011 Final Four Team had Josh Harrellson and DeAndre Liggins.

Then last year, the team was full of leaders. Three was Darius Miller coming off the bench as a senior. Then the sophomore duo of Terrence Jones and Doron Lamb came back to Kentucky with the goal of winning a national title. Then the on the court leader was Michael Kidd-Gilchrist, who's will to win and competitiveness spread throughout the whole team.

Now this group of Wildcats seem to be missing that leadership. There is no one player that the other players look to when things have gotten tough in games. Someone on this team has to step up and become the leader for this group.

The truth is that the calendar just turned to December and we are one month through the college basketball season. The one thing that we know about John Calipari teams is that they get better as the season goes. When March rolls around they are playing their best basketball.

So Kentucky fans need to remember the 2011 Final Four team. That team lost eight games in the regular season. Six of those losses came on the road in the SEC. At the end of the year, those losses helped as the team made their run to the Final Four.

So while UK fans worry over the start of the season, they should not worry about losses in November and December. They need to wait until March to judge this team.


What do you think?
We'd love to hear your comments and/or opinions. If you submit them here, other visitors can read them, rate them and comment on them. An e-mail address is not required.