UF vs UCLA: Battle of Ugly Dudes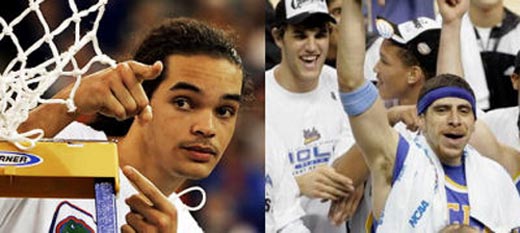 UF vs UCLA Battle of Ugly Dudes.
---
Let me tell you I can't wait for the Final Four this Saturday. The excitement. The pressure. The Gators coming out winners hopefully. What I am not looking forward to is seeing UCLA's Lorenzo Mata's face up close. Man that has to be the ugliest guy in college basketball. I know I am not the only one saying that around the country. I'm not hating the guy. He seems nice. He's a decent player for UCLA but it's really hard to look at him without thinking he's the last of some endangered species.
Joakim Noah is also an ugly dude. His dad was a stud tennis player and his mom was Miss Sweden so what could have happened to a child they produced together? Just as Mentos and Coke are good by itself but you put them together and you get a combustible mix. I know Noah hears about how ugly he is from fans whenever the Gators are on the road. I'm a Gator fan but it's true. He is definitely no Tom Brady.
Both are ugly guys but who is uglier? Do both of them pull in hot girls on their respective campus. UCLA and UF are known for the bevy of beauties walking around the campus. From what I've heard Noah is the king of Gainesville and could probably get any girl he wanted unless Tim Tebow was nearby. How about Mata? I don't know. He's no superstar on the team. I don't see any girls bragging that they hooked up with him. I don't know though. Looks are thrown out the window so I'm just going by celebrity status.
I'm going to say Mata is the much uglier man but yet he still probably gets more girls at school than most of us can hope for. That's sad for us.
---
What do you think?
We'd love to hear your comments and/or opinions. If you submit them here, other visitors can read them, rate them and comment on them. An e-mail address is not required.
What Other Visitors Have Said
Click below to see contributions from other visitors to this page...

Mata is the much uglier man






2007/03/30 at 1:07 am "I'm going to say Mata is the much uglier man but yet he still probably gets more girls at school than most of us can hope for. …
---
From UF vs UCLA: Battle of Ugly Dudes to NCAA Basketball Archives | Sports Blog | NFL Football Blog | NCAA Football Blog | NFL Football Archives | College Football Archives | MLB Baseball Blog | College Baseball Blog | MLB Baseball Archives | NBA Basketball Blog | NCAA Basketball Blog | NBA Basketball Archives | Fantasy Football | Fantasy Basketball | Fantasy Baseball | Soccer Archives | Olympics Archives | Stupid Athletes Archives | Other Archives | Football Forum | Basketball Forum | Baseball Forum | NFL Football Store | NBA Basketball Store | MLB Baseball Store | NCAA Football Store | NCAA Basketball Store | NCAA Baseball Store | Fatheads | NFL Football Tickets | NBA Basketball Tickets | MLB Baseball Tickets | NCAA Football Tickets | NCAA Basketball Tickets | NCAA Baseball Tickets |
---
Home Page
About Us | Contact Us | Site Search | Advertise | Terms of Use |
---