UCONN Post Season Win Streak Ends
By Dennis Berry

It had to be an odd feeling for Connecticut fans as they left Madison Square Garden Thursday afternoon. It's been a while since they had to deal with this feeling. It's been almost two years since they had been through this.

The Connecticut Huskies post-season winning streak is over after losing to Syracuse in the Big East Tournament 58-55. It was the first time in 13 post-season games that Connecticut lost. You have to go back to March 22, 2010 to find a loss.
That loss came to Virginia Tech in the NIT Tournament. That is not a typo either. After coming off a Final Four run the previous season, Connecticut went 17-14 during the 2009-10 regular season, including losing their last three regular season games. That put them in the NIT.

Of course after that loss we all know what happened. Connecticut would go 21-9 and finish ninth in the Big East with a 9-9 record. They would win five games in five days in the Big East Tournament, with wins over four ranked teams â?? Georgetown, Pittsburgh, Syracuse, and Louisville.

Then came the run in the NCAA Tournament. They would win six games to win the program's third national championship. That team of course was led by do it all Kemba Walker. He would not let the Huskies lose in those tournament games. When they needed a big shot, he took it.

This year Huskies miss a leader like that.

It appeared that some in the national media were a bit eager to jump on the Connecticut bandwagon. After starting out 12-1 Connecticut appeared to be backing up the hype around them in the preseason. Then the slide began. They would only go 8-10 in the Big East during the season. They feasted on the lower quality teams in the Big East, but would lose to Providence and Rutgers along the way.

Then came the end of the season and a win over Pittsburgh to close out the regular season. Next up was the Big East Tournament and a chance for the Huskies to defend their crown.

They won their opening game against a 12-19 DePaul team. Then the next day they defeated West Virginia (19-12).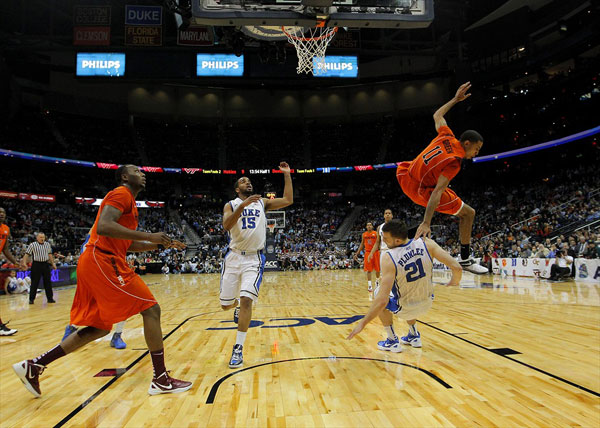 As Connecticut was winning those games, you started to hear and read that many believed that Connecticut was back. They were about to go on another wild run.

False.

Syracuse put to end that speculation Thursday afternoon. Sure the Huskies played the number two team in the country tough today. They did the same a couple of weeks ago at home. Still it was not enough to overcome their shortfalls.

Like where was their late game offense? It appeared that point guard Shabazz Napier was trying to be like Kemba Walker last year and create offense one on one at the end. The problem is that Napier is not close to being as clutch as Walker was during his time at Connecticut.

Of course it might have helped if there was some offense being called from Jim Calhoun on the sidelines. He must have believed that Walker was still running the point, because it appeared Calhoun spent more time talking with his assistants then trying to call plays.

If Calhoun was calling plays at the end of the game, he would have made sure that Jeremy Lamb would have gotten a shot at the end. Lamb only shot the ball nine times during the game. He last shot came with 6:49 to play. IT was a missed three pointer with Connecticut up 47-46.

That should not happen. Lamb was Connecticut's leading scorer during the regular season at 17.9 points a game. He shot 48% from the floor. If Connecticut needs a basket, they should go to him, not look for Napier to force shots.

To think that this Huskies team could make another run like year was too much to expect this year. Connecticut will likely get an NCAA Tournament bid, but the dream of back to back titles is over for the Huskies.


What do you think?
We'd love to hear your comments and/or opinions. If you submit them here, other visitors can read them, rate them and comment on them. An e-mail address is not required.