Top Quarterbacks in 2011 NFL Draft
Unlike the majority of years past, the QB class of 2011 isn't a melting pot of young future stars. With the exception of 2-3 potential first rounders (weighing in heavily with risk), the 2nd tier of field generals aren't going to be given any easy opportunities. These boys had better get their arms warmed up for training camp early because they've got a lot of wowing to do if they ever want to be in the conversation for a starting job in this league. Here are my top-10 quarterbacks of 2011.
1. Jake Locker, Senior - Washington

-While no quarterbacks in this class are without their questions, I like Locker's rewards to heavily outweigh his risks. He draws criticism for being a "run-first" quarterback with unsound throwing mechanics. Rather than being blinded by the coachable blemishes, I prefer to focus on Locker's glimmering bright side. Equipped with a cannon-arm and the athleticism to make a defensive coordinators job extremely difficult, Jake threw for over 2,000 yards in 3-of-4 years at Washington, never letting his QB rating delve below 103. Acting as the heart & soul of the Huskies on their run to an upset victory in the 2010 Holiday Bowl, Locker took control and posted applause-worthy numbers despite little-to-no help from his offensive weapons, showcasing his fiery spirit. But the attribute that has me more awestricken than any is he's one of a rare collection of football players who just seems to have that 'X-Factor'. Always carrying a chip on his shoulder, Locker never ceases to amaze me in crunch time. You can kill him all you want for using his legs, but he does what he has to do to make a play when a play is needed. Although he won't be, I truly believe that he's the only quarterback in this class worthy of spending a top-10 pick on.
Looking for a Jake Locker jersey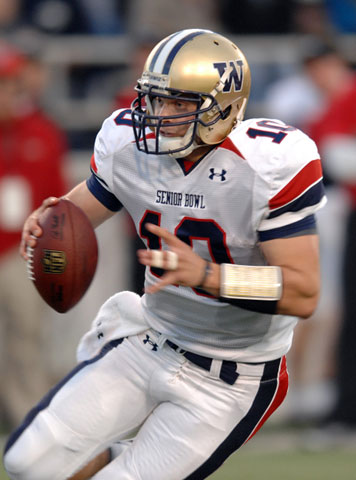 29 JAN. 2011: Jake Locker (#10) of Washington back to pass during the Senior Bowl at Ladd-Peebles Stadium in Mobile, Alabama.
---
2. Blaine Gabbert, Junior – Mizzou
-Although the most fundamentally sound QB in the class of 2011, I'm not sold on him being a franchise guy at the next level. While his passer rating screams "elite prospect", he never quite seems to show it in the big games. Having never beaten traditional Big-12 powerhouses Nebraska and Texas, Gabbert doesn't have much backing up his resume in the 'leadership' category. My theory is only cushioned by Blaine's 0-2 record in bowl games (which were easily winnable games for a talented Missouri team) and I really think he could have benefited from one more year on the college stage. Quarterback-needy teams need not fret though – his physical tools are undeniable, but his success in the NFL will be determined by character.
Shopping for a Blaine Gabbert jersey
3. Cam Newton, Junior – Auburn

-Size (check). Arm Strength (check). Championship Ring (check).
So what's the problem here?

When you look at Newton on paper, it's like staring at a winning lottery ticket. However, when you watch him on the field you can count numerous little imperfections that would make him a risky pick. Cam's throwing motion is unusually fundamental for a dual threat quarterback; his release is lightning quick and his follow-through is almost systematic. This would be an attractive asset if his accuracy wasn't so dadgum spotty. With little to correct mechanically, improving his accuracy will be a mind-numbing feat. We've also seen that drafting a QB solely because of potential can be an embarrassing mistake. Need I remind anyone of JaMarcus Russell? In conclusion, Newton's chances of being a successful quarterback in this league are about as slim as picking that winning lotto ticket, but I'm sure someone will take a chance on him in the 1st round. Anyway, if quarterback doesn't work out I'd love to see someone give this kid a shot at tight end. He certainly looks the part.
We've got your Cam Newton jersey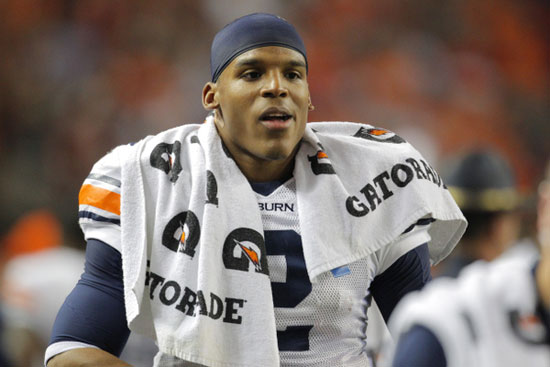 Auburn Tigers quarterback Cam Newton (2) celebrates on the sidelines in the Auburn Tigers 56-17 victory over the South Carolina Gamecocks in the SEC Championship at the Georgia Dome in Atlanta, GA.
---
4. Colin Kaepernick, Senior – Nevada

-The first QB on the list with over 10,000 career passing-yards has both the mental and physical toughness to contribute at the next level. He's a born winner with one big flaw – the attribute that turns a college football superstar into an NFL benchwarmer – inconsistent accuracy. Kaepernick is fantastic when it comes to buying time with his feet and keeping the play alive long enough to connect on a clutch throw, but from inside the pocket I've seen him toss the ball to about every spot except in the hands of a wide receiver. However, this can be corrected by reinventing his throwing motion. Much like Tebow, Colin Kaepernick is leaving college while trying to fix an awkward half-side-armed/half-pro-style approach with a dangerously slow release. With mechanics will come pocket presence and with pocket presence will come opportunities for this star-in-waiting.
5. Andy Dalton, Senior – TCU

-As a 4-year starter, Dalton operated out of every formation from a power-I to a spread, helping him gain valuable experience and a vast understanding of multiple systems. He was an effective pro-style passer during the regular season and didn't disappoint during the passing drills at the combine, showcasing good arm-strength and an ideal release. Dalton's leadership skills can be proven by his winning percentage, dropping only eight games during his full tenure at TCU. Standing a little short at only 6'2" will diminish his value in the eyes of NFL scouts. Expect him to be selected early in the 3rd round.
6. Ryan Mallett, Junior – Arkansas

-Towering over the competition at 6'6" and 238lbs, Ryan Mallett is a near-perfect physical specimen who had high draft hopes at the season's start. After commandeering an offense that finished 4th in the nation in passing yards, his stock was looking hearty and healthy. Unfortunately, Mallett's ascertained tendency to blow games in crunch time has GM's questioning if he's the right guy to build their franchise around. If it weren't for Mallett's erratic arm, the Razorbacks would have quality wins over Auburn and Alabama, as well a Sugarbowl victory over the Buckeyes. Overthrowing receivers was almost habitual for the pressure-consumed Hog once teams began to battle back against his explosive offense. A team may take a chance on him as early as the 2nd round, however I can certainly foresee him as the guy who takes a major slide deep into the 3rd day.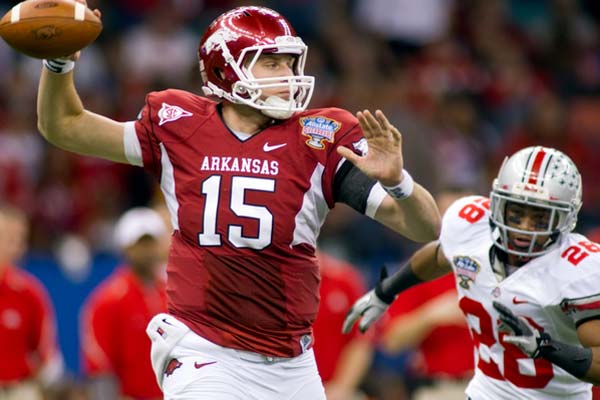 4 January 2011: Arkansas Razorbacks quarterback Ryan Mallett (15) drops back for a pass in the second half vs Ohio State Buckeyes.
---
7. Pat Devlin, Senior – Delaware

-Devlin had one of the most efficient seasons of the past ten years in 2011, attempting 384 passes while maintaining a 68.0% completion rate and surpassing the 3,000-yard mark. Oh, and by the way, he was only picked off three times all year. In 2011, the Blue Hens averaged over 28ppg en rout to a 12-3 record behind Devlin, helping him earn 3rd Team AP All-American honors. At 6'3", Devlin has the build to get playing time in the NFL but he's going to need to prove that he can throw into tight windows and escape the pocket when it starts to crumble. I see him more as a solid backup rather than a guy who can compete for a starting job but, hey, backups make good money too.
8. Scott Tolzien, Senior – Wisconsin

-The hard-working Senior led a very productive UW offense, and although it was primarily run-based, Tolzien was accurate when needed and almost never failed to make a clutch throw. His heavy reliance on his safety blankets may be the downfall of his draft stock. There just isn't enough film of Tolzien making NFL throws to make him higher than a 3rd day pick.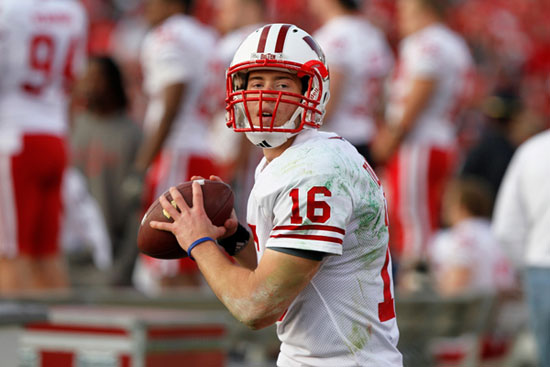 01 January 2011: Wisconsin Badgers quarterback Scott Tolzien #16 during the NCAA Football 97th Rose Bowl Game vs. the TCU Horned Frogs at the Rose Bowl in Pasadena, CA.
---
9. Christian Ponder, Senior – FSU

-Ponder is armed with a rocket-shoulder, ideal stature, and excellent leadership qualities, but there's something that sets him aside from my main man, Jake Locker, in a dangerous way. Risk factors are absolutely killing his draft stock in my eyes. For starters, his throwing motion is slightly erratic with a hesitant release. This allows defensive linemen that extra second to get to Christian and put him on his back. Secondly, Ponder does a terrible job of protecting the football. Whether he's trying to slip throws in between double coverage or carrying the ball off guard with that Marcus Allen-esc grip on the leather, Ponder is a turnover waiting to happen. I see teams taking him on the 2nd day with dreams of a makeover, but if he slides he's got a good shot at being this year's Jevan Snead.
10. Greg McElroy, Senior – Alabama

-Standing solid at 6'3" and 225lbs, the former national champion quarterback fits the mold of a by-the-books NFL passer. Neither his arm-strength nor accuracy is phenomenal but mediocrity in those categories won't stand in the way of success for a player of his intellectual caliber. A highly effective game manager, McElroy completed over 70% of his passes during his Senior year, leading the SEC powerhouse to an eye-popping win in the Capitol One Bowl over the Big 10 co-champion, Michigan St. Expect McElroy to come off of the board late in the 7th round and make an NFL roster. You may see him filling in for an injured starter and I think he has the discipline and sound fundamentals to lead a team to some victories. Even if a future in pro-football doesn't come to premonition, if you've heard him guest speaking on The Herd lately you'll know he's got a bright future in broadcasting.
---
What do you think?
We'd love to hear your comments and/or opinions. If you submit them here, other visitors can read them, rate them and comment on them. An e-mail address is not required.
---
From Top Quarterbacks in 2011 NFL Draft to NFL Football Blog | Sports Blog | NCAA Football Blog | NFL Football Archives | College Football Archives | MLB Baseball Blog | College Baseball Blog | MLB Baseball Archives | NBA Basketball Blog | NCAA Basketball Blog | NBA Basketball Archives | NCAA Basketball Archives | Fantasy Football | Fantasy Basketball | Fantasy Baseball | Soccer Archives | Olympics Archives | Stupid Athletes Archives | Other Archives | Football Forum | Basketball Forum | Baseball Forum | NFL Football Store | NBA Basketball Store | MLB Baseball Store | NCAA Football Store | NCAA Basketball Store | NCAA Baseball Store | Fatheads | NFL Football Tickets | NBA Basketball Tickets | MLB Baseball Tickets | NCAA Football Tickets | NCAA Basketball Tickets | NCAA Baseball Tickets |
---
Home Page
About Us | Contact Us | Site Search | Advertise | Terms of Use |
---