Top MLB Minor League Talent
Baseball's free agency season is almost over. As of this writing, star third baseman Adrian Beltre and closer Rafael Soriano remain unsigned but most of baseball's jewels have changed hands. However, the truth is that the impact of free agency is almost always very overrated. Most team's true improvement comes from young talent injections from the minor league affiliates. Let's take a look at some of the very best players in the minors. First up, let's look at the five most talented, major-league ready prospects in the minors today:
The Top Five
1. Dominic Brown, Philadelphia Phillies Outfielder
Brown is the definition of a future franchise cornerstone. Currently in Triple A and only 22, he has been the heir apparent to Jayson Werth since mid 2009. Brown has everything teams look for in an outfield prospect. He has the speed and quickness to steal 20+ bases in the majors and pairs it with power to match. He is a true five tool player and will be the Phillies best outfielder for years and provide an injection of youth into a rapidly ageing lineup.
2. Mike Moustakas, Kansas City Royals Third Baseman
Moustakas is the Royal's future cleanup hitter. He is only 21 and has torn up every level of the minors by batting .300 with 30+ homers in seemingly effortless fashion. He is likely a mid 2011 season call up and, along with 1B/OF Eric Hosmer and catcher Wil Meyers, will anchor a dominant Royals lineup for years.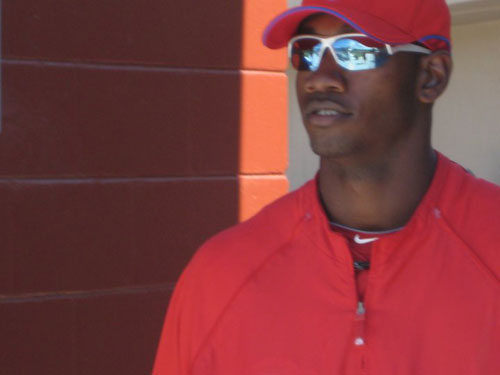 Domonic Brown at Phillies training camp 2010.
Thanks to Terveetkadet at wikipedia.org for this photo.
---
3. Desmond Jennings, Tampa Bay Rays Outfielder
Like Brown, Jennings has been the heir apparent to a leaving star (in this case Carl Crawford) for over a year. After finishing 2010 in Triple A, Jennings will almost certainly start 2011 in a Rays uniform. He has five tool talent and the potential to match, or perhaps even surpass, Crawford's contributions. If he can do that, the Rays will have a long window of opportunity to win championships before their current cornerstones (Longoria, Jennings, Price, Hellickson) hit free agency.
4. Jesus Montero, New York Yankees Designated Hitter
Montero is the best power bat in the minors. He is capable-at this very moment-of entering the majors and batting .300 with 30+ homers. His hitting style and motion at the plate resemble Mike Piazza's and I was tempted to name him the number one overall prospect in the minors. However, he has two major flaws: he can't catch (though he is improving incrementally in this area) and he has no speed. This will relegate him to a DH role but the Yankees have too many ageing players for a full time DH. That is why they have been shopping Montero's incredible talent for almost a year and he will almost certainly be traded at some point. It's unwise to ship off such a great talent but that's what happens when A-Rod looks like Travis Hafner two years into a ten year and two hundred fifty million dollar contract.
5. Zach Britton, Baltimore Orioles Pitcher
I've ranked Britton higher than most. Many scouts see him as a number two or three pitcher in a good rotation, and that may be true, but I think he's one of the safest bets in the minors. The Orioles look terrible right now but a 1-2 punch of Matusz-Britton will help them get to a better place.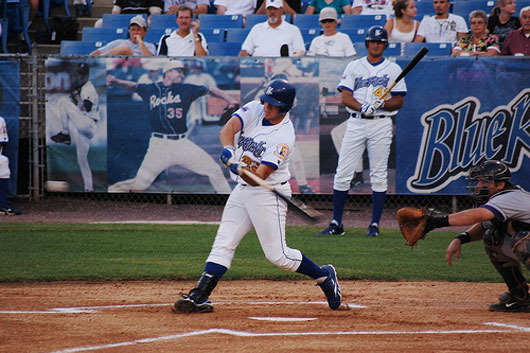 Mike Moustakas' home run swing.
Thanks to PaulMiles at flickr.com for this photo.
---
The Next Fifteen:
While this is not the Baseball America prospect handbook, I did want to delve a bit into some of the other Triple A minor league talents who are close to making an impact. As always, if you would like more information on this topic, including on particular players, team systems, or anything else, please leave comments at the end and we will make sure to get that content to you. So, without further ado, the next fifteen:
6. Dustin Ackley, Seattle Mariners Second Baseman
Limited power and second base may not be his position but a great skill bat.
7. Eric Hosmer, Kansas City Royals First Baseman
Possible future batting champion, will be the three hitter next to Moustakas with more skill but less pure power.
8. Brett Wallace, Toronto Blue Jays First Baseman
He has been traded around like a hot potato but there is a genuinely great power bat here.
9. Michael Pineda, Seattle Mariners Pitcher
Seattle's replacement for Cliff Lee, good control and well developed, should be great with Hernandez.
10. Mike Minor, Atlanta Braves Pitcher
He has incredible strikeout totals in Triple A and, when he comes up, he will make the Braves rotation an elite group.
11. Freddie Freeman, Atlanta Braves First Baseman
Freeman has a great power bat. The Braves have been soft hitters for years but, with a healthy McCann, Uggla, Heyward, and Freeman, their lineup should be surprisingly potent.
12. Tanner Scheppers, Texas Rangers Pitcher
With Feliz moving back to the rotation (it will happen at some point mark my words) he is the closer of the future.
13. Austin Romine, New York Yankees Catcher
Unlike Montero, Romine can catch. His bat needs some work but he is Jorge Posada's heir apparent and should be in pinstripes to start 2012.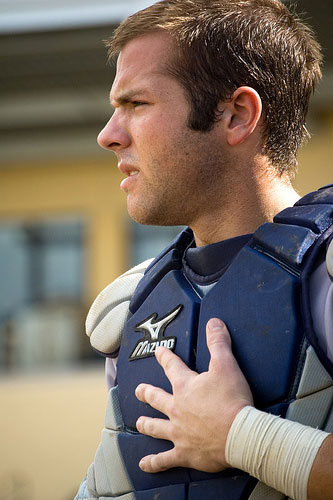 Austin Romine.
Thanks to lakelandlocal at flickr.com for this photo.
---
14. Chris Archer, Chicago Cubs Pitcher
This is a very, very high rating and some will accuse me of being a homer. But Archer came on strong last year, he has great control and big upside, and the Cubs will happily accommodate his presence in a weak rotation.
15. Yonder Alonso, Cincinnati Reds First Baseman
Alonso is supposed to have one of the best power bats of this generation but we haven't seen any production yet. Let's hope it comes at some point.
And finally, let's take a brief look at five prospects who, while not yet close to the majors, project to make an impact at some point in the future. There are many, many talented prospects in Single and Double A, so these are just a few of my favorites. For profiles on other players, just drop a note in the comment box:
1. OF Mike Trout: Angels outfielder, 18 years old, centerfielder of the future
2. P Martin Perez: Best pitcher in the Ranger's system, lefty, future ace
3. P Julio Teheran: Best pitcher in the MLB's best minor league pitching system, future ace
4. OF Brett Jackson: 2009 draft pick, rapid-riser, athletically gifted, strikeouts could limit him
5. SS Hak Ju Lee: Ultra talented shortstop, defensive maven, could push Starlin Castro to 2B
And there you have it: my thoughts on the best prospects in baseball today. More to come as these talented players progress, some to the majors, and others take their place.
---
---
What do you think?
We'd love to hear your comments and/or opinions. If you submit them here, other visitors can read them, rate them and comment on them. An e-mail address is not required.
---
From Top MLB Minor League Talent to MLB Baseball Blog | Sports Blog | NFL Football Blog | NCAA Football Blog | NFL Football Archives | College Football Archives | College Baseball Blog | MLB Baseball Archives | NBA Basketball Blog | NCAA Basketball Blog | NBA Basketball Archives | NCAA Basketball Archives | Fantasy Football | Fantasy Basketball | Fantasy Baseball | Soccer Archives | Olympics Archives | Stupid Athletes Archives | Other Archives | Football Forum | Basketball Forum | Baseball Forum | NFL Football Store | NBA Basketball Store | MLB Baseball Store | NCAA Football Store | NCAA Basketball Store | NCAA Baseball Store | Fatheads | NFL Football Tickets | NBA Basketball Tickets | MLB Baseball Tickets | NCAA Football Tickets | NCAA Basketball Tickets | NCAA Baseball Tickets |
---
Home Page
About Us | Contact Us | Site Search | Advertise | Terms of Use |
---