Three National Championships in 370 Days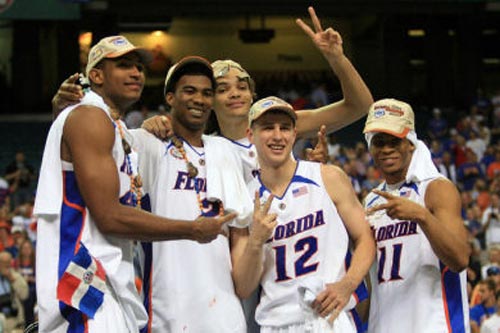 Champions Florida.
---
So should The Ohio State give up the "THE" in their name? Or give up the title of "The Program" by Sports Illustrated? (Cursed). Ohio State fans wanted a rematch with the Gators with a healthy Oden. Be careful next time of what you wish for. I think it's clear who THE program is now. Basketball, football, and then basketball champions again for THE University of Florida Gators. Amazing. I know the rest of the country is sickened.
I felt this Gator team was a team of destiny coming into this game. I felt good they would win. Too much experience, too well coached, and too unselfish. How often do three lottery picks turn down millions to come back to college after reaching the pinnacle of college basketball? Coming back was the easy part. The hard part was to actually follow through. Nineteen straight eliminations games faced the Gators and they have won them all the past two seasons.
What I like so much about this team is about how much of a team they are. There are no superstars. No one cries when they don't get the ball enough. No one player tries to be above the team. The go to guy on the team is whoever is open. If it's not Corey Brewer, it's Noah or Horford. Or maybe Taurean Green. Or Lee Humphrey starting a run with a couple 3's. Or Chris Richards who came off the bench against UCLA and was the leading scorer.
The inside game wasn't going tonight, so the shots were coming from the perimiter. It was the hot shooting of Brewer, Humphrey, and Green that killed OSU. Whenever they tried to make a run, the Gators would drain a basket with such ease.
Last season the Gators won the title by being the hottest team in the tournament. This season the Gators are clearly the best team in the country. They could have beaten the Harlem Globetrotters.
What's just as sweet as this championships is that it was done against Ohio State…again this year.
---
---
What do you think?
We'd love to hear your comments and/or opinions. If you submit them here, other visitors can read them, rate them and comment on them. An e-mail address is not required.
What Other Visitors Have Said
Click below to see contributions from other visitors to this page...

OSU got all kinds of good looks




2007/04/03 at 2:35 pm Did you ever think about what would have happened if OSU would have shot at least REASONABLY well from behind the arc? Don't tell …
Gators were clearly the best team Not rated yet
2007/04/03 at 1:11 am Yeah, Gators were clearly the best team throughout the Tournament and (other than a short stretch in Feb.) throughout the season.. …
---
From Three National Championships in 370 Days to NCAA Basketball Archives | Sports Blog | NFL Archives | College Football Archives | MLB Archives | NBA Archives | Soccer Archives | Olympics Archives | Stupid Athletes Archives | Other Archives |
---
Home Page
About Us | Contact Us | Site Search | Advertise | Terms of Use |
---