The Week of College Basketbal: Week 9
By Dennis Berry

We are through another week in the books as we head into conference play across the country. Last week was upset time for ranked teams across the country. A total of 15 ranked teams last at some point during the week.

There was other news and notes from last week and here are a few.
Can Referees Count to Five?

So we all know that basketball is 5 on 5, expect when the refs miss a six players being on the floor. That is what happened in the final 21 seconds of the Louisiana-Lafayette-Western Kentucky game last Thursday night.

Here is video of the ending of the game:

As you can clearly see, there were six players on the floor for Louisiana-Lafayette. The referees should have seen that and assessed a technical foul to the Ragin' Cajuns. They missed it and the Hilltoppers lost 72-70.

There was fallout over that game. The next day following the loss Ken McDonald was released as Head Coach. It was the end of a stint that had went downhill after his first year. After going 25-9 and a NCAA Tournament Bid in 2008-009 McDonald went 21-13 in 2009-10, 16-16 in 2010-11, and was 5-11 this year.

Assistant Coach Ray Harper was named interim Head Coach.

Also the officials from that game, Brad Gaston, Roger Ayers and Reinaldo Acosta, could face a suspension for missing the sixth player.

Clock Problems

Last week brought another crazy ending for Michigan State-Wisconsin, this time on the basketball court.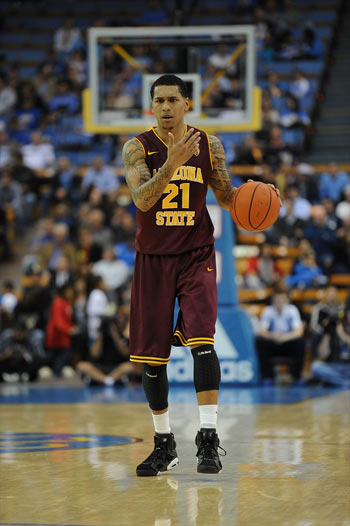 Wisconsin thought that Ryan Evans hit a game tying three pointer to send the game into double overtime. After reviewing the shot, officials waived off the basket and said that Evans did not get the shot off in time. The problem for viewers was that there were two different times shown.

Transfer & Dismissal News

Arizona State has dismissed leading scorer Keala King. He was averaging 13.7 points a game for the Sun Devils this year. Apparently King and coach Herb Sendek never got along. King had been suspended the previous week for "unacceptable conduct."

This is just another rough spot for Sendek and the Sun Devils, who are currently 5-10.

Jeff Jordan, son of Michael Jordan, has decided to leave the Central Florida basketball team for "personal reasons." He had appeared in 13 games and averaged only 2.7 points a game this year.

Former Kentucky wing Stacey Poole is transferring to Georgia Tech. Poole left Kentucky before the start of the year after it appeared he would only get limited use this year. He was a four star recruit coming out of high school, but only played a total of 45 minutes as a freshman.

Ole Miss dismissed leading scorer Dundrecous Nelson after he was arrested for and charged with drug paraphernalia possession. He was averaging 11.6 points in 14 games this year.

Record Losing Streak

Towson set an NCAA Division 1 record with its 35th consecutive setback in a 75-38 loss to Old Dominion. Sacramento State was the previous recorded holder. Their next chance to end the streak comes against William & Mary.

NFL = No Fun League

Siena thought it had a great idea. The MAAC school located in Albany, NY was going to so the Falcons-Giants playoff game on the scoreboard during their game against Niagara Sunday afternoon.  Well NFL killed that idea Sunday morning.

We all know the NFL is the biggest sports league in the America, and they would rather not lose viewership because of college basketball game

UPSETS!!!

Temple over #5 Duke
Kansas State over #7Missouri
Seton Hall over #8 Connecticut
Rutgers over #8 Connecticut
West Virginia over #9 Georgetown
Notre Dame over #11 Louisville
Tennessee over #13 Florida
Arkansas over #15 Mississippi State
Fordham over #22 Harvard

Finally, we here at The Best Basketball Blog would like to pass on condolences to the family of Hall of Fame Coach Gene Bartow who died last week at the age of 81. Bartow guided Memphis State and UCLA to Final Fours in the 1970's. He is also credited with building the Alabama-Birmingham from the beginning.


What do you think?
We'd love to hear your comments and/or opinions. If you submit them here, other visitors can read them, rate them and comment on them. An e-mail address is not required.