This Picture Sums Up The Bears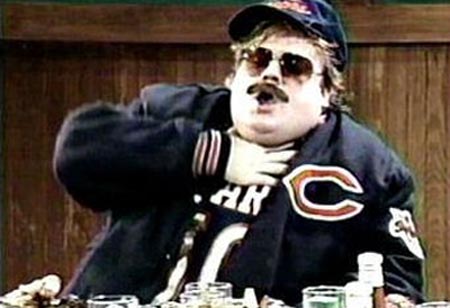 Farley.
---
I'll admit that I nearly fell asleep towards the end of the Super Bowl. It was a snooze fest. I think the rain coming down had a calming effect. Don't we all like to sleep to the sound of rain? The game had become so predictable by then. Grossman was good for yet another interception or their offense would muster another fabulous three-and-out. The Colts hardly had to punt in the second half. They were not going to lose. Plus I stuffed my face with food and all the blood in my body went towards the stomach to help it digest.
Thank goodness this game was not about the referees. It just could not get worse than what we saw last season. Billy Joel could have officiated drunk and Prince with lipstick on and it could not have been as bad.
I thought it sucked to pay $2000-$3000 for a Super Bowl ticket and have to sit in the pouring rain the whole time. Yeah it's the Super Bowl but dry clothes, a hot shower, and no lines to the bathroom must have sounded real nice. Just think the Bears fans were thinking "I paid to see shit like that?"
Peyton Manning can now never win another Super Bowl and no one can talk about him not being a big game quarterback. I also heard his endorsement income should double to about $30 million per year after winning. As long as they're funny commericals I don't mind.
Tony Dungy is a classy guy and deserves this. Who cares what color his skin is?
Didn't the kickoff seem eerily similiar to the Ohio State/Florida BCS national championship game? That's what I thought when Hester ran it back. It turned out about the same in the end with the Bears not having an offense. I enjoyed that Gator game five thousand times more.
Rex Grossman played like he felt the pressure of every reporter reminding him of how much he sucks all week long. How about that one play where he scrambled in the pocket better than Michael Vick only to throw it in double coverage and nearly had it intercepted? He could have easily run it. I do not doubt he did lines of cocaine in college, like I mentioned in my previous post. How can he not handle a good snap from a center he's rubbed up against all season? I thought he should have gotten an honorable MVP trophy. His lofted interception returned for a touchdown deflated all hopes. He'll probably be the Bears quarterback next season but they'll never win a Super Bowl with him so that's fine with me.
I truly hope he gets the Ebola virus through his cock. I have my reasons.
My favorite commerical of the night? The Bud Light commerical where the students are learning english. Some other ones were funny but most of them were ho-hum. I would run out of room to name the stupid commericals I saw but I will mention the Jessica Simpson one.
I liked Prince at halftime. I thought we'd get a closeup shot of his makeup running in the rain but he must have had some good waterproof shit on. How does he NOT age? He's 49 this June (thanks Google) yet he looks 30. Just wondered why he did a cover of a Foo Fighters song (The Best of You)? It's a great song and he did a nice rockin job but Prince has more hits than a freshly packed bong. I wanted to hear "1999" even though...wait...that's like 8 years ago now...shit time flies.
Just like this football season which has concluded. I feel like it was yesterday I really thought the Jacksonville Jaguars were going to have a great season and I was thinking if I should take L. Tomlinson or Shaun Alexander with the #2 pick in my fantasy draft.
---
---
What do you think?
We'd love to hear your comments and/or opinions. If you submit them here, other visitors can read them, rate them and comment on them. An e-mail address is not required.
---
From This Picture Sums Up The Bears to NFL Archives | Sports Blog | College Football Archives | MLB Archives | NBA Archives | NCAA Basketball Archives | Soccer Archives | Olympics Archives | Stupid Athletes Archives | Other Archives |
---
Home Page
About Us | Contact Us | Site Search | Advertise | Terms of Use |
---