The Worst NFL Drafters of All Time
We're less than 50 days from the NFL Draft, so we'll likely spend a lot of time talking about what the top teams should do, who will slip from the top of the draft, whether teams should draft for need or just take the best player available, and so forth.  The truth of the matter is, however, that nobody knows anything – players we hype will end up crashing to earth, and little known players will blossom once given a starting job.  It takes about five years for the results of a draft to really be known in clear hindsight.  Is there any way Ray Rice, Carl Nicks, or DeSean Jackson fall out of the first round if we re-did the 2008 draft, knowing what we know now?  Or that Vernon Gholston, KentwanBalmer, or Jeff Otah would still be a top draft selection?  Of course not – but there was no way to know that at the time.  Or was there?
The answer is no.  Sorry, that was a bad tease.  But some teams certainly seem to have been better at avoiding the busts and unearthing the steals than others.  I was going to give a list of the best and worst draft picks of all time, but, honestly, we've seen that before, and there's not a lot of novelty there -- did you know that Tom Brady should have gone earlier, or that Akili Smith wasn't a very good quarterback?  Shocker!  However, when producing lists for that article, I noticed some patterns.  There were a couple teams that kept showing up in either the "steal" or "bust" column.  So, that led us here – the list of the best and worst drafting teams of all time.

A couple notes before we get into the list – this isn't the most rigorous statistical breakdown of all time, but it does have a bit of an objective basis – I simply took the median player at each draft position (#1 overall, #2 overall, #153 overall, etc), and used that as a baseline, using Pro-Football-References' excellent Weighted Average Value statistic, which attempts to compare players across era and position.  It's good enough for a baseline, at least.  I compared each player drafted since the NFL went to a combined draft in 1967, and just saw which players did the best and worst compared to those averages.  The top 100 in each category were listed, and then I simply performed a rigorous mathematical test called "counting" to see which teams had more of one than the other.  Sure, it's rough and dirty, but it provides some interesting results.

Only one team doesn't have a player on either list – the Houston Texans.  Some might argue that David Carr should count as a bust, and he's certainly a disappointment, but remember, the average #1 pick isn't a Peyton Manning (who actually has performed so well that he appears on the 'best steals' list despite being the #1 overall pick!) or John Elway.   We're talking more of a Jeff George or Steve Bartowski type – and, while Carr hasn't even reached those levels, he compares significantly better than, say, a JaMarcus Russell.  The Texans, therefore, grade out at 0.  There are twelve teams that are between +1 and -1, meaning that they're just about average at this whole 'drafting' thing.  That doesn't mean they don't find busts or steals, however – the Cincinnati Bengals actually have the most players on both lists.  Sadly, that's 6 steals and 7 busts, so it's really one step forward and one step back for them.

Without further ado, the lists!

Top 5 drafting teams
#5: New England Patriots (+3)
Steals: Steve Grogan (1975, 5th round), Steve McMichael (1980, 3rd round), Rich Gannon (1987, 4th round), Curtis Martin (1995, 3rd round), Tom Brady (2000, 6th round)

Busts:  Eugene Chung (1992, #13), Chad Jackson (2006, 2nd round)

--Seems a little disingenuous to give them credit for drafting Gannon, as they planned to turn him into a running back before dealing him to Minnesota, but Tom Brady is worth two or three steals all by himself, so we'll call that a wash.  No player in the history of the NFL has graded out as high as Brady – that's what happens when you draft a future hall of fame QB in the 6th round.  What's very interesting here is that the steals are very much spread out – most front offices go through periods where they're picking studs every other year or something of that nature, but the Patriots have just plodded through, consistently year after year, through different GMs and different philosophies.

#4: Dallas Cowboys (+4)
Steals: Rayfield Wright (1967, 7th round), Steve DeBerg (1977, 10th round), Herschel Walker (1985, 5th round), Emmitt Smith (1990, #17)

Busts: None

---You read that right – none of the Cowboys draft picks are in the worst 100 of all time.  That's from a combination of being good enough to draft late – it's harder to be a bust when you're the 26th draft pick, as opposed to the 6th – and not whiffing too hard when you do draft early.  Their worst draft pick in the common draft era was Danny Noonan in 1987, who had a solid 6-year career as a backup.  That's pretty good, and helps hide the fact that two of these steals – DeBerg and Walker – really didn't have much of an impact in Dallas proper.  DeBerg never even signed with the team.  Avoiding busts, however, is enough to have a solid draft-day career – and drafting Hall of Famers like Rayfield Wright and Emmitt Smith never hurts.

#3: Miami Dolphins (+4)

Steals: Jake Scott (1970, 7th round), Joe Thiesmann (1971, 4th round), Gary Fencik (1976, 10th round), Dan Marino (1983, #27), Zach Thomas (1996, 5th round), Jason Taylor (1997, 3rd round)

Busts: David Overstreet (1981, #13), Yatil Green (1997, #15)

--In 1997, the Dolphins put their chips down on a young player who they thought would change the face of their franchise.  Unfortunately, that player was Yatil Green, who promptly tore his ACL and quadriceps on his very first day of training camp.  Not all busts are the fault of bad picks.  Fortunately for them, though, in back to back years they unearthed probable future hall of famers in Thomas and Taylor, the nucleus of a very strong defense in the late '90s and early '00s.  As for Marino, pretty much any slot you draft a Hall of Famer in is going to count as a steal of some description, and it helps that the likes of Todd Blackledge, Tony Eason, and Ken O'Brien went off the board before him.

#2: San Francisco 49ers (+5)
Steals: Joe Montana (1979, 3rd round), Ronnie Lott (1981, #8), Roger Craig (1983, 2nd round), Jerry Rice (1985, #16), Bill Romanowski (1988, 3rd round), Ricky Watters (1991, 2nd round), Terrell Owens (1996, 3rd round)

Busts: Terry Beasley (1972, #19), Reggie McGrew (1999, #24)

--And you wonder why they were so successful in the '80s.  Five of their seven steals are Bill Walsh products.  Rice was the product of a draft-day trade, with the 49ers giving up their 1st and 2nd round picks to New England in exchange for the greatest of all time – Al Toon and Eddie Brown were both taken before Rice.  The sheer length of his career, as well as the amount of records he's put up, even makes his pick rank above the selection of arguably the best quarterback of all time in the third round in Montana.  Very few could evaluate talent like the late Bill Walsh.

#1: Pittsburgh Steelers (+9)
Steals: LC Greenwood (1969, 10th round), Mel Blount (1970, 3rd round), Jack Ham (1971, 2nd round), Jack Lambert (1974, 2nd round), Mike Webster (1974, 5th round), Seth Joyner (1986, 8th round), Rod Woodson (1987, #10), Hardy Nickerson (1987, 5th round), Greg Lloyd (1987, 6th round), Hines Ward (1998, 3rd round)

Busts: Gabe Rivera (1983, #21)

--Yeah, as if there could be any doubt.  Their magic touch has seemed to escape them over the past decade, but the Steel Curtain was put together the old fashioned way, through the draft.  Which one do you single out as the best pick?  Webster in the 5th, possibly the best center to play the game?  Finding LC Greenwood in a round that doesn't even exist anymore?  The entire 1987 draft, which restocked a defense for a generation?  The team of the '70s, '80s, '90s, and '00s all appear in the top 5 drafting teams, and, even if not all the stars on those teams came from the draft, it shows that successful teams have good front office processes all the way down – excellent talent evaluation.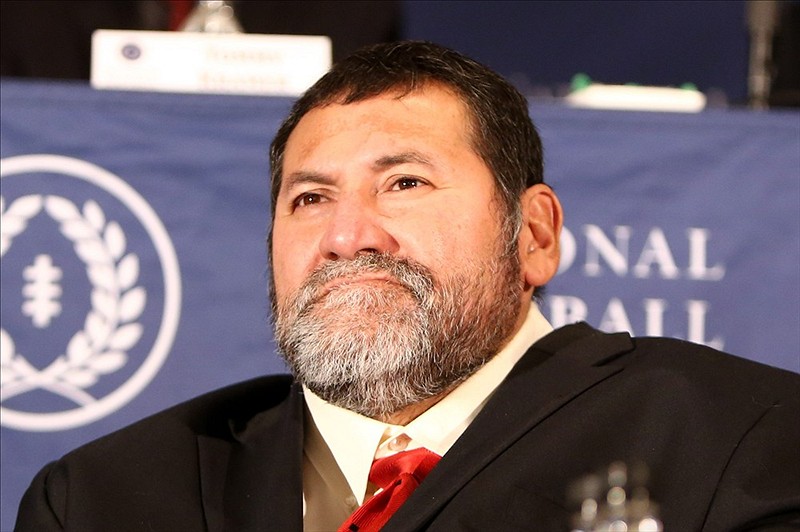 Dec. 4, 2012; New York, NY, USA; Gabe Rivera speaks at the NFF annual awards press conference at the Waldorf-Astoria before being inducted into the 2012 college football hall of fame. Photo Credit: Debby Wong-USA TODAY Sports.
And now, the flipside: The worst five drafting teams of all time.

#5: Atlanta Falcons (-3)
Steals: Brett Favre (1991, 2nd round)

Busts: Sonny Collins (1976, 2nd round), Aundray Bruce (1988, #1), Bruce Pickens (1991, #3), Tony Smith (1992, #19)

--Not good when your only steal never played for you.  Worse when you have one of the worst #1 overall picks of all time.  Worst when you drafted Bruce Pickens at #3, who sued the Falcons for drafting him.

#4: Detroit Lions (-3)
Steals: Lem Barney (1977, 2nd round)

Busts: Reggie Rogers (1987, #7), Andre Ware (1990 #7), Charles Rogers (2003, #2), Mike Williams (2005, #10)

--You can't blame this all on Matt Millen.  But you can blame most of this on Matt Millen

#3: Green Bay Packers (-4)
Steals: Mark Brunell (1993, 5th round)

Busts: Chester Marcol (1972, 2nd round), Rich Campbell (1981, #6), Brent Fullwood (1987, #4), Mark D'Onofrio (1992, 2nd round), Jamal Reynolds (2001, #10)

--And Tony Mandarich doesn't even make the list!  That just feels wrong, somehow, like he was so bad that he broke math itself.  Doesn't help that their only steal never started for the team, though having the Falcons best draft pick ever at QB helped smooth that over.  Lesson?  If you can't draft well, you've got to find diamonds in other places.

#2: New Orleans Saints (-4)
Steals: Rickey Jackson (1981, 2nd round), Pat Swilling (1986, 3rd round)

Busts: Royce Smith (1972, #8), Rick Middleton (1974, #13), Kurt Schumacher (1975, #12), Russell Erxleben (1979, #11), Linday Scott (1982, #13), Jonathan Sullivan (2003, #6)

--So, yeah.  The 70's didn't go very well in the Big Easy.  Erxleben deserves extra scorn – a punter drafted at #11?  And, as it turns out, not even a good one!  Perhaps there have been bigger busts, but that's my worst draft pick of all time, right there.  Kellen Winslow was taken two slots later!

#1: St. Louis /Arizona Cardinals (-5)
Steals: Aeneas Williams (1991, 3rd round)

Busts: Steve Pisarkiewicz (1977, #19), Steve Little (1978, #15), Clyde Duncan (1984, #17), Andre Wadsworth (1998, #3), Wendell Bryant (2002, #12), Matt Leinart (2006, #10)

--The anti-Steelers.  You've got a little of everything here – hyped QBs who flopped, first-round kickers, holdouts and injuries, substance abuse problem – you name it, they've flopped.  For unveiling historic busts in four different decades, the Arizona Cardinals are your worst drafting team of all time.
What do you think?
We'd love to hear your comments and/or opinions. If you submit them here, other visitors can read them, rate them and comment on them. An e-mail address is not required.