The Worst Decision: Bradley over Pacquiao
By Lucas McMillan

The Pacquiao-Bradley decision was not the death knell of boxing, as the sky-is-falling, completely predictable and still warranted media reaction painted it. I'm not making the hoary chestnut of an argument that "there's no such thing as bad publicity" either. But boxing has a rich history of terrible decisions and controversial outcomes, none of which have ever permanently derailed the sport. But it doesn't hurt that this particular spectacularly bad decision involved our generation's only true boxing superstar.
It seems that about every two or three years there's a boxing decision that's so controversial that the actual sports media gets (reluctantly) involved, interrupting their coverage of what Tim Tebow ate this morning. Analysts throw their hands up and cry to the heaven's that the sweet science has suffered yet another black eye, that boxing fans will turn away from the sport forever. This is a silly stance to take.

Boxing, though once a much more popular sport, has always had a core niche of fans, and that will remain the case. When media types decry the state of boxing, they hearken back to the sport's glory days. But when were those glory days, exactly? The 1920s? the 30s? They say that the popularity of the sport is in rapid decline. It's dying. It's too cruel, too brutal for today's public. This is like saying golf is a dying enterprise. People love golf as long as they have a golfer to root for.

Sports like boxing and golf are so inherently focused on an individual that fans need someone to get behind. Pacquiao is boxing's Tiger Woods, and as long as he's relevant there will be interest in the sport. When he retires, there might be a dip in popularity, like the NBA's struggle to hold on to public interest in the wake of Jordan retiring, or golf in between generational superstars like Nicklaus and Woods. Boxing is never gone, just dormant.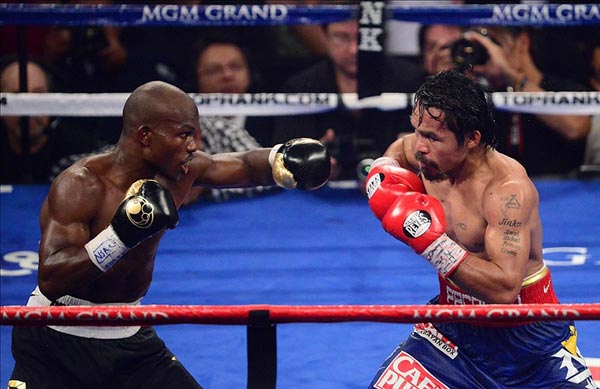 So to say that one foul decision ruined the sport is foolish. If anything, boxing doesn't have a foul play problem. It has a personality problem. If a ref blows a crucial play in an NFL game, you'll have forgotten it by next Sunday because your favorite team will be back on TV, with its roster of players that you either love or love to hate. But when Pacquiao is the only boxer you watch and his match is called terribly, well, what do you have to look forward to? The next time he fights, and that's it. That isn't the judges' problem. That's a dearth of interesting fighters.

What do you think?
We'd love to hear your comments and/or opinions. If you submit them here, other visitors can read them, rate them and comment on them. An e-mail address is not required.
From The Worst Decision: Bradley over Pacquiao to Boxing Blog