The Weirdly Effective Doug McDermott
Today in NCAA Basketball, all the publicity and press attention are given to flashy freshmen like Andrew Wiggins and Julius Randle and showyscorers likeMarcus Smart and Marshall Henderson.  Underneath all thatis where you find Doug McDermott. McDermott, now a senior on the Creighton Blue Jays, coached by his father Greg, receives little press considering he was the second leading scorer in the NCAA last season (23.1 ppg), and was a First Team All American selection.
Why, one might wonder, is McDermott not spoken of more? The answer is simple, McDermott doesn't fit today's mold of what warrants a player earning the title of being a "great college basketball player".

In a world of alley-oops and ankle-breaking crossovers, McDermott just seems out of place. I was talking to a friend of mine the other day about McDermott's game, and he defined it in a simple, yet very representative description, "He is weirdly good". The 6 foot, 8 inch, 225 pound forward just has a way with the ball that is indescribable. So indescribable that "weirdly good" only begins to cover his game.

McDermott is arguably the best in the league at creating his own shot. He's an extremely hard worker, never taking plays off. He averages 0.74 points per minute on the floor (the leading scorer last year only averaged 0.69), and this is all thanks to his constant motion. With this "work until you get an open shot" mentality, he is most accurately compared to Dirk Nowitzki of the Dallas Mavericks.

Another key piece to McDermott's game is his efficiency. Last year, he shot 56% from the field and 50% from behind the three point arc! By capitalizing on the chances he creates for himself, McDermott makes up for what he lacks in speed and athleticism, and that is what makes him one of the most prolific scorers in the league.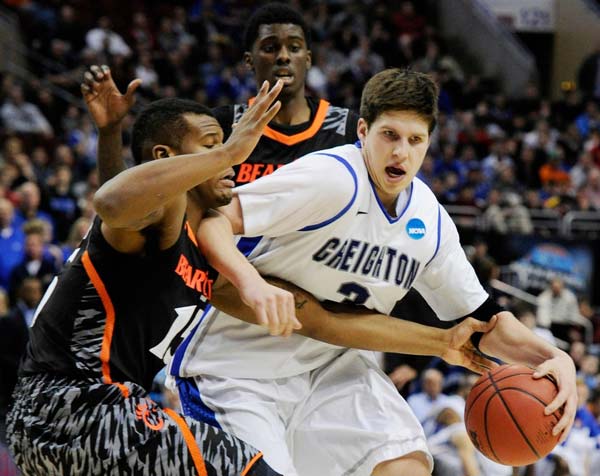 Last season, McDermott was held to under double-digit points in only two of the thirty-four games he played. In one of these games, against UAB, McDermott got in foul trouble early and saw very few minutes on the floor. In the other, against Indiana State, the Sycamores found a way to do what no one else had been able to do all season—shut down Doug McDermott. But that only sparked McDermott's work ethic.

He studied the tape over the next month, and when the two teams faced each other in the Missouri Valley Tournament, McDermott led his team with 25 points and shot an incredible 86% from the field. His mental strength is what provides him with an edge on his opponents with his ability to make mid-play adjustments to achieve success.

No matter how well he plays, however, it seems that McDermott will always receive a fair share of criticism for his slow style of play and lack of flashy athleticism. The most recent topics of criticism have been whether or not McDermott, out of Grand Forks, North Dakota, is ready for the primetime stage of the Big East. Last season, Creighton played Duke, Cincinnati, California, Nebraska, Arizona State, and Wisconsin.

In every one of those games, McDermott put up 20+ points and led his team to a win in five of the six! The Blue Jays switch to the Big East is one of the main reasons McDermott chose to forego the NBA Draft and stay in Omaha for his senior season. The college basketball community is certainly happy with his decision, and we all look forward to witness his understated dominance again this season!


What do you think?
We'd love to hear your comments and/or opinions. If you submit them here, other visitors can read them, rate them and comment on them. An e-mail address is not required.
From The Weirdly Effective Doug McDermott to NCAA Basketball Blog