The Texas Rangers' Lineup Dilemma for the 2013 MLB Playoffs
By Matt Green
Ian Kinsler. Adrian Beltre. Elvis Andrus. Michael Young. Mitch Moreland. Mike Olt. Jurickson Profar. David Murphy. Nelson Cruz. Leonys Martin. Craig Gentry. All eleven of the above players have to be worked into the 2013 Ranger lineup. Subtracting the catcher, which more than likely will be Geovany Soto or Mike Napoli (though I lean towards it being Soto), there are only 8 spots. 8 spots for those 11 guys.
Michael Young is clearly coming to the end of the road as far as being a top of the order, .300 hitting infielder. He is mostly a utility infielder and DH these days who will hit around .270 and, if lucky, have an OPS near .320. At least, that's what this year says will be his future. Can he rebound? Of course. There are few guys that work as hard and if I was to bet on anyone, he would be near the top of the list. However, the bat speed has diminished greatly and his fielding is worse than watching an episode of Ancient Aliens. He has one more year on his contract in Texas, followed by what will no doubt be a departure. Ron Washington has already said that he will be sinking with the Michael Young ship, if indeed it does happen, so expect him to be the regular DH next year yet again.
Obviously, Adrian Beltre will not move off third base. That should be obvious. He's the best defensive third baseman in baseball and is like a manager out there on the field. Let's just set that in stone right now.
Mitch Moreland has been killing the ball lately, and appears to be the long-term answer at 1st base with the improvement of his defense. However, in limited exposure in 2012, Moreland is struggling a bit against lefties, drawing only 2 walks in 51 PA, while striking out 14 times. Also, though, his OPS is almost .930 vs left-handed starters, which makes you wonder if he needs to be platooned. Ron Washington has always been a manager favoring the platoon approach, and that's where Mike Olt comes in.
The front office is huge on Olt, refusing to trade him at the deadline, even with the 2 past World Series failures, so clearly they love this guy. He has had a rough go of it since being promoted from AA Frisco, but he has had plantar fasciitis in his foot and has had very limited at-bats. Point is, Olt will more than likely be the platoon at 1B against LHP in 2013, while Moreland sits the bench. Olt will also spell Beltre at third, and maybe DH some if Ron changes his mind and abandons Michael Young's sinking ship.
David Murphy, with his performance in 2012, has cemented the starting Left Field position. Nelson Cruz will start in Right, and nobody will debate on that. Center Field is where it gets tricky, but the solution is fairly obvious. Gentry and Martin will platoon in center almost certainly, which is an incredible fielding duo and an average-to-slightly-above-average offensive tandem. Note that all of this is assuming Josh Hamilton's imminent and likely departure from Arlington.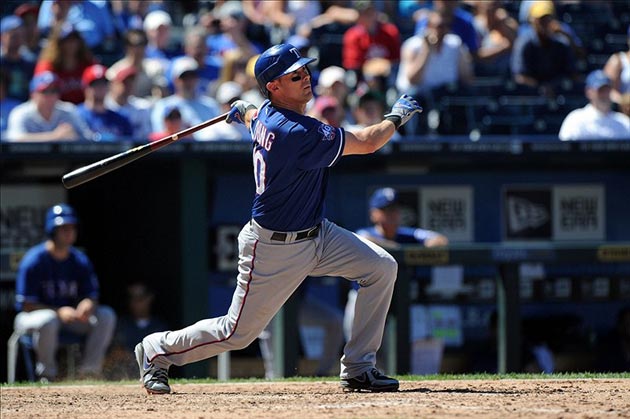 ---
Finally, we get to the good stuff. Only two men play up the middle in baseball. The shortstop, of which the Rangers have one of the best, if not the best in the game; and the other, the second baseman, of which the Rangers have one of the best, and possibly but probably not the best in the game with Robby Cano sitting out there. And then, there's the phenom Jurickson Profar. Since Spring Training began, I don't think I have had a day go by where I didn't hear the name "Profar" mentioned. He is already being talked about like a superstar in Rangerland, and rightly so. As a SS, a historically powerless position, he has some decent power. He is fast. He is a plus-fielder at one of the most important defensive positions, and he has some of the best plate discipline you will see out of a 19-year old. Yeah, dude is 19. He won't turn 20 until just before Spring Training 2013. The kid's future looks bright, but there is a problem.
You don't want to move Profar to 2nd base, because that takes away a ton of his value. The reason he has hailed as the top prospect in baseball is because of how difficult it is to find a shortstop with the offensive skill set that Profar possesses.
There has been talk of moving Kinsler to LF, and reports say that Kinsler is on board with it. But that takes away David Murphy, unless you put him at DH, which apparently is reserved for Michael Young and his current OPS of .654 and OPS+ of 71 (as a comparison, Murphy's OPS is .880 and he has an OPS+ of 129). And plus, the problem I mentioned before comes back into play with Kinsler being a solid 2B, and Profar's diminishing value as a 2B rather than a SS. Note though that Profar is being groomed at 2B, having played 22 games there this year after having played zero there in previous minor league seasons.
And so, it comes back to Elvis Andrus. The guy plays a better SS than anyone in the game, and that cannot be refuted. His hitting has come a long, long way since his 20-year old rookie season in 2009. His OBP has increased every season he's been a pro and currently sits at .364 with just over a month to go in 2012 before another October for the just-turned-24-year old. His OPS+ is 97, which, for a SS that has only hit 2 HR in 2012, is astounding. But there are always talks and will continue to be talks about trading the most consistent Ranger bat. I am aware of the reservations that Texas has about his looming contract year, just two years away. Andrus is a Scott Boras client, so they no doubt won't want to deal with the super-agent. But, when you look at Andrus value and what he has done, improving himself every year, it's hard to imagine a team trading a guy at a premiere, up-the-middle position so early in his career.
Jon Daniels and his staff have been second-to-none since taking over the Rangers front office in 2005, and they no doubt will make the right call. It's hard to trade Profar with the talent he has and the fact that it's going to be a doozy trying to re-sign Elvis in 2 years. But it's also hard to trade Andrus, a proven guy who isn't just a productive player, but a joy to have in the clubhouse as well. I don't envy whomever has to make this decision, but, with the track record of JD and Thad Levine and the rest of that outstanding Rangers front office, they no doubt will make the correct decision. Either way, it's better to have too many good players than too many bad ones, I guess.
But let's leave that for 2013. The current Rangers have some unfinished business to tend to. Bring on October.
---
What do you think?
We'd love to hear your comments and/or opinions. If you submit them here, other visitors can read them, rate them and comment on them. An e-mail address is not required.
---
From The Texas Rangers' Lineup Dilemma for the 2013 MLB Playoffs to MLB Baseball Blog | Sports Blog | NFL Football Blog | NCAA Football Blog | NFL Football Archives | College Football Archives | College Baseball Blog | MLB Baseball Archives | NBA Basketball Blog | NCAA Basketball Blog | NBA Basketball Archives | NCAA Basketball Archives | Fantasy Football | Fantasy Basketball | Fantasy Baseball | Soccer Archives | Olympics Archives | Stupid Athletes Archives | Other Archives | Football Forum | Basketball Forum | Baseball Forum | NFL Football Store | NBA Basketball Store | MLB Baseball Store | NCAA Football Store | NCAA Basketball Store | NCAA Baseball Store | Fatheads | NFL Football Tickets | NBA Basketball Tickets | MLB Baseball Tickets | NCAA Football Tickets | NCAA Basketball Tickets | NCAA Baseball Tickets |
---
Home Page
About Us | Contact Us | Site Search | Advertise | Terms of Use |
---