The Story of USC Trojan Kyle Negrete
By Stephanie Graves
A few pages into the Sports Illustrated with Robert Griffin III on the cover and you notice something that seems out of place. There is a picture, a full spread, of a tiny boy in a USC jersey is trying to play a game of tackle with a scruffy young football player with a date written in sharpie on his arm.
A look at the caption explains the scene. McClain is a young boy with a rare blood disease. Kyle Negrete is the Trojans' punter.
The date on his arm, 5/17/02, is the date is mother Patty died of breast cancer.
When Negrete was six-years-old he told his father he wanted to be in Sports Illustrated one day. But at that age, he probably pictured some heroic feat of national championships implications. He couldn't have guessed his dream would come true when a photographer caught him playing with a little boy right before the Trojans' Spring Game.
"That's really who I am and who I represent, is that type of act," said Negrete.
WHO IS KYLE NEGRETE
At first glance Negrete seems like he belongs on a football team. Six feet tall, well built, with a bit of a scruffy look to him. But talk to him and you find the inside clearly doesn't match the outside.
He talks about loving others. He talks about his Dad. He'll tell you the art of the lasting relationship in today's society is a lost one.
And though -- like most people who come to USC to play football -- he wants a stint in the NFL post graduation, he will tell you about his interests in non-profits with the vernacular of a true scholar and future businessman.
His twitter account is like a IV drip of encouraging words and bible verses.
But when you hear about how he grew up, some of it starts to make sense.
The two things that Negrete loves most in this world, people and football, are completely innate.
His grandfather, Jim Sweeny, is the winningest coach in Fresno State history. His father played for Fresno State. His Uncle Kevin played for there too and then for the Dallas Cowboys. So playing linebacker only seemed natural.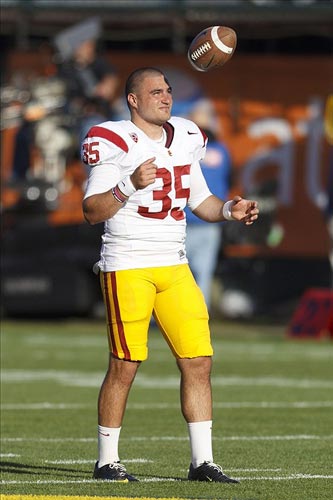 Southern California Trojans punter Kyle Negrete (35) warms up before the game against the California Golden Bears at AT&T Park. Southern California defeated California 30-9. Photo Courtesy By: Jason O. Watson-US PRESSWIRE.
---
He grew up watching his father be heavily involved in the community.
His first harsh dose of reality came at age 12 when Negrete lost his mother to breast cancer. In her honor, his family created The Patty Project. Through that project they help provide food, love and care to under privileged children in the area.
Good came from bad.
And Negrete's love for helping others grew.
Directly out of high school, Negrete chose to play for a smaller school, the University of San Diego. He was lucky enough to make it that far. He survived a car accident his senior year escaping with only a back injury.
While he was there he started a program that allowed student-athletes to mentor autistic children. He still keeps in touch with the young man who inspired the project, Joel Anderson. But they are more brothers than friends.
Two seasons into his stint in San Diego, he needed back surgery. It ended his days at a linebacker. But he still could punt. So he concentrated on that and became good enough to transfer to a Division I college.
So again, good came from bad.
That year, family friend John Baxter would take a job at USC. He knew Negrete – his skills and his work ethic – and allowed him on the team. No, there wouldn't be a scholarship.
But he would be doing what he loved to do.
"In regards to life, it's cliché to say, but there are so many times where in all the bad, all the bad things that can be thrown our way, if can you at it through the perspective of 'What is God doing in this situation for me?'" said Negrete.
Then he talks about all the doors that have been opened.
CREATING A LEGEND
Forced to sit out a year because of transfer regulations only meant he wouldn't be suited up on Saturday. He spent the year, learning John Baxter's schemes and making friends.
And one of those friends, quarterback Matt Barkley, seemed to like the same things Negrete did too. So he invited the punter along for a mission trip to Nigeria during the winter break. The trip was only possible because the NCAA has put a two-year, post-season ban on the Trojans and the quarterback wanted some good to come of the situation
So the two, along with Barkley's family, built wells and soccer fields, handed out presents and did what they could to help the people of a small, but hopeful war-ravaged village in Nigeria.
He still hadn't played a down of football, but he had traveled the world to help others for the first time.
And in 2011, he won the starting job and starting playing, still without a scholarship.
"In the doors that He's opened now, in being the punter at USC, I never would have had this opportunity and this platform that I have now if I wasn't here at USC playing. I look at that and, yes it would be great to be playing defense and making these great plays on the field, but it is really special to be a part of such a great group of guys and to have had the success we had last year."
A large portion of that platform was built in a single instant. On a late Saturday afternoon in November, Negrete ran a fake punt against Washington, running over several defenders before toppling out of bounds pinning an opponent to the ground in the process. It was the turning point in what ended up being a 40-17 route of Washington. It was one stop on what players had called the "Revenge Tour."
When an article ran in the LA Times the next day suddenly everyone knew about this punter named Kyle.
While most good punters live in obscurity, everyone, at least who reads the newspaper, knew who this one was.
They felt his influence.
He's not a quarterback. He's not even the star linebacker. There are some games he never takes the field. But his presence is felt by the team. By people in Nigeria.And Haiti.And San Diego.And Los Angeles.
Because this is the man that knows that "good" can come from "bad." So he devotes his life to making sure that happens for others as well.
---
What do you think?
We'd love to hear your comments and/or opinions. If you submit them here, other visitors can read them, rate them and comment on them. An e-mail address is not required.
---
From The Story of USC Trojan Kyle Negrete to NCAA Football Blog | Sports Blog | NFL Football Blog | NFL Football Archives | College Football Archives | MLB Baseball Blog | College Baseball Blog | MLB Baseball Archives | NBA Basketball Blog | NCAA Basketball Blog | NBA Basketball Archives | NCAA Basketball Archives | Fantasy Football | Fantasy Basketball | Fantasy Baseball | Soccer Archives | Olympics Archives | Stupid Athletes Archives | Other Archives | Football Forum | Basketball Forum | Baseball Forum | NFL Football Store | NBA Basketball Store | MLB Baseball Store | NCAA Football Store | NCAA Basketball Store | NCAA Baseball Store | Fatheads | NFL Football Tickets | NBA Basketball Tickets | MLB Baseball Tickets | NCAA Football Tickets | NCAA Basketball Tickets | NCAA Baseball Tickets |
---
Home Page
About Us | Contact Us | Site Search | Advertise | Terms of Use |
---