The Rules for Creating the Perfect NFL Team
The Super Bowl is nearly here; ready to showcase the best two teams in the nation. How did the top four contenders get there, almost to the pinnacle?
The NFL's "secret sauce" for success actually is not very complicated. The best NFL teams share three common similarities: a strong quarterback, a large, talented, offensive line, and an opportunistic defensive line built to pressure the quarterback into making poor decisions.

Broadly speaking, franchises that emphasize building these three strengths thrive year-in and year-out, while those that do not are bound to either cyclic failure or consistent mediocrity.

Exhibit A: the San Francisco 49ers.  The 49ers have spent their free agent money and draft picks building elite strength in each of these three areas.  San Francisco moved up in the draft and expended a high second round draft pick to select Colin Kaeparnick and take advantage of his special mix of natural speed, elusive movement, and arm strength.  Realizing he could be the best combination of Vince Young and Donovan McNabb – with more accuracy to boot – 49ers coach Jim Harbaugh spent the last two seasons tutoring him to live up to his talent.
 
Meanwhile, the 49ers hardly neglected the other two critical areas.  San Francisco invested high picks in the three offensive linemen that form their core: tackle Anthony Davis, guard Mike Iupati, and tackle Joe Staley.  Their line is roughly the size of five bulldozers and equally skilled; anyone who watched how they carved up Green Bay for over 600 yards could see that they are the league's best group.  And, at the same time, the 49ers committed the remainder of their draft and free agency resources to their defensive pass rush, accumulating Patrick Willis, Navarro Bowman, Justin Smith, and Aldon Smith.  There isn't a more terrifying group in the league and, combined, San Francisco's elite performance in these three areas makes them the clear front-runner for the Super Bowl.

The NFL's three other remaining teams share startling similarity with the 49ers in these three crucial areas.

The New England Patriots have invested in this team-building model for over a decade.  With Tom Brady at quarterback, the team has constantly moved to restock its talent on the offensive line and in the pass rush.  During their Super Bowl heyday from 2000-2005, the Patriots fielded elite lines on both sides of the ball, featuring Dan Koppen, Stephen Neal, Willie McGinest, TedyBruschi, Mike Vrabel, and Richard Seymour.  Since then, New England has kept in playoff contention while gradually reloading in both areas, adding Vince Wilfork early on, then offensive linemen Nate Solder and Logan Mankins and defenders Jerod Mayo, Brandon Spikes, and Cameron Jordan in recent drafts.  If the Patriots have a weakness, it remains their past rush but New England is still league-average in this regard.  Paired with a top-three quarterback and offensive line, that is enough to make the Patriots a Super Bowl front-runner.

The Baltimore Ravens are known for their defense, yet a closer look reveals that GM Ozzie Newsome sticks closely to this three-part model.  The Ravens spent a first round pick on quarterback Joe Flacco in 2008 and he has led them to the playoffs in each season and three of the past five AFC Championship games.  Say what you will about Flacco but the fact remains: since he arrived, Baltimore has compiled a top-five cumulative record in the NFL and Flacco himself is two playoff wins away from matching Peyton Manning's career total.  Baltimore added tackle Michael Oher in the draft and all-pro center Matt Birk in free agency.  And Baltimore's pass-rushing defense, which needs little introduction and is known for its ferocity, features Terrell Suggs, Ray Lewis, HalotiNgata, and the ball-hawking Ed Reed.

The 49ers' opponent, the Atlanta Falcons, spent the third overall pick in the 2008 draft to select Matt Ryan.  A Tom Brady look-alike, Ryan has led the Falcons to the playoffs in four consecutive seasons and played at an MVP-level this year.  The Falcons also invested in their offensive line, acquiring Todd McClure, Sam Baker, and Peter Koncz between the draft and free agency.  Jonathan Abraham and Jonathan Babineaux complete the defensive line, which is, if anything, the weak link in the Falcons' formula and what makes them quite clearly the fourth-best of the teams remaining in Super Bowl contention.
 
The pattern is very clear.  Franchises need a quarterback to lead, an offensive line to protect and move the ball, and a defensive rush to pressure, create mistakes, control time of possession, and return the ball to the offense.

Everything else, while not superfluous, is gravy.  If franchises are defective in any of these three areas, they won't make it to the top.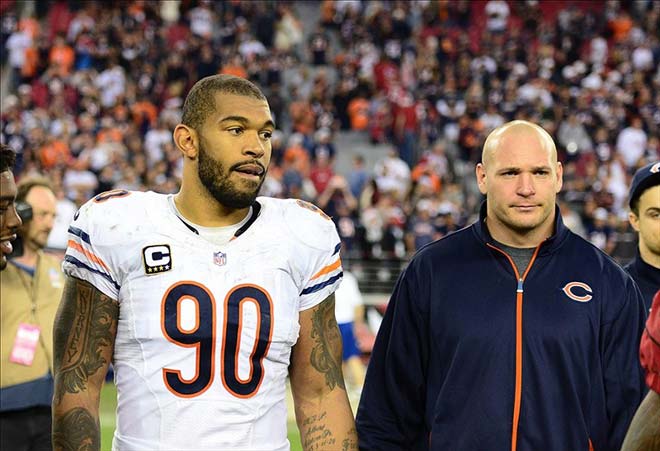 Dec. 23, 2012; Glendale, AZ, USA: Chicago Bears defensive end Julius Peppers (90) and linebacker Brian Urlacher against the Arizona Cardinals at University of Phoenix Stadium. The Bears defeated the Cardinals 28-13. Photo Courtesy By Mark J. Rebilas-USA TODAY Sports.

Exhibit B: The Chicago Bears.  The Bears emphasized defense for years under Lovie Smith, reaching an elite level in many seasons.  Brian Urlacher, Lance Briggs, Julius Peppers, and Henry Melton all create pressure on opposing quarterbacks.  Chicago even traded for Jay Cutler, whose elite arm can take them to the next level, to address their long-time deficiency at quarterback.  So what gives?  Consistently, from 2000-2012, the Bears have ranked dead last, or near to it, in offensive line efficiency.  In 2012, not a single one of their starting lineman was an elite player and, aside from Roberto Garza, all would have been backups on most other NFL teams.  The Bears' line gave up constant sacks, failed to create openings for Matt Forte, and exposed the defense to fatigue by failing to keep up drives.  Until the Bears address their fatal weakness along the line, they will fail to contend.

If you run through the rest of the league, you will find the truth in this startling consistency.

So, how well is your team run?
What do you think?
We'd love to hear your comments and/or opinions. If you submit them here, other visitors can read them, rate them and comment on them. An e-mail address is not required.