The Rise and Fall of the Mighty Quinn
Now that's why everyone watches the draft. It's best reality show for guys that doesn't have bad comb overs, bug eating, or practicing your runway walk.
To see Brady Quinn's reaction when the Miami Dolphins selected Ted Ginn Jr. Anyone who could read lips saw him sas shocked as we were at home. If we could only read his mind, he was probably thinking "Damn bitches!!" If Miami didn't want Quinn okay. Going for Ginn that high is about as questionable as you can get.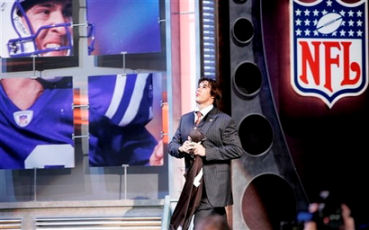 Brady Quinn's Reaction.
---
Brady's slide also cost him about $25 million. He can't blame the Browns as much because according to Randy Savage they had Brady rated very highly but not in their top three. He can blame bad luck and the flip of the coin.
Tampa Bay and Cleveland has a coin toss to determine the #3 pick. Cleveland won and went third. Had Tampa Bay won they may have gone for Joe Thomas. At the #4 spot, Cleveland takes Brady Quinn. A coin flip loses him millions of bucks and embarassment. Gotta feel good about that huh? Still Cleveland gets him but it's gotta feel like sloppy seconds for him.
Michael Smith on ESPN rambled off a bunch of reasons why Brady Quinn wasn't being picked and one reason was that some people don't like the name Brady. They don't like his first name?? This first round had a JaMarcus, Marshawn, Jaamal and Levi. Brady may sound a bit metrosexual but that's about as normal as you can get compared to others.
The top nine picks of the draft:
Raiders - Jamarcus Rusell

If the NFL draft is the most overhyped event of the year, I feel like Russell is the most overhyped player in this draft. Before his epic Notre Dame game, he wasn't even thought of as a franchise quarterback. There were more holes in Notre Dame's defense than a dozen donuts and voila he's a number one draft pick. Okay he's big, got big hands, and can throw the ball 60 yards from his knees.The problem having the first pick is that it means your team is really really bad. All aspects of your team is struggling so one player isn't going to turn around your season. Now the Raiders just traded their best, albeit troubled, deep threat receiver. Plus how often do quarterbacks #1 overall go on to win a Super Bowl? More often they're mediocre relative to their draft position. Raiders will be drafting #1 again next season.

Detroit - Calvin Johnson

Detroit takes another wide receiver in the first round. Man their war room must be in cruise control in the first round every year. This year though they could not pass up on a player that is a freak of nature, hard working, and a can't miss. Wasn't that said of most of their other wide recivers? Right now a wide receiving tandem of Roy Williams and Calvin Johnson sounds pretty impressive. Good thing Calvin is used to bad quarterbacks throwing him the ball. The different is Jon Kitna will seem like Montana compared to Reggie Ball.

Browns - Joe Thomas

This pick really dictated the rest of the draft. Brady Quinn was pick to go here but even Randy Savage said later that though Quinn was rated highly, he wasn't in their top three. I don't know much about Joe Thomas except that he's really big and stopped some really big guys.

Bucs - Gaines Adams

There was interest in Brady Quinn but Tampa Bay already has Jeff Garcia, Simms, and Bruce Gradkowski on their roster. Another pretty boy who throws an oblong ball is not what they needed. Gaines Adams here will bring youth to their defense which is reaching social security age. An excellent selection but I'm sure the Bucs could careless what I think.

Cardinals - Levi Jones

A big offensive tackles to try and open up holes for aging Edgerrin James and protect Matt Leinart's pretty face. I don't know much about him but I bet he tears up the buffet line. A young Adrian Peterson would have been a great fit in that young offense but they already paid the bank vault for James and that would be about as dumb as having three 1st round wide receivers on your team.

Redskins - LaRon Landry

Think any wide receivers want to run across the middle with Landry and Sean Taylor laying hits across the middle? Just hope he works on his conditioning because their defense will be on the field for a very long time. It wasn't a great idea though to give up your 2nd, 3rd, or 4th round draft pick for the rest of the day.

Vikings - Adrian Peterson

Read the recent cover story in Sports Illustrated on Peterson. I don't think working hard is something you have to convince him to do. He runs fast on grass but now he gets to run on turf. He also gets to run through Detriot, and Green Bay's defense twice a year. He's gotta be excited by that.

Falcons - Jaamal Anderson

Relentless pass rusher who will come in and start right away. Michael Vick better watch out because they could be yelling for Jaamal to play quarterback by the middle of the season.

Dolphins - What the Hell Where They Thinking

This is like the guy in your fantasy football league who takes defense in the 3rd round or a kicker in the 5th. Waaaaayyyyyy too early but he thinks he's smarter than everyone else.
Everyone outside of the Dolphins war room did not see Ted Ginn Jr. getting picked this high. Even dinosaurs woke up from extinction to say "WTF?" He is an electric return man but he was an average receiver in college. If you draft a receiver in the top ten, you're hoping for 90 catches 1200 yards and 10 TD's a season. He ran only three routes in college. Go straight really fast. Go straight really fast and turn left. Go straight really fast and turn right. In the NFL, it's going to take a bit more than that. This was Brady Quinn's last hope to save face. I think in the end the really stupid ones will be the Dolphins.
---
---
What do you think?
We'd love to hear your comments and/or opinions. If you submit them here, other visitors can read them, rate them and comment on them. An e-mail address is not required.
What Other Visitors Have Said
Click below to see contributions from other visitors to this page...

---
From The Rise and Fall of the Mighty Quinn to NFL Archives | Sports Blog | College Football Archives | MLB Archives | NBA Archives | NCAA Basketball Archives | Soccer Archives | Olympics Archives | Stupid Athletes Archives | Other Archives |
---
Home Page
About Us | Contact Us | Site Search | Advertise | Terms of Use |
---