The Real Problem with Mike Rice and the Rutgers Tape
Mike Rice is one foul-mouthed fall guy.

When I watched the ESPN video showing Rice, Rutgers' rather unsuccessful head basketball coach, hitting, shoving and berating players, calling them names and pushing them around the court, I knew he was toast.  Rice's actions were disgusting and that kind of behavior just isn't tolerated in the 21st century.
Let me amend that last statement: that kind of behavior is not tolerated publically in the 21st century.

When Rice was, predictably, sacked and likely blackballed from college hoops for a good half-decade, my thoughts immediately flew to, "wait, how many coaches are doing this who just don't get caught?"

It's an interesting question – one that, given the closed-door nature of college sports even in the digital age, just does not have an answer.

Certainly, that kind of thing went on all the time in ages past.  It's quite easy to imagine Indiana-era Bob Knight, who was ultimately sacked for getting physical with his players, launching into a tirade that would make Mike Rice look like Mother Teresa.  Even supposedly stoic coaches, like Duke's Coach K, have likely had their moments.

But, how often does it happen now?

Judging by players' responses, parts of Rice's offensive video are more common than others.  Ray Allen, the NBA star shooting guard who was one of the first to condemn Rice's conduct, specifically pointed to his physical altercations with players.  Several other former players who commented made similar points, suggesting that Rice's physically abusive behavior is genuinely uncommon (likely true, given that it got Knight fired over a decade ago after three NCAA titles) but his mentally abusive behavior and foul language are decidedly not uncommon.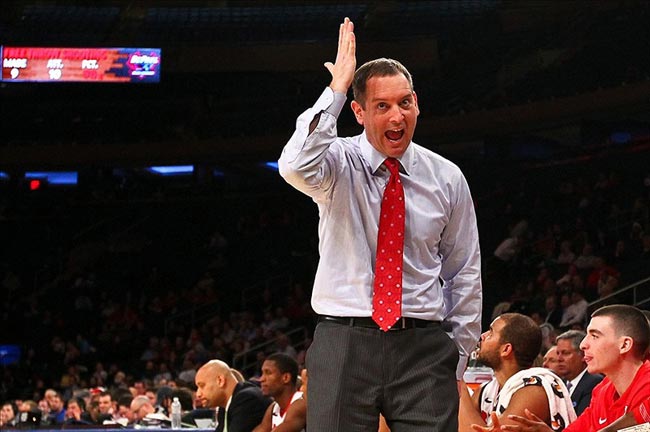 Mar 12, 2013; New York, NY, USA; Rutgers Scarlet Knights head coach Mike Rice reacts on the sidelines against the DePaul Blue Demons during the second half at the Big East tournament at Madison Square Garden. Rutgers won 76-57. Photo Credit: Debby Wong-USA TODAY Sports.


Indeed, Governor Christie's condemnation, which stated categorically that Rice's behavior was unacceptable in a New Jersey state institution, was one of the few to even forcefully hint that Rice's foul, abusive, and sexist language was a large part of the problem.

Without making deep societal comments, that dichotomy clearly sheds some light on professional sports figures' position on the importance of sexist language and discourse vis a vis other forms of unacceptable behavior.
 
That is unsettling because it sends two clear messages to coaches: first, don't get caught.  And if you are, use ugly words, not balled fists. 

And that leaves fans with another question to ponder: is it good that we have gotten to a point in college sports where it is categorically unacceptable for coaches to lay a hand on players or is it bad that its 2013 and its still tacitly ok for coaches to mentally abuse their players?

Mike Rice may be gone from Rutgers but that, deeper question will linger long after we all forget his name.


What do you think?
We'd love to hear your comments and/or opinions. If you submit them here, other visitors can read them, rate them and comment on them. An e-mail address is not required.