The Obligatory Super Bowl Prediction

Bylaw 127.4.2 of the sportswriter's code says that every sportswriter must make a Super Bowl prediction.  There's no getting around it.  So here's my Super Bowl prediction article – I put it off as long as I could, but there's no getting around it.  Here's a position-by-position breakdown of the Ravens and 49ers.
Quarterback: Colin Kaepernick v. Joe Flacco.  There have been all sorts of articles talking about Kaepernick's potential, and he's probably the more interesting QB to talk about – we all got sick and tired debating whether or not Flacco was elite before the season began.  This week, ESPN analysts have said that Kaepernick's ceiling is the best QB in the NFL, and while I think that's Super Bowl Week Hyperbole (of which there's always plenty to go around), there's no denying that he's a thrilling young player full of potential.  All that being said, it's his 10th NFL start.  Flacco might be inconsistent at times, but he's been spectacular this postseason, and very solid all the way through.  In the biggest game of either of their careers, I'll take the one with experience.

Advantage: Baltimore

Running Back: Frank Gore v. Ray Rice.    Gore's a great player, but he's really begun to slow down in the second half of the season, as he's tried to adapt to the Pistol formation, which he's on record saying is "not real football".  That being said, he was a deserving Pro Bowler – but Ray Rice is just slightly higher.  Gore's a grinder, but Rice has this fantastic ability to change direction midstream – plus, he's a better option in the passing game.   His versatility gives him the advantage here.
Advantage: Baltimore

Wide Receiver 1: Michael Crabtree v. AnquanBoldin.  This one isn't nearly as close – Boldin's got super strong hands and is a very solid possession receiver, but Crabtree has upped his game to another level since Kaepernick took over the offense, and his run-after-the-catch is nearly unbeatable.
Advantage: San Francisco
Wide Receiver 2: Torrey Smith v. Randy Moss.  If this was the Randy Moss of four years ago, it's a walkover for the 49ers, but, regardless of whether or not he thinks he's the best of all time, he's lost quite a few steps.  Smith is closer to the Moss of old than Moss is in the deep passing game, and he's got a gear Moss just no longer has.

Advantage: Baltimore

Tight End: Vernon Davis v. Dennis Pitta. I'm assuming Pitta plays, though he's listed as questionable.  Davis is a better raw talent, there's no getting around that – he's a better physical specimen, and in a vacuum, is the better player.  But Davis and Kaepernick just haven't developed a good chemistry yet – the NFC Championship game notwithstanding.  He disappeared for weeks at a time – not so Pitta, who's one of Flacco's favorite targets.  Fantastic hands, surprising speed, and just an all-around smart player.

Advantage: Baltimore, surprisingly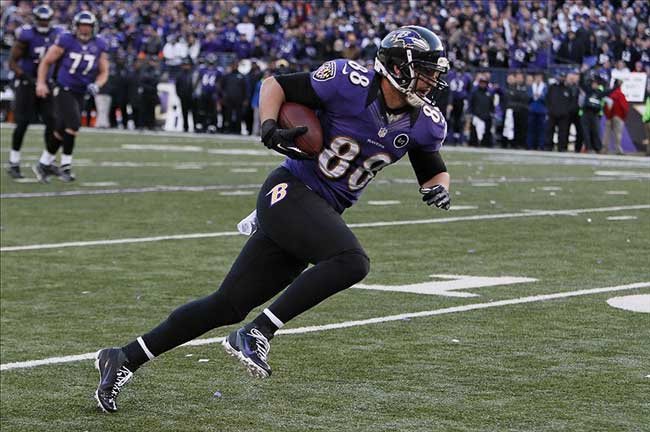 Jan 6, 2013; Baltimore, MD, USA; Baltimore Ravens tight end Dennis Pitta (88) runs after a catch for a third quarter touchdown against the Indianapolis Colts during the AFC Wild Card playoff game at M&T Bank Stadium. Photo Courtesy By Mitch Stringer-USA TODAY Sports.

---
Other Offensive Weapon: Delanie Walker v. Jacoby Jones.  Toughest spot, because the Ravens usually use three receivers, and the 49ers use two tight ends, making it not quite an apples-to-apples comparison.  Walker's had a bit of a case of hands of stone recently, but he's a physical player and great athlete.  But Jones adds so much to the return game that you have to slot him in here – he's much more likely to contribute in the game than Walker is.

Advantage: Baltimore

Left Tackle: Joe Staley v. Bryant McKinnie: Perennial pro bowler versus guy who started the season as a backup.  No contest.

Advantage: San Francisco

Left Guard: Mike Iupati v. KelechiOsemele.  Osemele wins in the awesome name category, but that's all – Iupati's a first-team all pro.

Advantage: San Francisco

Center: Jonathan Goodwin v. Matt Birk.  I'm gonna chicken out on this one.  Birk's had a much better career, but this is pretty much the end.  He's a solid starter because of his experience, but his physical tools have faded by now.  Goodwin is solid, yet unremarkable – he's been dependable year in, year out.  There's not enough of a stand out for me to call this one.

Advantage: Push

Right Guard: Alex Boone v. Marshall Yanda.  Where the hell did Alex Boone come from?  I'm a huge 49ers fan, and his elevation into a key starter has stunned me.  We've been week at right guard for so long, and then this converted tackle comes in and shores us up?  Amazing.  However, Yanda's more than surprising – he's strong, powerful, can work in close or out in space – his game has no weaknesses.  He's never, ever out of position.

Advantage: Baltimore

Right Tackle: Anthony Davis v. Michael Oher.  Moving Oher to the right side has helped significantly – locking him on an elite pass rusher on the left was asking for trouble, but on the right side, his power and strength make him a real asset.  Davis shows no sign of slowing down – he's only 23 years old, and has improved every year in the league, taking his game to a whole other level this year.

Advantage: San Francisco

Defensive End: Ray McDonald v. Arthur Jones.  Jones isn't even the best Ravens player NAMED Jones, and the decision is the same if you slot Pernell McPhee in here, instead.  McDonald outclasses the Ravens rotation.

Advantage: San Francisco

Nose Tackle: Isaac Sopoaga v. Ma'akeKeomeatu.  Sopoaga is the first guy off the field when the 49ers go to nickel – and, considering they only use 12 guys, he's pretty much the only one.  He offers zero in the pass game, but is a big, physical run stopper.   I actually like Keomeatu  a bit more than most people do, when healthy.  Neither team is going to be too spectacular here, but I actually am going to slightly give the benefit of the doubt to Keomeatu.

Advantage: Baltimore

Defensive Tackle: Justin Smith v. HaltoiNgata.  Ah, that's better.  Scouts Inc recently rated Smith as the best player in the Super Bowl, and seeing the 49ers defense with and without him, you can see why.  With him, Aldon Smith is a pass rushing beast; without him, he's blockable.  The only question is that triceps – how healthy is it, what percent will Smith be able to go.  That injury is just enough for me to look at Ngata – this year hasn't been his best ever, but he is still absolutely dominant.  He could very well give the 49ers fits.  I might go the other way if Smith was 100% healthy, but the injury is just enough for me to go.

Advantage: Baltimore.

Left Outside Linebacker: Ahmad Brooks v. Terrell Suggs.  Brooks is the weak link of the 49ers linebackers, which is like saying Teddy Roosevelt is the weak link of presidents on Mount Rushmore.  He's going to run right past Oher on the right side – and I think he truly is an elite player, vastly underrated.  Suggs is another great player, and it's amazing he was able to play at all this year, much less at a high level, after his Achilles tendon injury.  I think, however, he's a tad overrated – not that I wouldn't want him on my team, mind you!

Advantage: San Francisco

Left Inside Linebacker: Navorro Bowman v. Dannell Ellerbe.  Please.  Ellerbe's solid, Bowman's an all-pro.

Advantage: San Francisco

Right Inside Linebacker: Patrick Willis v. Ray Lewis.  Lewis has his bust in Canton waiting for him, and is the best middle linebacker of all time.  Willis likely will also have a bust in Canton waiting for him, and is the best middle linebacker playing today.

Advantage: San Francisco

Right Outside Linebacker: Aldon Smith v. Paul Kruger.  Aldon Smith's getting defensive player of the year votes (though Justin was better, and Watt was better than both).  Kruger's a solid-to-good pass rusher, but Smith was dominant on a historical scale.

Advantage: San Francisco

Left Cornerback: Carlos Rogers v. Corey Graham.  Rogers regressed a bit from 2011 (and by that, I mean he didn't catch everything thrown at him), but he's still a solid, physical cornerback.  No ball skills to speak of, but great coverage ability.  Until this season, Graham was a special teamer, and has problems as a man-to-man cornerback, though he's got quick reaction times.

Advantage: San Francisco

Free Safety: DashonGoldson v. Ed Reed.  Goldson got the franchise tag last season, as the 49ers were desperate not to let him get away.  Ed Reed is one of the greats at his position.  Reed is better with the ball, and no one punishes bad throws as much as Reed does.  Goldson handles his coverage well, and really shines when he comes up to stop the run.  I can't decide – both are great players.

Advantage: Push

Strong Safety: DonteWhitner v. Bernard Pollard.  Patriots fans may disagree with me, but Pollard is a bit of a run-of-the-mill player.  Very physical, great tackler, but not fantastic in coverage – which could hurt against a tight end like Vernon Davis.Whitner is faster, better in coverage, and more solid in the run game – he doesn't hit as hard, but he outclasses Pollard everywhere else.

Advantage: San Francisco

Right Cornerback: Terrell Brown v. Cary Williams.  I am full on board the Cary Williams train, against all logic.  He improves every time I watch him, and has a very good ability to know where the ball is, instinctively.  Maybe it's familiarity bias – I see Brown every week, and don't see Williams – but Williams' abilities entice me more – and, seeing how neither are the elite members of their defenses, I'll go with that potential.

Advantage: Baltimore

Special Teams: Andy Lee & David Akers v. Sam Koch & Justin Tucker.  Lee is the best punter in football, but Koch's solid.  If Akers was anywhere close to where Tucker has been as a rookie, I'd give advantage 49ers, but it's not close – in fact, it's been a disaster.  After record breaking 2011, Akers can't find the uprights with both hands.  If this game comes down to an Akers field goal, 49ers fans worldwide will have a heart attack.

Advantage: Baltimore

Final Score: San Francisco 11, Baltimore 10, with 2 pushes.  However, the places where the 49ers have an advantage are, I feel, bigger gaps than Baltimore's – they tend to have the advantage by leaps and bounds, whereas the Ravens lead by half-measures and over-analysis.  I like the 49ers in this one – I like them a lot.  I think they cover the spread, and win, if not going away, then comfortably.  49ers by 10.
What do you think?
We'd love to hear your comments and/or opinions. If you submit them here, other visitors can read them, rate them and comment on them. An e-mail address is not required.