The NFL's "Most Wanted" Quarterback Rankings
Winning is everything.

So, instead of ranking quarterbacks on statistics, regular season wins, or lifetime merit, this is a ranking of the "most wanted:" as in, if you could have any quarterback to help you win it all by running your team in the Super Bowl, who would it be?
No. 1: Joe Flacco
No, this isn't a bandwagon decision or an overreaction to the Ravens' Super Bowl win.  Its recognition that Flacco is the game's best crunch-time postseason player, today's equivalent of Tom Brady circa 2000-2004.  During the 2013 NFL Playoffs, Flacco threw 11 touchdowns with no interceptions.   He showed grit in the Super Bowl; coolly putting together two late scoring drives to hold on for the win.  And, between 2008-2012 – only a five year period - Flacco won 9 playoff games, at least one each season, had the best road playoff record of any quarterback, and reached the AFC Championship Game three separate times.

No. 2: Eli Manning
Manning is maddeningly inconsistent in the regular season.  His throws can be erratic, his interception totals are damning; he is little better than average through December.  But, when the Giants do make it to the postseason, Manning shines like no other NFL quarterback.  His play in 2007 and 2011 – both Super Bowl-winning years, immortalizes him as the NFL's best "two-minute man."

No. 3: Tom Brady
Brady is still the NFL's longest running "safe bet" in the playoffs.  Brady is always poised, has reached the Super Bowl twice in the past five seasons, and has three Super Bowl rings to his credit.  But, he has not won it all since 2004, despite late scoring drives in 2007 and 2011 against the Giants, which keeps him off the top of this list.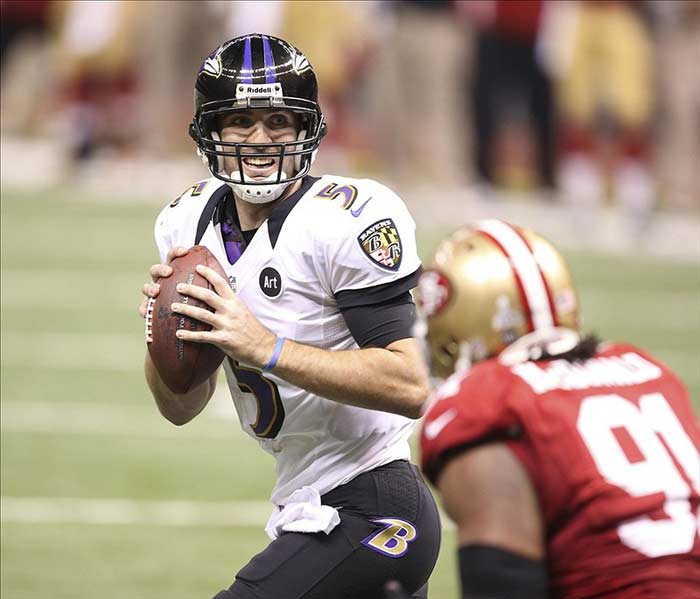 Feb 3, 2013; New Orleans, LA, USA;Baltimore Ravens quarterback Joe Flacco (5) rolls out looking to pass in the fourth quarter in Super Bowl XLVII at the Mercedes-Benz Superdome. Photo Courtesy By Chuck Cook-USA TODAY Sports.

No. 4: Aaron Rodgers
Rodgers is the NFL's best quarterback.  On any given day, you would take Rodgers to run your team.  The Packers have been the NFC's best team (regardless of exact records) since 2011 and Rodgers has a recent Super Bowl win to his credit.  But, after Flacco's cool performance against Colin Kaepernick, the man who torched Rodgers' Packers in the 2013 NFL Playoffs (in no small part due to Rodgers' uneven offensive play skewing time of possession), he comes up just short on this list.

No. 5: Drew Brees
America's favorite quarterback has a recent Super Bowl win to his credit and is one of the most prolific playoff passers in history.  However, the last two years, Brees has been a playoff non-factor and the Saints have suffered at the hands of NFL sanctions.  Can he reclaim his place at the top?

So, who are your "Most Wanted" NFL quarterbacks?
What do you think?
We'd love to hear your comments and/or opinions. If you submit them here, other visitors can read them, rate them and comment on them. An e-mail address is not required.