The NBA's Top 6 Point Guards
If you've been following the NBA for a while, then you know today's professional basketball game-especially at the point guard position-feels very different than it did a few years ago. Rules have shifted so that referees now crack down on excessive hand checks at the guard position, which allows for more freedom of movement, imagination, and athleticism to grace the point guard position than in preceding years.


While 24 seconds is still a pretty restrictive amount of time to get the ball down the floor and initiate an offensive set, the best point guards in the NBA routinely do it with skill, finesse, and aplomb-one of the main reasons the sport still commands such a loyal viewership.
Regardless of the reasons why you're a devotee of professional basketball, it's likely there are some point guards in the league who regularly command your attention and even your derision-especially if they're playing against your favorite team. Whether you're part of a small fantasy basketball league, you regularly indulge in online betting or you're the type who wants to get into online gambling and is wondering:
Is betting on basketball legal?
, you're likely a fan Here is a list of the NBA's best point guards-those players who make the game a pleasure to watch and a thrill ride to wager on.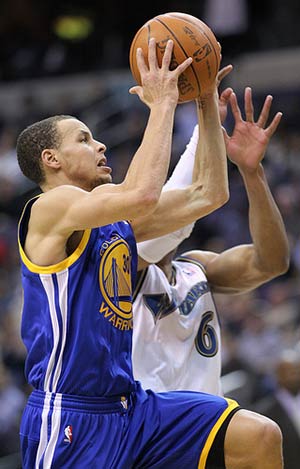 1. Stephen Curry
Astoundingly quick and full of a seemingly endless supply of killer moves, Stephen Curry also boasts one of the deadliest jump shots in the NBA. One of the main reasons why the Golden State Warriors are a contending team this season at the top of the Western Conference, Curry boasts 23 points and 8 assists per game, and he's deadly on the drive: You can either let him have the layup or let him knock back his free throws. But be warned, Curry shoots 96 percent from the foul line.
2. Chris Paul
Many consider Chris Paul to be the undisputed king of the point guards within the NBA, and watching him play, it's easy to see why. Not only is he a legitimate offensive threat in his own right, averaging 18 points and almost 10 assists per game, but he routinely works the offense to keep all his teammates engaged and active, which makes his team's overall performance much more effective. Elected the President of the NBA Player's Association in 2013, Paul is widely respected among the league for his dedication to the sport and its players. Hard-working, magnetic, and confident, Chris Paul is the quintessential point guard and one of the last pass-first ones remaining in the league.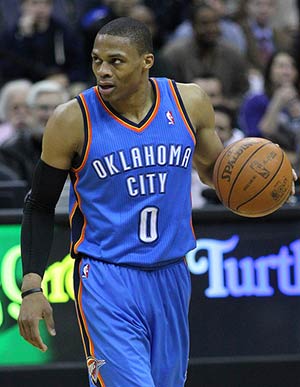 3. Russell Westbrook
The co-conspirator of Kevin Durant, Oklahoma City's Russell Westbrook is an outstanding point guard when he's at his best, even if he routinely tries to take up
as much offensive space as Durant-an unusual choice for a point guard lucky enough to play with one of today's best scorers. He can put upwards of 30 points with ease on the board,while filling out the rest of the stat sheet - often coming close to a triple-double most nights. Still his volume shooting alongside KD makes him controversial among fans of other teams. He remains one of the most electrifying players in the NBA, but also one of the most polarizing for fans.
4. John Wall
John Wall's blistering speed is already legendary, and many fast breaksends with him beating most would-be defenders down the court for an easy 2 points. His arsenal of shots continues to improve, which is why this season finds him averaging over 19 points per game. In addition to being an offensive threat in his own right, he also dishes off to his teammates for points to the tune of over 9 assists per game. He also leads the league in steals with almost three per game.
5. Derrick Rose
The only point guard since 2006 to win the league's MVP award, Derrick Rose is one of the league's most impressive players. Unfortunately, he's been plagued by injuries that continue to neutralize his talents and wipe out his playing time. The 2014-15 season finds him finally back in the Chicago Bulls' lineup, but his play has been a bit sloppy as he knocks off the rust. Still, despite missing most of the last two years, he's still able to run the offense, play admirable defense, and put plenty of points on the board. While only time will tell whether or not Rose will continue to be one of the NBA's best point guards, his youth and determination bode well for him.
6. Rajon Rondo
Rondo, while being one of the purest athletes currently playing the game, has had a frustrating ride to credibility within the NBA. A disappointing rookie season left many wondering if he would ever be able to live up to the promise he showed while playing at the University of Kentucky. Thankfully, the 2008-09 season saw Rondo more than rise as a leader and star-most notably during the playoffs, and he's continued that trend ever since. Much like Rose, he's lost time because of injuries, but this season finds him averaging almost 11 assists and over 8 points per game, which he'll now be doing alongside Dirk Nowitzki and Monta Ellis.
The NBA's best point guards aren't just running offenses and making sure their teams' "true" stars shine bright. From incredible defense to commanding shooting, these six players define what a great point guard looks like in today's NBA.
Stephen Curry image by Keith Allison from Foter.comRussell Westbrook image by Keith Allison from Foter.com