The Mysterious Percy Harvin Saga
News broke on Sunday that Percy Harvin did not, in fact, leave the Vikings due to injury - or at least, that that was not the main reason he missed the second half of the NFL season.  Apparently, things got so bad between Harvin and Coach Leslie Frazier that he was placed on injured reserve as a sort of disciplinary measure, with the final straw being a tirade directed at Frasier in front of his teammates.  Rumors of a deteriorating relationship between Harvin and the Vikings have been swirling for several months now, and it seems that now, that relationship had been damaged beyond repair.  Reports indicate that the Vikings are looking to trade Harvin, likely for a second or third round draft pick.
Any team trading for Harvin will have to note the double-edged sword Harvin brings with him.  When he's been healthy, he's been a very solid receiver and returner, as well as a threat out of the backfield - in 2011, when he was more or less healthy for the entire season, he had over 1300 yards from scrimmage and led the NFL in yards per kick return, and was on pace to do both again in 2012.  He's only about average as an actual receiver, but when you add in his value as a rusher, he could be an intriguing addition as a slot receiver for most teams in the league.

However, you're not just getting a player with Harvin's numbers, you're getting Harvin himself, and that brings with it headaches, in more ways than one.  Harvin's been suffering from chronic migraines for most of his life, and while they didn't pop up in 2012, and he feels he's had a breakthrough, it would be a cause for concern.  More immediate concern would be the severely sprained ankle he suffered last season - is all of his explosiveness back? - but news of this altercation will both help ease concerns over the extent of that injury, and raise them over his attitude.  A player this young and talented being traded away due to what's become a toxic situation with management?  That's not just a red flag, that's the whole flagpole - whatever team takes a flyer on Harvin would have to have a strong leader in place and have Harvin buy in to the culture and attitudes of his new surroundings - a tough sell.

One more problem with taking on Harvin?  He's in the last year of his rookie deal.  He'll probably want an extension, wherever he lands, and teams might be worried about giving a $10 million + contract to a player with a history of injuries and now potentially difficulties with management.  That might lead teams to try entering the Dwayne Bowe or Mike Wallace sweepstakes, or take a gamble on a rookie like Keenan Allen or Tavon Austin in the second round of the draft.

All that being said, if the rumors are true, and the Vikings DO end up dealing Harvin, there are some teams out there that would benefit, and might have the skills necessary to deal with him.  Here are five possibilities:

New England: Wes Welker is a free agent, and he's going to be 32 years old next season.  If they decide to go younger - or decide Welker's contract demands are too high - they could slide Harvin right into the slot position Welker would be leaving.  Harvin actually caught a higher percentage of his passes from the slot than Welker did, which is even more impressive when you consider the gap between Christian Ponder and Tom Brady.  The Patriots also have experience dealing with potential trouble-making players - most famously, they took a chance on Randy Moss, who went and had one of the great all-time seasons on the 16-0 '07 squad, and they took on AqibTalib this year to shore up their defensive secondary.  Harvin could be a key part of the Patriots no-huddle offense due to his ability to line up in the backfield or in the slot.  Harvin went one spot before the Patriots drafted in 2009, and perhaps this time, he'll end up in New England.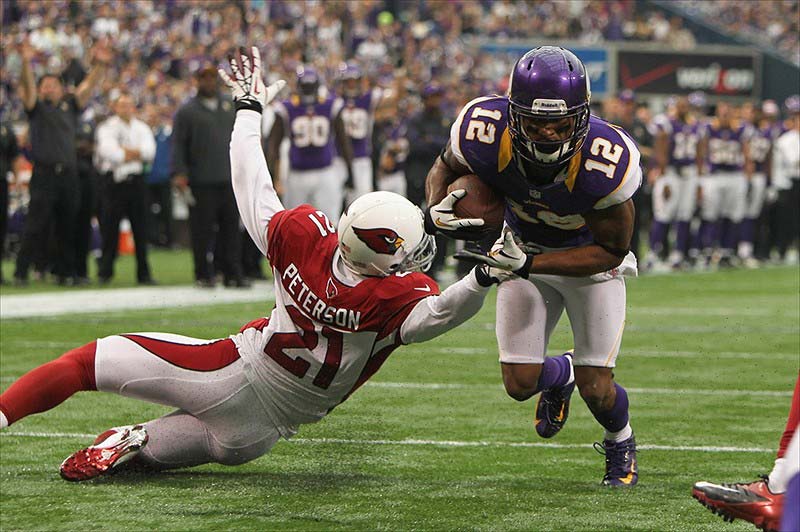 Oct 21, 2012; Minneapolis, MN, USA; Minnesota Vikings wide receiver Percy Harvin (12) scores a touchdown during the second quarter against the Arizona Cardinals at the Metrodome. Photo Courtesy By Brace Hemmelgarn-USA TODAY Sports.

---
Houston: The Texans don't really have anyone across from Andre Johnson, and a deep-threat #2 receiver could be high on their wishlist this offseason - and Johnson's had his injury history, as well.  Harvin would serve as a replacement for Jacoby Jones, who escaped to the Ravens last offseason.  The Texans also might be threatened by the unexpected immediate success of the Colts, and could be looking to make a move to cement themselves on top of the AFC South.  It certainly would make the Texans offense more dynamic.

San Francisco: With Mario Manningham recovering from his ACL/MCL injuries, and Randy Moss possibly on his way out of town, the 49ers could be interested in sliding Harvin across from Michael Crabtree.  If you're looking for a strong coaching personality, it's hard to get stronger than Jim Harbaugh, and the thought of a Pistol formation with Colin Kaepernick, Harvin, Frank Gore, and LaMichael James would be enough to keep opposing defensive coordinators up at night.  The 49ers also have 14 draft picks this year, and likely not 14 slots to add in for rookies, so a trade somewhere, for something, is probably inevitable.  That being said, I'm sure the Vikings would rather deal Harvin to the AFC if possible, and the 49ers might decide that LaMichael James could become their version of a Harvin-like weapon, making Harvin himself expendable.

Seattle: Russell Wilson threw himself into the rookie of the year race with a great season, and really did it without any great receiving threats - Sidney Rice and Golden Tate are both alright players, but they aren't on Harvin's level.  Offensive coordinator Darrell Bevell was the OC in Minnesota for the first two years of Harvin's career, as well, so there's already some familiarity with Harvin's playing style and personality.  The Seahawks were a half-game away from taking the NFC West, and had they been able to play at home in the playoffs might have been the ones representing the NFC in the Super Bowl.  You'd think they'd at least kick the tires on anything which could put them over the hump.

Pittsburgh: A bit of a wildcard here, but Mike Wallace might find himself on the way out in free agency - and Wallace drops a lot more balls than Harvin does, even adjusting for their different usage patterns.  Last year, when Harvin demanded a trade, there were some rumblings about a potential Wallace for Harvin, 1-for-1 trade, giving both disgruntled receivers a new start in a new location - that's obviously off the table, with Wallace's contract expiring, but Harvin could still fit in well with Todd Haley's system - remember, when he was coordinator in Arizona in '08, he took an explosive Cardinals team to the Super Bowl.  The Steelers missed the playoffs this year, and might be looking for a big splash to get them back in in one of the toughest divisions in football - and Harvin could be that splash.

I think if I were the Vikings, I'd do what I could to keep Harvin happy and interested, but it seems that ship has sailed.  I would not be at all surprised to see Harvin catching passes from Tom Brady next season.
What do you think?
We'd love to hear your comments and/or opinions. If you submit them here, other visitors can read them, rate them and comment on them. An e-mail address is not required.