The Missing Piece in the UK-UL Rivalry
By Dennis Berry

Move over Tobacco Road, you have some company when it comes to the best rivalry in college basketball.

For years there has been little doubt that the best rivalry in college basketball was Duke-North Carolina. They always meet twice a year and each game gets national attention and hype thanks to ESPN. For the most part the games have lived up to the hype.

They also competed for the same goal: national championships. North Carolina has won five titles. Duke has won four.

After Monday night, a rivalry that has been confined within its state border could be on the verge of breaking out. That is the rivalry between Kentucky and Louisville.

In the basketball-crazy state of Kentucky, it goes year round. Bragging rights have been centered on the one game the two teams play each year in December. The whole state stops when these teams meet on the hardwood.

There was one thing really missing by today's standards to keep this rivalry from being the best – national titles. Sure Kentucky has the second most national titles in the history of the game (eight) and Louisville has now won three national titles, but neither had won this century.  This has all changed within the past two years.

Before winning the title Monday night, Louisville's last national title came in 1986.  That team was coached by Denny Crum and led by Pervis Ellison. Kentucky won the national title in 2012, but before that their last title was in 1998. That team was coached by Tubby Smith and led by Jeff Sheppard.

Rivalries are great when both teams are legitimate contenders. That was missing in the Kentucky-Louisville rivalry. Look at Duke and North Carolina. Since 1990 they have won a total of seven – four for Duke and three for UNC – national titles. That is what draws in a national audience.

The Kentucky-Louisville rivalry was reborn in 1983. The team played in the 1983 NCAA Regional Final in Knoxville, TN. It was the first meeting between the schools since 1959 and it was titled the "Dream Game." Louisville would win.

The rivalry was off.

After Louisville won the title in 1986 they would struggle in the NCAA Tournament. They would get to just one more Elite Eight under Crum, in 1997. At the same time, UK would control the rivalry with a 10-5 edge. The lack of NCAA Tournament success and Kentucky winning two national titles would be enough to force Louisville to make a change in head coaches.

The next Louisville coach would push the rivalry to new heights when former Kentucky coach Rick Pitino took over the Cardinals.  Pitino would guide Louisville to the Big East and turn the program back into a national power. The Cardinals Final Four drought would end in 2005.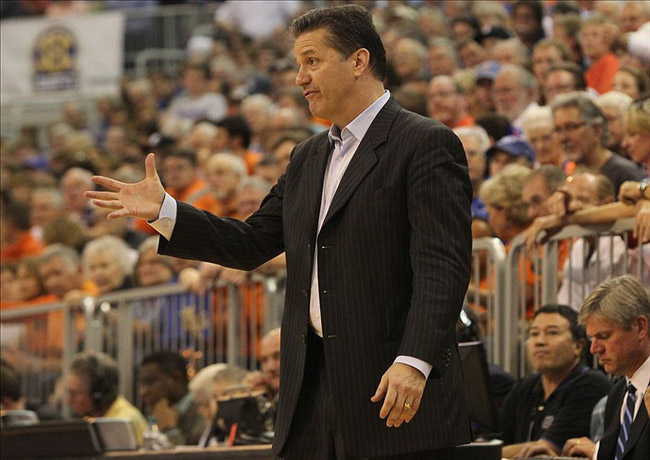 February 12, 2013; Gainesville, FL, USA; Kentucky Wildcats head coach John Calipari reacts against the Florida Gators during the second half at the Stephen C. O'Connell Center. Photo Courtesy By USA TODAY Sports.


At the same time, Kentucky would go into a drought of their own. After going to three straight national title games (96-98) and winning two titles ('96 & '98) they would not have much NCAA tournament success. They would reach three Elite Eight's ('99, '03, & '05) but could not break through.
 
Tubby Smith would leave in 2007. Billy Gillispie would take over. He would go 0-2 against Louisville and miss the NCAA Tournament in 2009.

Gillispie was fired in 2009 and that lead to John Calipari taking over. He would quickly turn Kentucky back into a national power. Kentucky would make the Elite Eight in 2010, Final Four in 2011, and win the national title in 2012.

The Pitino-Calipari rivalry brought the UL-UK rivalry back to national attention. These are two of the best coaches in the game. Just like Duke-North Carolina with Duke's Mike Krzyzewski going against first Dean Smith and now Roy Williams.

Now both programs have been to the top of the basketball mountain. This rivalry is posed to explode over the next couple of years.

Kentucky fans are already looking ahead to next season with another top recruiting class coming in. With a class that is speculated to be the best class of all-time, Kentucky fans are already counting on a title run next year.

Louisville fans are now fresh off a national title. This came while their most-hated rivalrs were losing at Robert Morris in the NIT. Louisville figures to be one of the top teams in the country again next season.

When these two teams play in December, it will be must see television. It is always a national game, but it is always seen as a being just below Duke-UNC. With both teams winning titles the last two years, this rivalry is bound to become the unquestioned best in college basketball.

This is just the way the fans in the Bluegrass State want it.


What do you think?
We'd love to hear your comments and/or opinions. If you submit them here, other visitors can read them, rate them and comment on them. An e-mail address is not required.