The Many Faces of Alex Rodriguez
This week, the career of the most talented player in baseball history will end.

It will end through scandal, by proscription from Major League Baseball.  At 37, injured, and buried neck deep in evidence of violations of baseball's drug policies, Rodriguez is finished.  Whether for a year, a year and a half, or for life, Rodriguez's coming suspension will end his career because no team will let him stain the uniform.
At 37, Rodriguez has many faces.  He represents deceit; the most unapologetic face of an entire era of drug fuel lies and juiced performance.  An offender beginning in the 1990s, Rodriguez has never admitted more than two years of wrongdoing; despite mountains of evidence of recent use dating to 2009 and strong empirical evidence for use before 2002.

Rodriguez has another face, too; he represents the maximum of what a blend of talent and drugs can achieve – at least for a time.  Coming up in the mid-1990s, scouts referred to Rodriguez as baseball's best talent; an all-time great in the making.  Looking back, the scouts were clearly right: Rodriguez belongs in the camp of those great players who would have made the Hall clean and without enhancement.
 
But, he paired that talent with the very best steroids had to offer and very nearly broke the barrier of our understanding of what a baseball player could accomplish.  Rodriguez was not just the "best player in baseball," a title he made appear transient and mundane, he was a transcendent star whose numbers dominated the game for a decade from 1998-2007.  He was a star so incredible that he could switch positions, despite being the best defensive shortstop in the game, and still remain head and shoulders above his competition.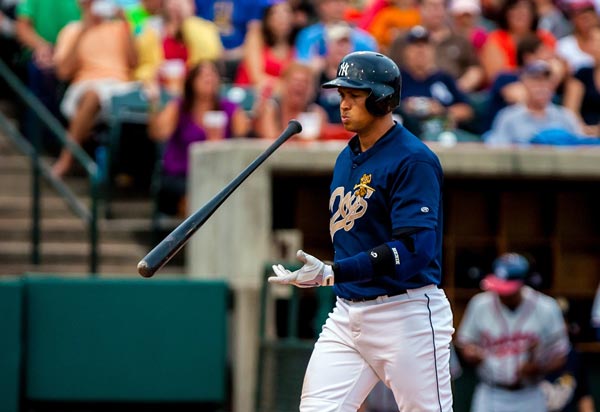 Consider that, at the height of his career, he hit .300 with a slugging average of over .600 and an OPS+ of over 150 as the best defensive player in the game.

And, when the original talent wore off, Rodriguez showed yet another face: the maximum drugs can do to propel remaining talent.  In 2009, fading, he apparently juiced up for the playoffs and propelled the Yankees to the title.
 
Poetically, his best moment in the iconic pinstripes came well after his best years and – like so many of his faces – created the direct consequences that will finish his career.


What do you think?
We'd love to hear your comments and/or opinions. If you submit them here, other visitors can read them, rate them and comment on them. An e-mail address is not required.