The Madness Started Early this Season
By Dennis Berry

In college basketball, the month of March is the craziest month of the season. We see the upsets in conference tournaments that can cause a team to miss its chance at the "big dance." Then we all watch for three weeks waiting on the next big upset in the NCAA Tournament.
Well if you are a college basketball die hard, then the last five weeks have been just about as crazy as anything we may see in March.

Since the week of January 7-13, the top ranked team in Associated Press Poll has lost every week. Not only the top ranked team, but there has been many more upsets throughout the past five weeks as well. Below are all the games in which a ranked team lost to an unranked team or a team ranked below them.
January 7 – 13

#1 Duke lost at #20 NC State
#2 Michigan lost at #15 Ohio State
#4 Arizona lost at Oregon
#10 Missouri lost at Ole Miss
#12 Illinois lost at Wisconsin
#17 Notre Dame lost to Connecticut
#19 Georgetown lost to Pittsburgh
#23 Wichita State lost at Evansville
#24 UNLV lost at #25 New Mexico

January 14 – 20

#1 Louisville lost to Syracuse
#2 Indiana lost to Wisconsin
#8 Butler lost at #13 Butler
#11 Ohio State lost at #18 Michigan State
#12 Creighton lost at Wichita State
#14 NC State lost at Maryland
#15 San Diego State lost to UNLV & at Wyoming
#20 lost at St. John's
#23 Illinois lost to Northwestern
#25 Marquette lost at Cincinnati


January 21 – 27

#1 Duke lost at Miami (FL)
#3 Syracuse lost at Villanova
#5 Louisville lost at Villanova & at Georgetown
#6 Arizona lost to UCLA
#9 Butler lost at La Salle
#11 Kansas State lost at Iowa State
#12 Minnesota lost at Northwestern & at Wisconsin
#15 New Mexico lost at San Diego State
#18 NC State lost at Wake Forest
#19 VCU lost at Richmond & La Salle

January 28 – February 3


#1 Michigan lost to #3 Indiana
#2 Kansas lost to OK State
#6 Syracuse lost to Pittsburgh
#9 Butler lost at Saint Louis
#10 Oregon lost at Stanford & at California
#15 Wichita State lost to Indiana State & at Northern Iowa
#16 Ole Miss lost to Kentucky
#17 Missouri lost at LSU
#19 NC State lost at Virginia
#22 San Diego State lost at Air Force
February 4 – 10

#1 Indiana lost at Illinois
#2 Florida lost at Arkansas
#3 Michigan lost at Wisconsin
#5 Kansas lost at TCS and at Oklahoma
#7 Arizona lost to California
#11 Louisville lost at #25 Notre Dame
#15 New Mexico lost at UNLV
#16 Creighton lost at Indiana St & to Illinois St
#17 Cincinnati lost at Providence and to Pittsburgh
#18 Minnesota to Illinois
#19 Oregon lost to Colorado
#21 Missouri lost at Texas A&M

This all goes to prove that right now in college basketball any team can beat another team on any given night. If you do not play your best game, then you are likely go get beat.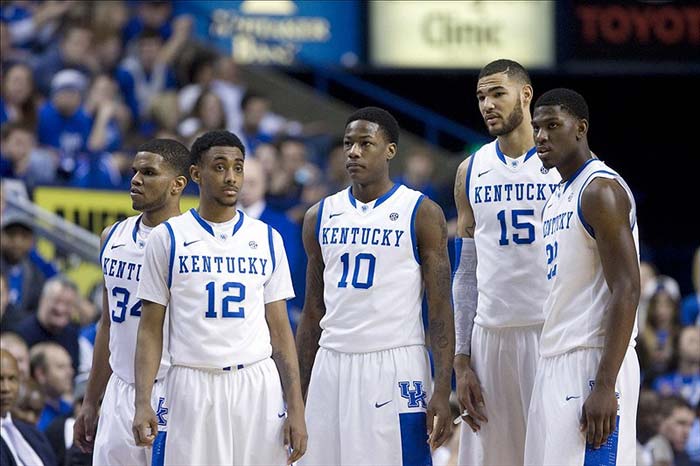 This season of college basketball is not like last season. Last year everyone pretty much agreed that Kentucky and North Carolina were the two best teams in the nation. If not for an injury to Kendall Marshall, the Tar Heels probably would have played for the National Championship title in New Orleans. In the end, Kentucky would win its eighth national championship.

This year even the best teams in college basketball are flawed. Indiana has a problem closing teams out. For example, see their loss to Illinois last week. Duke has not been the same offensively and defensively since the injury to Ryan Kelly. Kansas is struggling on offense.

When the new AP came out this week, Indiana was still the top ranked team. Duke took over the top spot in the coaches' poll. The way the past month has gone, neither team should get too comfortable with that number next to their name.

Will March be as crazy as the past month has been? Only time will tell. What we can take away is that once the teams are selected, it's anybody's tournament.  If a team can get on a roll at the end of the season, like Connecticut did in 2011, they can win it all.

Or perhaps the tournament will play out perfectly for one team. A slew of upsets will happen and a team will have a walk to a National Championship. That's how it played out for Duke in 2010.

One thing we do know for sure is that this year's NCAA Tournament will be crazy, but remember this. We still have another month to go before we get there.


What do you think?
We'd love to hear your comments and/or opinions. If you submit them here, other visitors can read them, rate them and comment on them. An e-mail address is not required.