The Kansas City Royals are the Future of Major League Baseball
Baseball's Future Behemoth: The Royals?
Yes. I said the Royals. That was not a typo. The Royals have the best minors system in baseball. As of a month ago, it was absolutely brimming with talent but had the following weaknesses: the Royals needed a legitimate center field prospect, a young middle infielder, and a couple of high ceiling arms. The Zach Grieke trade last week filled each of these holes and, starting in 2013, the Royals will be poised to contend. Here's a look at their potential 2013 roster with my thoughts on each player.
The Kansas City Royals in 2013
Batting:
C: W. Myers (A): Myers is a top catching prospect who has a bat capable of hitting for a .300 average and 30 plus homers. His defense remains suspect and he could be moved to the outfield but that is unlikely considering the Royals glut of prospects in other areas. He should be ready to start the 2012 season.
1B: E. Hosmer (A+): Hosmer is the best pure bat in this organization. He is a top five prospect in all of baseball and, like the Yankee's Jesus Montero, is a .300 hitter capable of crossing the 40 homer 120 RBI plateau in his prime. He is a less overweight, more defensively sound version of Prince Fielder. He should be ready to start the 2012 season.

2B: J. Giavotella (B): Great bat with some base-running speed; his defense has improved incrementally but needs a dramatic bump before he mans the middle infield. If he cannot progress, look for Colon to get his shot here. If not, Colon, who will be a regular in the majors for some team, will be traded to fill any remaining holes.

SS: A. Escobar (B+): Already an outstanding defensive shortstop, Escobar has great speed and should develop the ability to get on base consistently. He will never have a lot of power but that's not what the Royals need at the position.

3B: M. Moustakas (A+): Currently the most complete prospect in the organization, Moustakas should develop into a top third baseman with his solid defense and peerless bat. He will be the Royals cleanup hitter for years.

LF: K. Ka'aihue (B): He was a highly touted prospect but he had a very rocky first year in the majors. Still, he was totally unprotected in the lineup and should improve to become a solid part of the Royals offense.

RF: B. Eibner (B): Eibner's bat is legitimate and his speed is above average but there were concerns he would be unable to handle center field defensively. That is another reason the Grienke trade was excellent for the Royals; Eibner should be able to handle a corner outfield spot without any problems.

CF: L. Cain (B+): Cain is a toolsy player with great speed, attitude, and an above average bat. Many teams were in love with him this winter. I doubt he will be a true star but he should be a gold glove caliber defender and anchor the team's outfield defense for years.

DH: B. Butler: Already one of the best hitters in baseball, Butler will only get better when surrounded by this talent. Of course, the Royals may ship him in a few years to get a bevy of prospects to replace these stars when it comes time to open the checking account.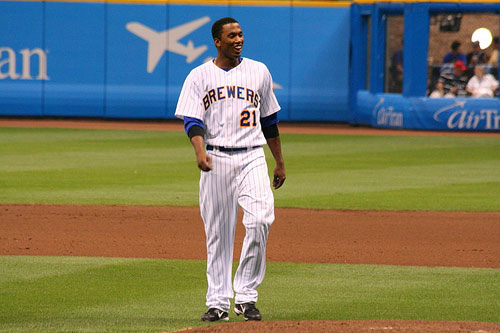 Alcides Escobar.
Thanks to Steve Paluch at flickr.com for this photo.
---
Pitching:
SP: J. Lamb (A-): He wasn't great in Double-A this year but his stuff and intangibles remain outstanding. Look for him to improve in 2011 and, after time in Triple A, join the Royals rotation sometime in 2012. Like Montgomery, he's also an elite southpaw prospect.

SP: M. Montgomery (A-): While Lamb is the more advanced prospect, Montgomery is the more talented lefty. His stuff is excellent but his elbow remains a concern. Still, without injuries, he should be ready to contribute sometime in 2012.

SP: D. Duffy (B+): Duffy briefly quit baseball last spring but he put that behind him and returned to the game. He projects as a top number two or three starter and should be the best righty on the major league team when he arrives in late 2011 or early 2012.

SP: C. Dwyer (B): Dwyer has great stuff and a good attitude. However, his progression has been stymied by command issues. If this improves-and given time it should, he will round out an excellent rotation.

SP: J. Odorozzi (B+): Odorozzi is the most talented prospect coming to the Royals in the Zach Grienke trade. He has great stuff but he is still in Class A ball. As such, he won't be contributing in the big leagues until 2013 but that happens to fit the Royals' timetable perfectly.

RP: Aaron Crow (B-): Once a top pick, Crow is no-longer one of the best arms in the organization. However, he does have a high ceiling and, if his command improves, should contribute. Indeed, if all the other top pitching prospects pan out, Crow will be part of the best bullpen in the majors by 2013.

RP: L. Hochovar (B-): The former first overall pick has been a major disappointment. That said, he still has great stuff and, injury issues aside, could be a future closer.

RP: P. Keating (C+): Great stuff, often overlooked, will anchor a bullpen spot for a long time.

RP: P. Humber (C): Solid stuff with average command, should be in the bullpen for years.

RP: L. Coleman (C): Good stuff, weak command and no tertiary pitch, good future relief option.

CL: J. Soria: The most talented closer in baseball, Soria may be traded this season because, even at 27, his age does not really fit the Royals timetable. If he is traded, look for the receiving team to give up at least one top closing prospect in return.
---
---
What do you think?
We'd love to hear your comments and/or opinions. If you submit them here, other visitors can read them, rate them and comment on them. An e-mail address is not required.
---
From The Kansas City Royals are the Future of Major League Baseball to MLB Baseball Blog | Sports Blog | NFL Football Blog | NCAA Football Blog | NFL Football Archives | College Football Archives | College Baseball Blog | MLB Baseball Archives | NBA Basketball Blog | NCAA Basketball Blog | NBA Basketball Archives | NCAA Basketball Archives | Fantasy Football | Fantasy Basketball | Fantasy Baseball | Soccer Archives | Olympics Archives | Stupid Athletes Archives | Other Archives | Football Forum | Basketball Forum | Baseball Forum | NFL Football Store | NBA Basketball Store | MLB Baseball Store | NCAA Football Store | NCAA Basketball Store | NCAA Baseball Store | Fatheads | NFL Football Tickets | NBA Basketball Tickets | MLB Baseball Tickets | NCAA Football Tickets | NCAA Basketball Tickets | NCAA Baseball Tickets |
---
Home Page
About Us | Contact Us | Site Search | Advertise | Terms of Use |
---