The Justin Blackmon DUI
As I stated in my AFC South preview blog, the Jacksonville Jaguars filled the team's biggest void this offseason by signing free agent receiver Laurent Robinson and drafting Justin Blackmon in April's draft. But before the rookie could even sign his contract, the former Oklahoma State standout found himself in some trouble. Blackmon was arrested during a traffic stop and it was found his blood alcohol content was three times the legal limit.
In most states the legal limit is 0.8 percent, so that means Blackmon was sitting at about .24 percent. How bad is that? A lot depends on the person's body type and gender, so Blackmon at 6' 1" tall and about 215 pounds, he'd need a good amount of booze to reach that point. Since his arrest, the NFL is taking a closer look at DUI arrests and penalties for players, especially repeat offenders.

Blackmon apologized to everyone he let down and that he is done drinking 'for now'. That was the wrong answer, as everyone in the media ran with that quote. He said he doesn't have a drinking problem; so we shall see if he ends up in this predicament again in 2012. The charge was reduced to an underage alcohol possession, which is a slap on the wrist. It's safe to say Blackmon got away with one here, but how many chances will he get? He still hasn't signed his rookie contract, and because of this incident there may be a disclaimer in his contract with something regarding alcohol, which would be the smart move for the Jags. He may have cost himself some money with this move and will have to prove to, not only the Jacksonville organization, but the entire NFL that he was worth the fifth pick in the draft.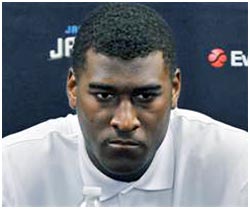 Many experts thought Blackmon was a risky pick because of potential off the field issues, and so far that's making everyone but Blackmon look smart. The Jaguars moved up in the draft to take him because he was the clear-cut top receiver in their mind. Some debated that because of his character issues and thought Michael Floyd out of Notre Dame was a safer selection. Only time will tell, but the Jags brass is hoping they made the right call. They need a lot of help on the offensive side of the ball as they ranked dead last (32nd in the NFL) in terms of passing in 2011, averaging just 136.2 passing yards per contest. The offense is very young with sophomore quarterback Blaine Gabbert and Chad Henne competing for the starting gig. Blackmon is supposed to be a big-time contributor for the Jags this season, so hopefully he can get his act together and start performing on the field.

Veterans have spoken up and given Blackmon some advice. Robinson straight up told the rookie he has to grow up. This may seem harsh, but someone needed to let Blackmon know that this is a serious issue and one that can't continue to show its ugly face. Apologizing to his family, his teammates, the owner, the general manager and the fans was just step one. Now it is time to Blackmon to show up on the field and be a positive contributor. He has to stay out of trouble for the remainder of the offseason and give 150 percent during mini-camps, showing the organization he's ready to be a team player. Robinson may be giving the rookie advice, but he also knows that Blackmon is a key component of the offense. With Blackmon on the field, he automatically makes the other receivers better because opposing teams have to account for his big-play capability.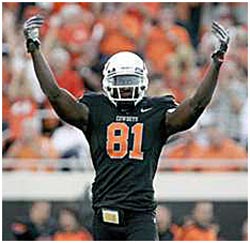 If Blackmon pans out, the Jaguars will look like they know what they are doing. This organization hasn't always drafted well, especially when it comes to first-round selections. In the past the Jaguars have taken receivers in the first round and they have been busts. Back in 2000, the Jags took R. Jay Soward out of USC. In 2004 they thought they struck gold with Reggie Williams. That didn't pan out either. Jacksonville didn't learn a lesson as they took a receiver in 2005 too – a converted quarterback out of Arkansas – Matt Jones. After a few run-ins with the law, Jones was let go and is no longer in the league.

The other thing these three receivers have in common, besides being first-round busts, are substance-abuse arrests. Blackmon does have a chance to put an end to the Jaguars subpar picks, but he has to get on the right track and fast. Hopefully the rookie can stay out of trouble and show Jacksonville he is the real deal. If he can perform on Sunday and help the Jags improve, he will get paid. It's just a matter of time to see if Blackmon can be the savior or is just another bust for the Jags.


What do you think?
We'd love to hear your comments and/or opinions. If you submit them here, other visitors can read them, rate them and comment on them. An e-mail address is not required.