The Incredible NBA Trade Deadline that Wasn't: A Shockingly Predictable Non-event
Bill Simmons spoke for millions of hardcore basketball fans when he woke up at 6:30am to start emailing about the NBA Trade Deadline for his Grantland piece.
Every year, productivity suffers at workplaces across America as basketball fans frantically refresh their Twitter feed every half hour; desperately waiting for the mega-trade that would shock the NBA world.

Then, it happened!  In a flash, J.J. Redick was traded to the Milwaukee Bucks, dramatically changing basketball forever!

Well, seriously, nothing happened.  Redick did get shipped, along with several other pseudo-stars, including No. 5 pick Thomas Robinson.  But, all in all, the NBA Trade Deadline was a complete non-event.

And that was shockingly predictable.

The NBA Trade Deadline holds a mystique among fans, which contributes to the frenzy surrounding it, but that mystique is largely undeserved.  Big stars, like Carmelo Anthony, do sometimes get moved near the deadline – but those moves are predicted so many months beforehand that the actual trade itself almost becomes a non-event.  In Anthony's case, the whole basketball world knew he would be departing Denver a full year before it actually happened – the shocking part was how long it took Denver to pull the trigger.

In fact, the only legitimately surprising, major deadline deal in recent memory was Deron Williams' surprising exit from Utah to New Jersey at the 2011 NBA Trade Deadline.  Utah GM Kevin O'Connor, who always holds his cards tight, decided Williams was a player in decline and likely to leave in free agency, so he shipped his mercurial star point guard to Newark.  But, aside from Williams' shocking exit, the NBA deadline has been quite mundane in the past decade.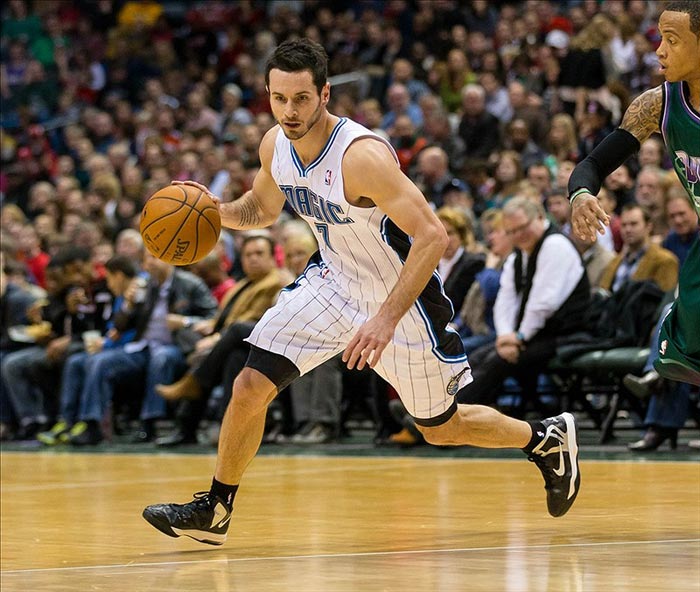 Feb 2, 2013; Milwaukee, WI, USA; Orlando Magic guard J.J. Redick (7) during the game against the Milwaukee Bucks at the BMO Harris Bradley Center. The Bucks won 107-98. Photo Courtesy By Jeff Hanisch-USA TODAY Sports.
No doubt, the NBA Trade Deadline's legend will continue to rise.  With a 24-hour sports news and rumors cycle, fans will always be fed constant streams of the ridiculous – with enough crumbs of reality to keep them hooked to the source.

Just don't expect a major blockbuster anytime soon.  That LeBron James deal you hear about next year - it's not happening.  Fans will just have to be satisfied with something a bit less...dramatic.

Another J.J. Redick deal anyone?
What do you think?

We'd love to hear your comments and/or opinions. If you submit them here, other visitors can read them, rate them and comment on them. An e-mail address is not required.