The Head-Butt Seen By Billions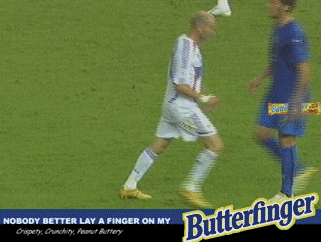 The Head-Butt Seen By Billions.
---
Italy won the 2006 World Cup in penatly kicks but what anyone wants to talk about is why they were cutting a someone's hair after the game? Or why did we see a man in his underwear during the celebration? Or maybe just why Zinadine Zidane decided to use his head to help France lose the World Cup. Zidane headbutted Italian defender Marco Materazzi in the chest after the two exchanged words in the 109th minute.
In the grandest stage of world sports and in his final game with the French team, Zidane instead becomes the biggest head case to come out of the World Cup. There are questions we all want to know. What was going through his head? What did Materazzi say to Zidane? Why? Why? Why? Seeing the headbutt reminded me of my reaction when I saw Ron Artest brawl in the stands. Shock, disbelief, and a need to see the replay over and over again.
The shot delivered by Zidane was brutal. Materazzi had no idea what was coming. I know Italians are notorious for their flopping but you can't blame him for going down in pain. That's a headbutt I would expect to see in the UFC. If he had horns, he would have been in Pampalona implaing crazy tourists.
Just seems like in that moment he wasn't the Zidane we're use to seeing. He's like Bruce Banner who turns into the Incredible Hulk, does major destruction, and then forgets everything when he becomes Bruce again. Except this time a billion people world wide saw it. I'm sure even Osama Bin Laden watched it in a cave somewhere.
Update: Reports have Materazzi wishing death upon Zidane's family. Another lip reader says he called Zidane's mother a prostitute.
---
---
What do you think?
We'd love to hear your comments and/or opinions. If you submit them here, other visitors can read them, rate them and comment on them. An e-mail address is not required.
What Other Visitors Have Said
Click below to see contributions from other visitors to this page...

Materazzi is saying something




2006/07/10 at 7:23 am look at it again – materazzi is saying something right before the head-butt. the rumour flying around is that he called zidane a …
Euro 2008 Leagues Not rated yet
2007/01/07 at 3:31 pm … among the 16 Large ones of the Continent in eighth of finale of the League of the Champions of football… Sunday December 3, 2006 …
---
From The Head-Butt Seen By Billions to Soccer Archives | Sports Blog | NFL Archives | College Football Archives | MLB Archives | NBA Archives | NCAA Basketball Archives | Olympics Archives | Stupid Athletes Archives | Other Archives |
---
Home Page
About Us | Contact Us | Site Search | Advertise | Terms of Use |
---