The Fuss Over Kentucky's 2012 - 2013 Basketball Schedule is Unwarranted
By Dennis Berry

The past couple of weeks there has been a lot of talk about the future of Kentucky's basketball schedule. Who will they play? Where will they play? How long will the series be?

Of course the uproar began when Indiana announced that the long standing Hoosiers-Wildcats series would be ending. Both schools could not compromise on how the future of the series would work. Indiana wanted to keep the series on campus. Kentucky wanted to play the games at neutral sites.
It became news again last week when Indiana announced that it had tried once again to keep the series alive. Indiana proposed a four year contract for two games at a neutral site – most likely Lucas Oil field in Indianapolis – and two games on each campus. Kentucky passed because they had already committed to a game with another team on the date the two teams normally play – normally the second Saturday in December. Also Kentucky was no longer interested in a four year deal, but only wanted two years at neutral site.

Indiana fans claim that Kentucky is ducking their Hoosiers. Indiana is seen by many as the best team going into next year and are early favorites to win the national title.

Of course that is hard to believe. Indiana could play Kentucky next year. If they continued the home-home series, Indiana would have to travel Rupp Arena next year. If they went to a neutral site, Indiana could play Kentucky three years in a row in the state of Indiana.

That hardly seems like a program that is scared to play another school.

Kentucky's change in scheduling comes from Head Coach John Calipari. He has the chance to schedule the way he wants to schedule. That easier to understand after you remember where Calipari used to coach at.

He spent years at Massachusetts and Memphis in smaller conferences. He had to build both programs into powerhouses and after he did, it got tougher to schedule big time opponents. Bigger schools did not want to chance a loss to a school from a smaller conference.

Now Calipari is at the top of college basketball. After winning a national championship after three years at Kentucky, he can call his own shots. He also knows the types of teams he will have at Kentucky – mostly young. He also knows what the expected result is at Kentucky; a national championship.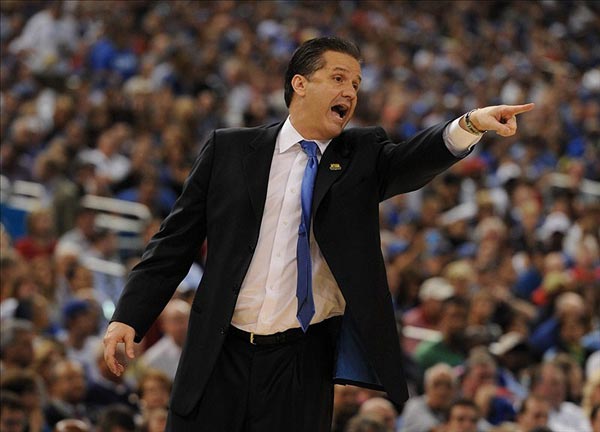 That is why Calipari has to schedule games in larger venues like domes. He has to prepare a young team for that type of environment. From his statement on his website:

"Let me be clear: It is important that we play in at least one if not two football stadiums every year to prepare our players for NCAA Tournament venues. Not every program can play a regular-season game in a stadium like we can. The NCAA Tournament plays half its regional games and the entire Final Four in those venues."

That is why Kentucky will be playing Duke in the Georgia Dome this coming season. That is why Kentucky will be playing Baylor at Cowboys stadium in 2013. It is important to remember that the Final Four will be at the Georgia Dome in 2013 and Cowboys Stadium in 2014.

Many are upset that Calipari is changing Kentucky's schedule. The truth is Calipari is not the first to do this. He is just using the model that has been in use for years by Duke.

For years the Blue Devils have played multiple non conference games at neutral sites. Here is a list of the past few years.

During the 2011-12 season Duke played Michigan State and Washington at Madison Square Garden. They also played a game against Temple at Wells Fargo Arena in Philadelphia.

In 2010-11 Duke played Marquette and Kansas State in Kansas City, Missouri. They played Oregon at the Rose Garden in Portland, Oregon. They played Butler at the IZOD Center in East Rutherford, New Jersey. They also played St. John's at Madison Square Garden. (It should be noted that MSG is St. John's other home court.)

In 2009-10 Duke played Arizona and Connecticut at Madison Square Garden as part of the Preseason NIT. They also played Gonzaga at MSG later that season. They played Iowa State at the United Center in Chicago.

In 2008-09 Duke played Southern Illinois and Michigan at Madison Square Garden. They also played Xavier at the IZOD Center in New Jersey.

The list goes on and on for Duke and their "neutral site" games. The Blue Devils have been using it for years. During that time have you heard anyone in national media complain about them doing it?

No.

Let John Calipari talk about wanting to do it and it becomes bad for college basketball.

The truth is this Calipari understands what it will take to prepare his team for the NCAA and he is in a position to do it. He has to expose a team that will depend on mostly freshmen and sophomores for the type of atmosphere they will face in the Sweet 16, Elite Eight and Final Four.

Calipari's job is to prepare his team for March. He is doing it the way he believes is the best approach to do it.

What do you think?
We'd love to hear your comments and/or opinions. If you submit them here, other visitors can read them, rate them and comment on them. An e-mail address is not required.