The Drop of Jared Sullinger's Draft Stock
By Dennis Berry

Every year there is a group of freshmen in college basketball who struggle with the decision to go to the NBA or stay in college. Some make the jump the first chance they get. Others return to school even if they projected highly.
If they are projected to go early in that year's draft and return to school they risk dropping in the following year's draft. That is what happened to Ohio State's Jarred Sullinger.

After Ohio State was eliminated from the NCAA Tournament in 2011 Sullinger made his decision to return for his sophomore season.
The announcement came moments after the Buckeyes were beaten by Kentucky in Sweet 16.
"I'm going to be an Ohio State Buckeye next year," he said. "This isn't why I came here, to come in here and see my seniors in here crying. I came here to win a national championship."

It would be easy to write off decision that came moments after a season ending loss. Sullinger was the best player for a Buckeyes team that was one of the best teams in college basketball in 2010-11. He averaged 17.2 points and 10.2 rebounds while shooting 54% from the floor. He led the Buckeyes to 34 wins his freshman season.

He was the Big Ten Freshman of the Year and was named First Team All Big Ten.

If Sullinger had decided to declare for the NBA Draft after his freshman season, he probably would have been considered the likely top pick in the draft. If he not the first pick, he would have been one of the top five picks in 2011.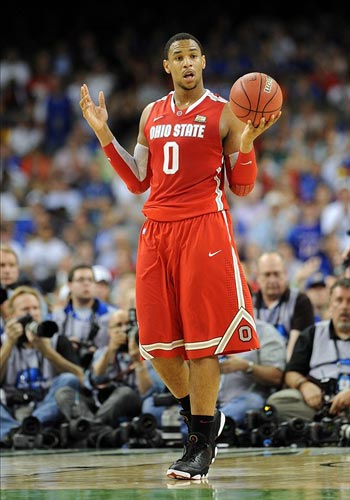 What a difference a year makes. Now Sullinger's draft stock is falling fast. The reason is because of concerns over his back.

It was his back that kept him out of two games this past season. The injury first popped up after Ohio State defeated Duke in December. The first sign was back spasms. Sullinger had an MRI done and it revealed a n aggravated disc in his back. Sullinger was held out of two games following that MRI.

Even with the injury, he still had an excellent season for Ohio State. Sullinger averaged close to the same numbers he did as a freshman. He averaged 17.3 points and 9.3 points a game while shooting 51% from the floor. Ohio State went 31-8 and made it to the Final Four.

The problem with Sullinger now is not only the injury, but that scouts have more tape on him. The more scouts see a player, the more they can find wrong with him. They have broken him down more than they had a chance to last year.

It all seems to be the same. He has a lack of explosiveness when jumping. He is too small to play center, but to slow to play power forward. There were already concerns over his conditioning, the back injury adds to that.

Now that does not mean the Sullinger cannot have a successful NBA career. Dropping in the draft could turn out to be a positive because he will not come in and be expected to perform like a high draft pick. He could land in a better team, learn what it takes to play in the NBA, and improve the areas of his game that need work.

All with lesser expectations of a lottery pick.

The case of Sullinger is why so many young players decided to leave school early if their draft stock his high. They do not want to risk coming back to school with the chance of getting injured or playing poorly. If that happens they drop in the draft and lose out on money in their first NBA contract.


What do you think?
We'd love to hear your comments and/or opinions. If you submit them here, other visitors can read them, rate them and comment on them. An e-mail address is not required.