The Danica Patrick Phenomenon
Since moving to NASCAR, Danica Patrick has been better known for her racy GoDaddy commercials than her racing prowess.  Yet to have a win even on the Nationwide circuit, she hadn't quite matched the success she had in IndyCar, which included a win in a split-field race in 2008 and a near-win in the Indianapolis 500 as well as multiple other top-3 finishes.
2013, however, has started on the highest point of her NASCAR career, as well as possibly the highest point of her entire racing career to date.  In qualifying for the Daytona 500, Patrick posted a lap of 196.434 mph –the fastest of the day, earning her pole position for the famed race.  She's the first woman to win a pole anywhere on the Sprint Cup circuit, and to do it at NASCAR's Super Bowl adds extra meaning to it.  It's a welcome change for her to be making headlines on the track rather than off it.

The previous high-qualifying mark was ninth, when Janet Guthrie qualified for Talladega and Bistol in 1977.  Patrick's taken the pole before in a Nationwide race, but this, her first full season as a Cup driver, couldn't have possibly started any better – the pole on the Super Bowl of NASCAR races – Daytona 500 qualifying has been called the fourth-biggest race of the year, in and of itself.

We get excited every time a woman competes with the men in any of the major sports –when Michelle Wie played on the men's golf tour, for example, or the Billy Jean King versus Bobby Riggs tennis match in 1973 – but Patrick's in a different class.  Men have such an advantage in strength and size that in most sports women simply can't complete, but auto racing's athleticism isn't about brute strength – it's about endurance and lightning quick reactions.  Combine that with the fact that it's an engine doing the actual work in a physical sense, and NASCAR is one of the few major American sports where women and men really can operate on the same playing field.

Personally, I'm hoping Patrick wins at Daytona, or at least does well in her inaugural season.  So much of the focus on women athletes comes from what's happening off the field – Patrick is more known for her GoDaddy ads or her dating life than her skill on a racetrack.  She's objectified far more than her male peers.  Racers of Patrick's current level of success don't get a tenth of the airtime she does.  Even last year's Sprint Cup Champion, Brad Keselowski, and most popular driver, Dale Earnhardt, rarely slip past her – the same week Keselowski won the title, Patrick doubled his amount of news attention with her divorce.

What I'm saying is we're going to devote a lot of attention to Patrick no matter what, and it's much, much more tolerable if she's performing at a level worthy of that kind of attention.  See how annoying ESPN's constant coverage of Tim Tebow was as he sat on the bench, week after week – at least it was somewhat palatable when he was starting for the Broncos.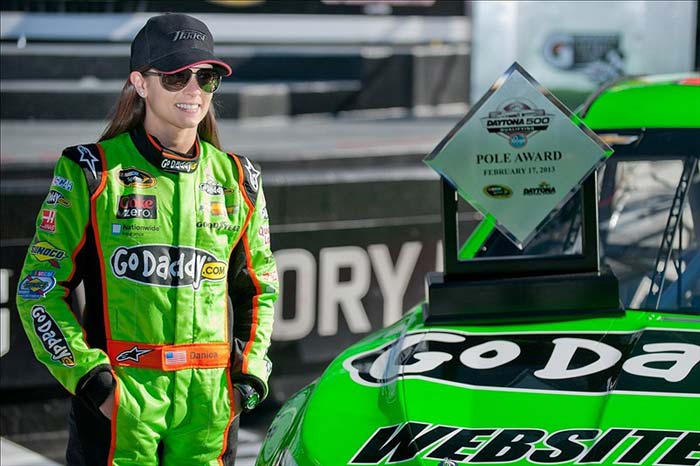 Feb 17, 2013; Daytona Beach, FL, USA; Sprint Cup Series driver Danica Patrick (10) celebrates winning the pole position for the Daytona 500 at Daytona International Speedway. She is the first woman to win a pole in Sprint Cup history. Photo Courtesy By Kevin Liles-USA TODAY Sports.
There have been other women who have competed with the men with some level of success – several Olympic sports are still mixed genders, Kelly Kulick won a major on the PBA tour, we've had women win Triple Crown races at Belmont, and so on.  But the popularity of NASCAR, combined with the physical advantages men have over women in nearly all of the other major sports, makes Patrick a prime candidate to be the most significant crossover athlete since Babe Didrikson Zaharias in the '40s.

Think about it for a moment.  Serena Williams might be the most dominant women's athlete in the world today, regardless of sport.  She's a juggernaut, a fantastic combination of speed and power.  What did she have to say about women competing with men in tennis?  At Wimbledon in 2010, she said:
"Men are just stronger than ladies. I even have trouble reading my hitting partner and he is not professional, although he would make a good professional player.  It really is comparing apples to oranges."

Some of that certainty might come from 1998, when she and sister Venus tried playing a set apiece against the then number 203 in the world, KarstenBraasch.  They were defeated handily, 6-1, 6-2.  Serena said she'd have a "good chance against someone way outside the top 100...otherwise I think I would have no chance."

Other sports are no better.  Golf courses are longer and narrower for men than women, generally speaking, so the gap in physical strength hurts.  A couple women – Zaharias multiple times, Wie once – have made cuts, but it seems unlikely, at best, any could compete at the highest levels, just due to a lack of strength.  The big 4 team sports are even worse – baseball probably gives women the best shot, as a knuckleball doesn't require the same level of physical strength, so perhaps by following the path of RA Dickey, a woman could contribute to a team.  Women have appeared in the minor leagues before, albeit with little success, and with the designated hitter, it's not outside the realm of possibility – maybe one day a Chelsea Baker will find her way on to an MLB team.

It seems unlikely at best.  There have been women kickers in NCAA football, like Katie Hnida, but even on kickoffs, the lack of physical strength would be a serious hindrance.  There's been a woman goalie in the NHL – albeit in an exhibition game – but the smallest goalie in the NHL is 5'10", and the lightest is 169 lbs.  That is way on the downside of the bell curve for women's athletes – and you'd have to have someone enter the sport young, have the dedication to stick with it, and get fortunate enough with genetics to get the physical build needed to compare with men's athletes.  The odds against it are staggering.

No, Patrick's got the best shot at major success as a woman competing directly with the men.  I hope she achieves it, too.  It would be a milestone in women's sports.  And it would justify some of the massive amount of attention she gets on a weekly basis.

What do you think?

We'd love to hear your comments and/or opinions. If you submit them here, other visitors can read them, rate them and comment on them. An e-mail address is not required.