The Biggest Draft Steal in the 2013 NBA Draft: Phillip "Flip" Pressey
By Lamar Hull

Every so often, there comes a player that has an impact on the hardwood that you wouldn't immediately expect. Sometimes they come from a mid-major - like Jeremy Lin. Other times they may even come from a major conference but didn't really didn't stand out too much, kind of like John Starks. There have been a myriad of great players who didn't hear their name called by the commissioner.

It surely doesn't happen as much as you see in the NFL or MLB, but there have been some amazing athletes who performed well beyond expectations.

We think that the same thing will happen this year. Furthermore, we even think that it'll be none other than Phil Pressey, starting point guard from the University of Missouri.

Why He Isn't A First Rounder(work)
Experts say a lot of things about Phil Pressey. Alumni and current students of the university do, too. Flip is known to play a little out of control more than anyone would ever like, often likened to a teenager driving a Lamborghini. He also knows that he's one of the best players on the court. This is usually a good thing for most players, but it seems to be a detriment for Phil. He simply seems to try to do way too much with the ball, which is why he shot just 38 percent from the field. He's been known to jack up some seriously strange shots.

However, the biggest problem is his late game decision making. He feels the weight of the world on his shoulders when it's crunch time. This results in him making some extremely questionable decisions. Those things plagued him throughout the season, which effectively took him out of the running for not only the SEC Player of the Year, but also the National Player of the Year.

Flip does have physical limitations. He stands just 5'11 and weighs 175 pounds. Despite all this, the guard still managed to average 12 points per game, 7 assists and an All-SEC distinction.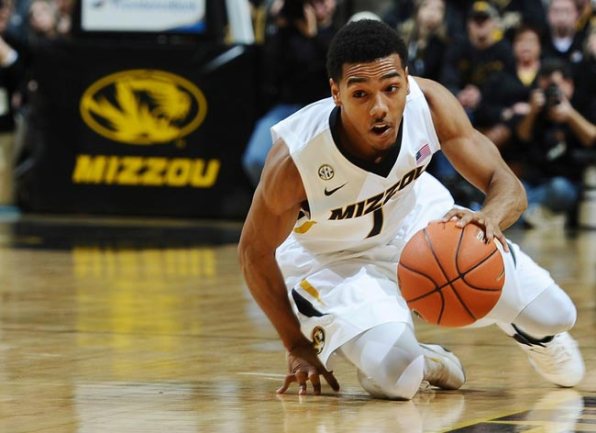 Feb 19, 2013; Columbia, MO, USA; Missouri Tigers guard Phil Pressey (1) falls as he tries to dribble the ball against the Florida Gators during the first half at Mizzou Arena. Photo Credit: Dak Dillon-USA TODAY Sports.


Why He's A Steal
If you've ever seen him play, it's abundantly clear that he's ridiculously fast. He can really drive to the lane at will. You simply cannot teach that kind of speed. Flip also knows how to create for others, many times resulting in some of the prettiest dishes at the collegiate level. Honestly, when he's on - Pressey is reminiscent to Isiah Thomas. He regularly shows flashes of absolute brilliance. Not only is he able to facilitate, he seems to be able to do it all day.

A good example of this is his game against UCLA. He broke the Missouri's assist record with 19, coming just shy of the collegiate record of 22. The interesting part is that he did it against a tournament team, not a mid-major that had business playing with a power conference team in the first place. UCLA surely wasn't a top-tier team, but it's one that still had some pretty decent talent.

Other than that, Pressey is a bit of a legacy in the NBA. His father - Paul Pressey - was a pretty notable NBA player. If for anything, he's the man most credited for creating the point forward position. If anything, Phil has a direct line to some of the best basketball minds in the country. They can most definitely help him cut down on some of the detrimental things that he's known for.

If he can get his mental deficiencies under control, Flip Pressey will most definitely be one of the biggest draft steals in NBA history.


Bio: Lamar Hull is a former NCAA college basketball player who also played on the European professional circuit. He now writes for Direct2tv. He has a huge interest in not just basketball, but sports period. Lamar is also a blogger for his youth basketball sport's blog at Inspirational Basketball.


What do you think?

We'd love to hear your comments and/or opinions. If you submit them here, other visitors can read them, rate them and comment on them. An e-mail address is not required.