The Best Place For Heli-Skiing In The World
by Mike John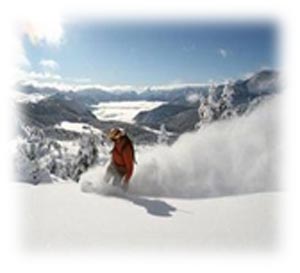 In case you are not sure just what
Heli Skiing
is you can define it as being off-trail down-hill skiing that you access via a helicopter rather than a ski lift.It is all about skiing in a totally natural environment without undertaking the strenuous hiking required by ski mountaineering or touring. It involves searching out the types of conditions that man-made terrains could never replicate.
Any true lover of skiing will love heli-skiing. No more waiting to get onto long lift lines to slowly ride through the cold freezing air to get to the top. With heli-skiing you make it to the top in a matter of minutes and the flight is over the most beautiful natural scenery in the world. The big attraction is the powder. There is plenty of it and most of the time you are skiing on unbroken powder. Most people only get to catch these kinds of conditions once during a year on regular ski runs (and that is if they take a lot of skiing trips to Aspen, Steamboat, or Utah).What it boils down to is the reasons people love heli-skiing are: Low Hassle, Great Terrain, Long Runs, and Loads of Powder. It just doesn't get any better than that for pure die-hard ski enthusiasts.
Here is how it works for the ideal situation. The ideal tour would be from 4 to 12 skiers (this depends on the type of aircraft and how many people it
can hold). Most operations will offer their private heli-skiing charters with 4 to 7 day packages. There should always be anexperienced 'guide' (tail gunner) so the skiing is optimized and safe.
The helicopter will meet the ski group out in an open area down in the valley. The guide then loads skis and poles into the exterior basket. Skiers then board the helicopter and head to the landing zone atop the mountain.Hot loading (loading or unloading passengers as the helicopter hovers near to the ground without touching) is possible but ideally actually settling onto the snow while reducing power during disembarking is best. The reason is it reduces blowing snow and decreasing visibility and confusion.
Once everyone is all geared up the guide will usually test the snow first and then signal back if clients should proceed. The guide can instruct groups to stay over to one side if necessary for avoiding things like crevasses, glacial serac falls, cliffs, avalanche starting zones, crusty snowor any potentially difficult areas that would not be obvious to the untrained eye.
There are various types of snow. They are actually different 'phases' of the snow once it hits the ground. They are: powder, crud, crust, slush and ice. For heli-skiers there is nothing to compare to fresh powder. This snow has just fallen and is soft and untouched. It creates a soft smooth surface giving the skiier a feeling of 'floating weightlessly'. Like being in heaven!