The All Budget Team: Creating Baseball's Moneyball Group
Alex Rodriguez is scheduled to make $29 million this season.  For the thirteenth consecutive season, he'll be the highest paid player in all of baseball.  Obviously, he's no longer worth anywhere near that amount of money – even if he wasn't likely to miss half the season with hip surgery, he's a shadow of the player he once was, when he received the 10-year, $275 million contract in 2008.  It would be a cautionary tale about devoting that large of a contract to any player, if it wasn't so easy for the Yankees to absorb it – four of the ten highest paid players in baseball suit up for the Bronx Bombers.

It's thrown into even sharper contrast this year due to one simple fact – A-Rod will be making more money than the entire Houston Astros opening day roster, which is absolutely astonishing.  The Astros $22 million payroll is the lowest since the Marlins 2008 fire-sale of a roster.  The Astros, after winning on opening day, have proceeded to lose every game since then, on pace for either a 23-139 season or a 1-161 one, depending on how negative you want to be at the moment.

Budget rosters aren't always a disaster, however – those 2008 Marlins chugged along to an 84-77 record, which is definitely respectable – and might make the playoffs in the two-wild-card era.  The thought then crossed my mind – could you build a contending team for less than A-Rod is making?

The short answer is no, of course not – the quality of players you'd want would never be available for these salaries; you'd have to have the most phenomenal farm system ever created.  But, for the sake of an argument, let's say you could take on the contracts of any players out there – could you build a team able to beat the Astros?  To make the playoffs?  To get to the World Series?  To win it?

Let's find out.  The team, necessarily, is filed with players who have yet to reach arbitration and may not have the track record of older stars, but there are still plenty of big names available cheap.

Catcher:

Carlos Santana, Cleveland ($550k this year, signed for 5 years/$30.3 million)

I'm always a fan of players with the same name as great musicians, especially at budget prices.  Santana's a top-tier catcher with a good eye for walks – and some power potential, to boot.  He's not great behind the plate defensively, and has had some injury issues, but the list of better young catchers is very small, and the list of better cheaper catchers is non-existent.  He's affordable for the long-term, too -- $12 million of his contract is a team option.

Infield:

1B Anthony Rizzo, Chicago Cubs ($498k, arbitration in 2015), 2B Jose Altuve, Houston ($505k, arbitration in 2015), SS Josh Rutledge, Colorado ($490k, arbitration in 2016), 3B Evan Longoria, Tampa Bay ($6 million, 11/$143 million)

When you're trying to squeeze under an artificially low salary cap, you're tempted to throw out any big names – how on Earth could you afford anyone with an extension like Longoria's?  Well, if you're really designing the team to compete, you can't rely entirely on potential and premise, and Longoria's extension still has him at quite reasonable prices for the next two seasons – plus, he's one of the best players in the game, so that's nice to have in your lineup.  If he stays healthy, he's an MVP candidate.  The rest of the infield is filled with young players still on their initial contracts, and not up for arbitration for at least two more years – potential is the name of the game there, but with a side helping of immediate production.

Rizzo is a potential 40-HR player once he gets a few more seasons under his belt, though he needs to improve his eye a little bit to become consistent.  Altuve was the Astros lone all-star last season, but it was an earned appearance, swiping 30 bags at only age 21.   Rutledge is actually playing second base in Colorado, not shortstop, but he played short in 2012 and all throughout his minor league career, so it's not exactly a stretch.  His low cost is what places him on the team, and he's by far the weak link in the starting lineup, without any real depth behind him.  So, you know, that could go better.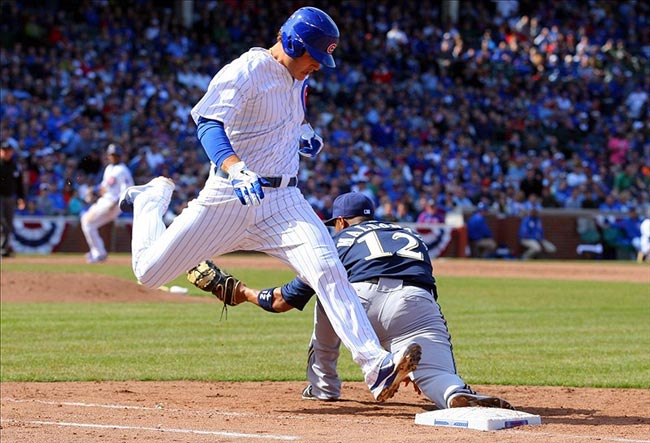 Apr 8, 2013; Chicago, IL, USA; Chicago Cubs first baseman Anthony Rizzo (44) is forced out at first base by Milwaukee Brewers first baseman Martin Maldonado (12) during the sixth inning at Wrigley Field. Photo Credit: Dennis Wierzbicki-USA TODAY Sports.


Outfield:

LF Mike Trout, LA Angels ($510k, arbitration in 2015), CF Bryce Harper, Washington ($2 million, 3/6.4 million, arbitration in 2016), RF Giancarlo Stanton, Miami ($537k, arbitration in 2014

First of all, thank you to Los Angeles for moving Trout to left field, so I didn't have to write another disclaimer like I did with Rutledge.  Second of all, what an outfield this is – even without the salary cap limitation, this could be your starting lineup, and any weaknesses you have in the infield are more than made up for out here.  If it wasn't for a Triple Crown winner, Trout would have been your 2012 AL MVP.  Maybe he'll never match the glory of his rookie year, but even if he is "just" a .270 hitter with 35 homers a season – which is the projected season total from his WORST month last year – he's an obvious choice.  Harper was the OTHER rookie of the year, and he's a once-in-a-lifetime talent – and locked up for three more seasons, in case it's too much to expect a 20 year old to be MVP – but he's worth the slight splurge at the position.  Stanton's the last one left standing in Miami, and will be getting a huge payday in 2014, most likely – and on this roster, he'll actually get pitches to hit.  A devastating outfield.

Starting Rotation:

Stephen Strasburg, Washington ($3.9 million, arbitration in 2014), Madison Bumgarner, San Francisco ($750k, 7/56.6 million), Kris Medlen, Atlanta ($2.6 million, arbitration in 2014), Chris Sale, Chicago White Sox ($850k, 7/57.5 million), Alexi Ogando, Texas ($506k, arbitration in 2014)

Starting pitching is expensive, but I knew from the start I wanted at least one ace, and that's Strasburg, by FAR the cheapest stud in the pitching ranks – it's not even close.  My team isn't putting any pitch count restrictions on him, either, so if we did make our theoretical playoffs, he's getting the ball.  Bumgarner slipped a bit at the end of last season, but is a 200-strikeout man with a low WHIP and ERA.  The other three are less tested, with recent history in the bullpen, but very promising results in relatively small sample sizes– Medlen transitioned to the starting rotation in Atlanta last season, ending with 10 consecutive quality starts.  Sale also bounced around from the rotation to the bullpen and back again, and is a future #1 starter… in theory, anyway.  Finally, Ogando is moving back to the rotation after spending 2012 in the bullpen, and having a #5 starter with a 95 mile an hour fastball works for me.

Bench:

Wilin Rosario, Colorado ($491k, arbitration in 2015), Paul Goldschmidt, Arizona ($500k, 7/45 million), Jason Kipnis, Cleveland ($509k, arbitration in 2015), Norichika Aoki, Milwaukee ($1.25 million, 2/2.75 million, arbitration in 2015), Mark Trumbo, LA Angels ($540k, arbitration in 2014), Desmond Jennings, Tampa Bay ($501k, arbitration in 2015)

Having an all-star like Trumbo on the bench is always a good thing, and a veteran (albeit, one of the Japanese leagues) like Aoki is a great asset to have coming off the bench or as a designated hitter option.  The rest of the bench is more young players with potential – that way, if Rizzo or Altuvo, et al, don't take a step forward, there's another lottery ticket sitting behind them, ready to go.  I'm probably a little over-strong in the outfield, and should have dumped Jennings and picked up someone to back up the left side of the infield, but the values just weren't there.

Bullpen:

Craig Kimbrel, Atlanta ($655k, arbitration in 2014), Fernando Rodney, Tampa Bay ($2.5 million), Kenley Jansen, LA Dodgers ($512k, arbitration in 2014), Greg Holland, Kansas City ($539k, arbitration in 2014), Tom Wilhelmsen, Seattle ($509k, arbitration in 2015), Addison Reed, Chicago White Sox ($520k, arbitration in 2015)

You don't need two proven closers, but I grabbed them anyway – closer is an overrated position, and I'll use at least one of them in crucial situations earlier.  Why save your best pitcher for a 3-run lead in the ninth when you need someone to get you out of a jam in the seventh?  Jansen is one of the league's top middle relievers with an insane strikeout rate, and if both Kimbrel and Rodney go down, can handle the closer position.  Holland and Wilhelmsen have the closer roles in their respective bullpens, but that's more due to the quality of those bullpens then their own skills, necessarily; as setup men, their value improves dramatically.  Reed had a rocky 2012, but I like him in the long run, so I'll stick him in my bullpen and see what happens.

25 players. $28,725,100 in 2013.  That's enough to duck under A-Rod's contract, with 10k left over for each player to buy a used car with.  Not bad.  I worry about the team's depth, and a lot of it's based on "player X COULD realize his potential this year", but I think this team could really contend.  All for the price of a washed up old guy with a bum hip.


What do you think?
We'd love to hear your comments and/or opinions. If you submit them here, other visitors can read them, rate them and comment on them. An e-mail address is not required.